Date:
Assessment of Current Ice Conditions Relevant to Distribution and Access of Walrus
NEW FOR 2017: Click the name of each community below to view more frequently updated and detailed information from the National Weather Service.
Sea ice is shorefast along the north coast of St. Lawrence Island out 2 miles on the northwest side of the island and to up to 3 miles from the coast on the northeast side. Very close pack ice extends on the northeast side of the island away from 2 to 7 miles out from the shorefast ice. The southeast side of the island has up to 2 miles of shorefast ice. Beyond the shorefast ice is open water. There is open water west and southwest of Gambell. 
Shorefast ice extends up to 6 miles from the Nome area coast, but is generally 1 to 2 miles. Otherwise there is close to very close pack ice throughout the northern portion of Norton Sound with big to giant floes. The polynya to the west has closed significantly to 1 to 2 miles as close pack ice with vast floes has moved into the area.
Shorefast ice extends to approximately 10 to 20 miles from the coast between Wales and Shishmaref. Beyond the shorefast ice is very close to consolidated pack ice. 
Close pack ice extends to the east of Little Diomede Island while shorefast sits to the west.
Forecast Discussion
Ice Forecast
Pack ice in the Bering Strait region will generally move westward up to 10 nm through the weekend.  Near the Wales to Shishmaref coast, shorefast ice is expected to remain as very close to consolidated pack ice sits northwest of the shorefast ice. The polynya off the Wales to Nome coast will continue to expand with areas of new ice forming especially at night or during periods of light winds. For St. Lawrence Island, the open pack ice will consolidate under the northeasterly wind to become close pack ice, mainly toward the northeast side of the island. The open pack ice on the east side of the island will become more concentrated to close or very close pack ice through the week with the changing wind. 
Wind Synopsis
Winds on Friday, April 21st will be northwest 10 to 20 kt (15 to 25 mph) with the strongest winds across St. Lawrence Island and much of the northern Bering Sea. The northwest winds will shift to the west and increase to 20 to 35 kt (25 to 40 mph) by Sunday, April 23rd. The tight pressure gradient will remain through Wednesday before diminishing to 15 to 25 kt (20 to 30 mph) and shift northwest by Thursday, April 27th. Winds will remain northwest but gradually decrease to 10 to 15 kt (15 to 20 mph) by Friday, April 28th. Winds for areas north of the Bering Strait near Shishmaref will be lighter overall compared to the northern Bering Sea through the forecast period with west winds 10 to 15 kt (15 - 20 mph) on Friday then switching west to northwest on Saturday, April 22nd through Thursday April 27th before becoming north-northeast at 5 to 10 kt (10 to 15 mph) by Friday, April 28th.
Temperature Trend
During the forecast period, temperatures will be slightly warmer than normal by about 5 degrees through Wednesday, April 26th with high temperatures reaching into mid 30s. A gradual cooling trend will begin by Thursday with temperatures expected to be around normal to slightly below normal through Friday, April 28th.
Daily Weather, Wind, and Temperature Updates
The National Weather Service provides twice-daily, text only updates on the weather, wind, and temperature conditions in specific geographical zones. An interactive weather map for access to other Alaskan zones can be found here: http://weather.gov/anchorage/ice
Wind maps are updated daily and can be viewed here: http://www.weather.gov/afg/SIWO_overview
Marine forecast for the West Coast and Arctic Coast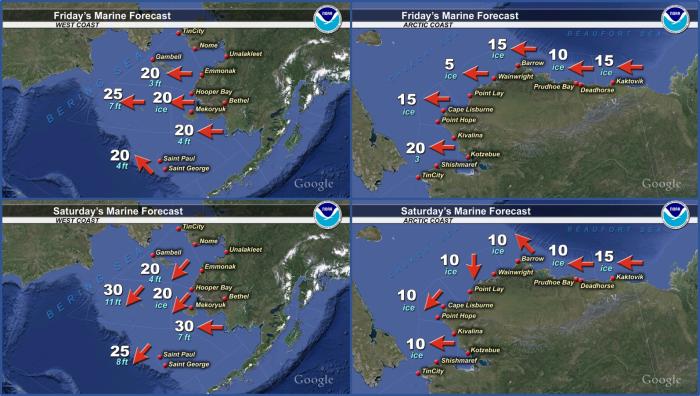 Remote Sensing Images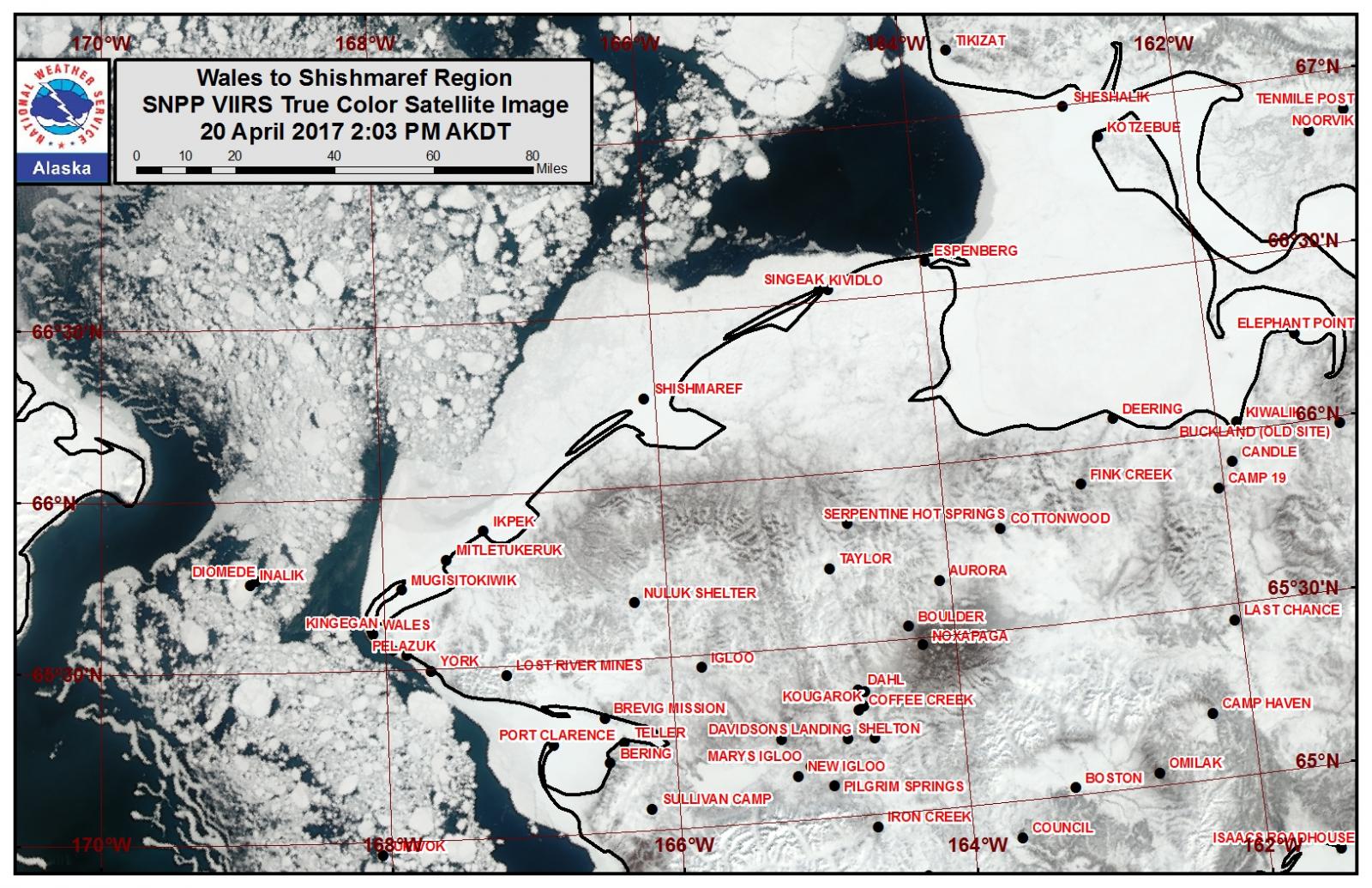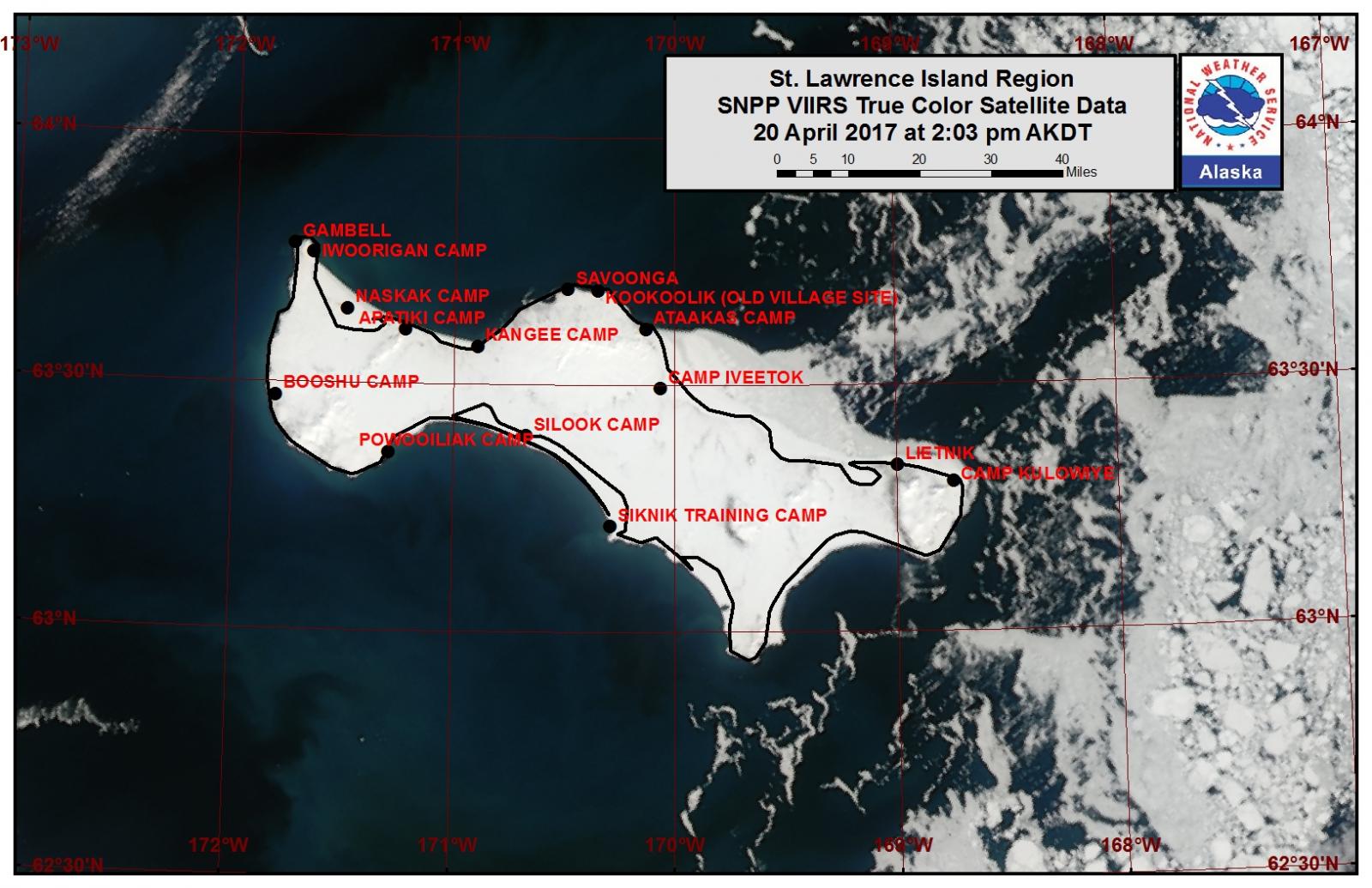 Observations and Comments
Observations of Sea Ice Development
Observations from Shishmaref
20 April 2017 – Curtis Nayokpuk
Morning fog, lack of clear access through rough sea ice and loss of snow cover resulting in thin ice turning dark. No one has ventured out. Travel and access to open water East (KOTZ SOUND GINA 41917 pic) also blocked by ice ridges and thin sea ice near shore. 


Spring Carnival activities with Basketball teams local and out of town at night and dog races during the day taking priorities this week.
Spring hunting for sea mammals will be delayed till strong off shore winds or open sea wave action breaks up ice for hauling boats to open leads along our shore. (POLAR VIEW 51617 pic).

Observations from Nome
20 April 2017 – Boogles Johnson
The snow on the ice is approximately 5" as of yesterday, the ice has started to move with our strong northerly winds and the hunting season in Nome is really gonna start now.  I took the photos at approximately 3:30pm.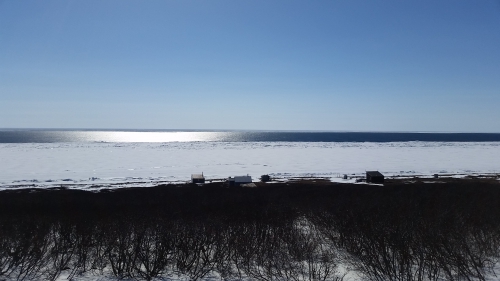 Observations from Gambell
21 April 2017 – Clarence Irrigoo, Jr.
Still windy and no ice in sight. Done working with the bowhead whale.

Observations from Wales
21 April 2017 – Robert Tokeinna, Jr.
This week for Wales started out with warm melting weather with southerly winds to end with cool northerly winds midweek. Hunters started the boat launch only to find the ice it sat on broke off later on the day or two after. Southerly winds forced all to stop all operations on the ice for a launch site among other factors. The ice continued to be pushed up by southerly winds and is currently starting to open back up. Locals report of hearing the ice crunching as it is being pushed this past week. Pressure ridges continue to grow and flow ice continues to move freely while shorefast ice holds its grounds and collection of young ice pushed up on it. The local polar bear patrollers placed boxes out with bait and wire brushes attached to the inside to attempt to collect polar bear fur samples for their respective program. Many neighboring communities report polar bear tracks. The visiting village of Golovin reported a sighting of a Polar Bear a mile south of the village upon taking off of the airport. I've heard of a fisherman attempting to fish and unsure if they were successful with a catch. Many birds and sea gulls have been sighted around the community. We have overflowing of our local community creek. Local heavy equipment has been busy clearing roads.


Observations from Savoonga
21 April 2017 – Kanaaya Parker.
Kanaaya gave us permission to share this photo of the icy waves in Savoonga this week: