Date:
Assessment of Current Ice Conditions Relevant to Distribution and Access of Walrus
Near St. Lawrence Island
A polyna remains along the northern coastline of St. Lawrence Island stretching from 3 to 9 miles in width. Beyond the northern coastline polyna is an area of close pack ice consisting of first year medium to new sea ice. Off to the east of the island is a large area of very open pack ice. The southern coastline of the island has filled in with close pack ice with the exception of the area from near Powooiliak Camp to near Silook Camp where a polyna has opened with a width of 2 to 15 miles.
Wales to Shishmaref
Open to very open pack ice is present from the western half of the Bering Strait stretching up into the southern Chukchi Sea. Very close pack ice remains mobile along the shorefast sea ice stretching from Wales to Shishmaref. A polyna that is roughly 5 miles wide has formed at the shorefast ice edge near Ikpek up to Shishmaref. The shorefast ice extent along the coast varies from 2 miles off Shishmaref to 18 miles off Ikpek to 10 miles off Mugisitokiwik. The outer edges of the shorefast ice are becoming more unstable.
5 to 10 Day Forecast
A low-pressure system in the Chukchi Sea will bring north winds of 15 to 25 mph (10 to 20 knots) on Friday, 17 April. Expect the polyna along the southern coastline of St. Lawrence Island to remain open through Friday. Ice will continue to drift south through the Bering Strait during this time.
The low will work north of Wrangell Island Saturday, 18 April, with winds becoming south at 10 to 20 mph (5 to 15 knots). The southerly flow will increase to 20 to 30 mph (15 to 25 knots) Saturday night and remain strong through Sunday. The flow will turn a bit to the southeast and east but remain at 20 to 30 mph (15 to 25 knots) Monday, 20 April, as a low moves into the Southern Bering Sea. During this time the polyna off the southern coastline of St. Lawrence Island will close in with pack ice and a polyna will form beyond the shorefast coastline on the northern side of the island. The pack ice north of St. Lawrence will spread out to the north and northwest up to the Bering Strait. The close pack ice along the coastline from Wales to Shishmaref will also spread out into the southern Chukchi Sea.
This low as well as its associated winds from the east and southeast will weaken as it works north through the Bering Sea Tuesday and Wednesday, 21-22 April, before disappearing on Thursday. Winds will be light (< 10 mph) and variable Thursday the 23rd through Monday the 27th as weak high and low pressure systems move through the area. During this time areas of open water may freeze over with new ice and ice drift will slow.
---
Arrows show wind direction and wind speed in knots

---
Remote Sensing Images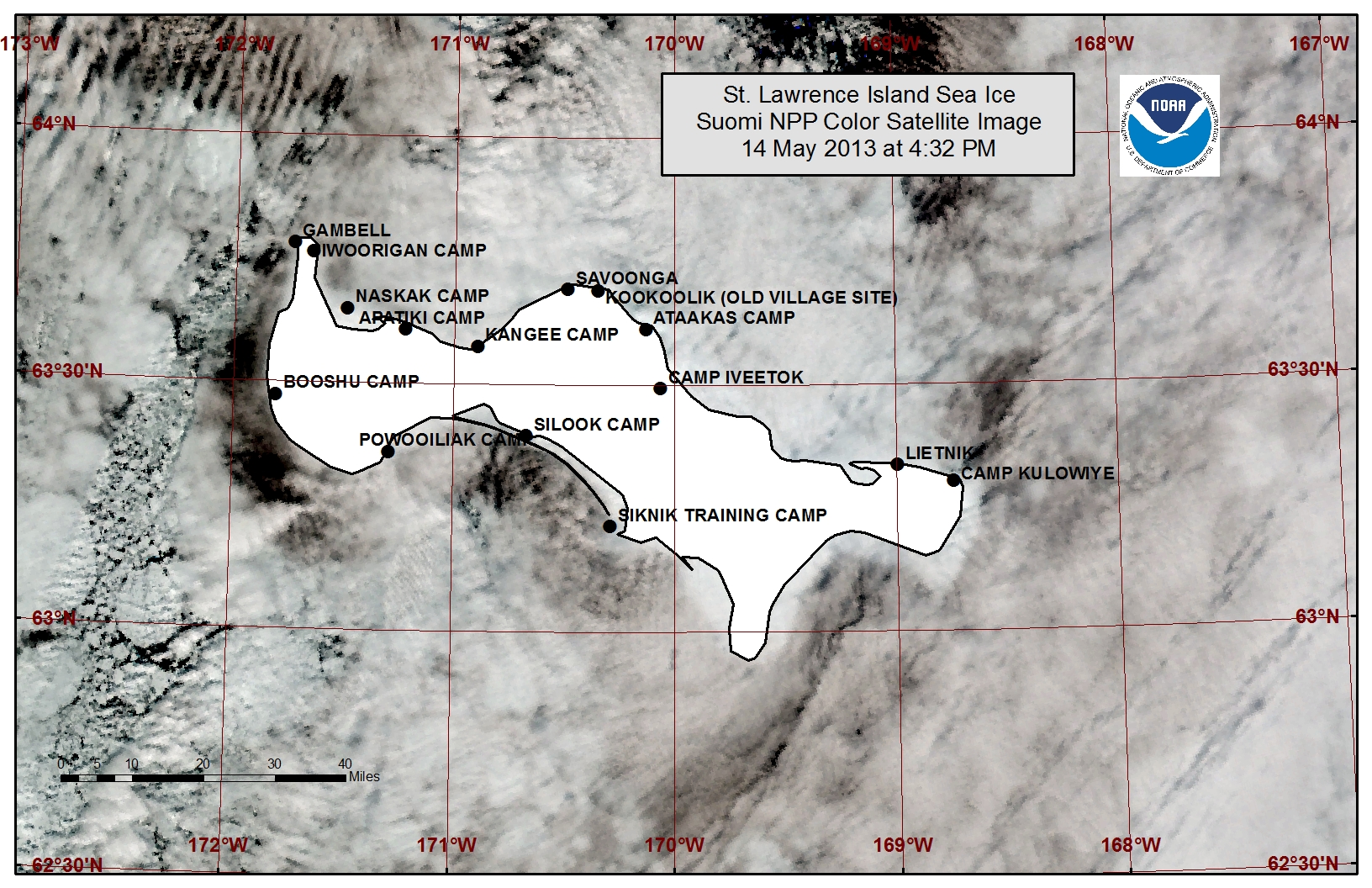 Observations and Comments
Observations of Sea Ice Development
Comments from Nome
20 May 2013 - Fred Tocktoo
The shorefast ice remains about the same since the last report. There has been some snow melt especially on the top layer of the shorefast ice, which has started to melt due to warmer temps in the Nome area, but slower than normal. Shore ice in front of Nome is still at least three to four miles out where there is constant movement of ice going towards the Bering Straight, and constant northerly currents. River systems are just starting to thaw up a bit but not much. East of Nome, shorefast ice is within half a mile from shore where hunters launch for spring hunts but even that is slow compared to the last several years. Temps have not reached more than high 30's so far. We should be seeing some break up, ice cracks near our shore ice within two weeks, maybe. Southern faces have melted but that is slow too; on our higher elevations, there is still lots of snow.