Date:
Assessment of Current Ice Conditions Relevant to Distribution and Access of Walrus
Near St. Lawrence Island
Strong NE gale winds (minimum 35-40 knots) have pushed the sea ice down against the north shore of St. Lawrence Island, and forecasted winds over the next ten days should keep that ice up against the shore and shorefast ice. This push could be strong enough to break up the edge of the shorefast ice. The NE winds have opened up the waters south of the island so that the new and young ice is heavily fractured with some open water between. This condition should last for the next ten days. Satellite imagery shows that the sea ice pack around St. Lawrence Island is fractured into many floes of various sizes.
Wales to Shishmaref
The strong NE winds have caused the leading edge of the shorefast ice north of Shishmaref to break up. Satellite imagery shows a well defined line of new/young ice and open water extending well southward past Wales between the edge of the shorefast ice and the heavier ice offshore. Forecasted winds should keep this feature present over the next ten days. The NE winds are blowing a lot of ice to the SW out of Kotzebue Sound.
5 to 10 Day Forecast
The strong low pressure system is near the mouth of the Yukon River and slowly weakening. This storm is producing winds of at least gale force (35-40 knots) over the northern Bering Sea and Bering Strait. Winds will weaken to 25 knots through the weekend but increase to gale force again on Monday, 11 April as a new low-pressure system forms just south Shemya. A high-pressure ridge will move over the western Bering Sea on Wednesday, 13 April. This will keep the pressure gradient tight so winds will continue to be 35-40 knots, but change direction and come from the NW. These gale force winds should continue into Sunday, 17 April and then drop off to NW 20-25 knots by Monday, 18 April.
---
Arrows show wind direction and wind speed in knots

---
Remote Sensing Images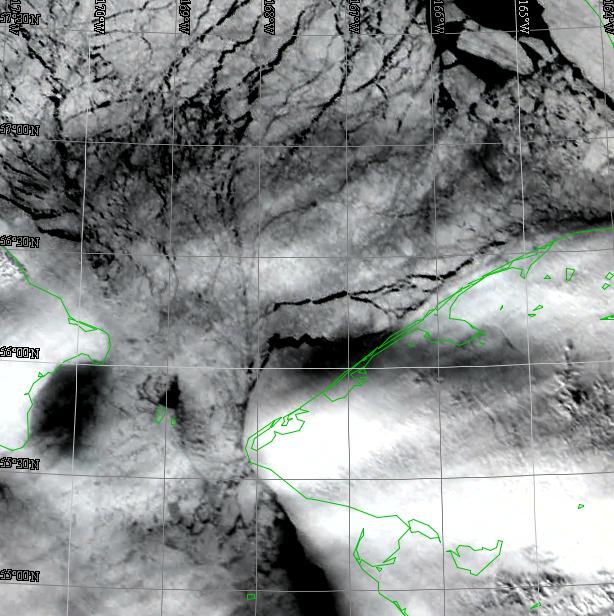 Observations and Comments
Observations of Sea Ice Development
8 April 2011 - Igor Krupnik; ethnologist, Arctic Studies Center at the Smithsonian Institution
Paul's comments (see below) are very interesting, with regards to the weak ice and his anticipation of the early and very short spring ice run and spring hunting season this year. There is lots of open water and drifting pack ice all around Gambell in the absence of solid pack ice, and almost no shorefast ice off the northern side, north/northeast of Gambell. Over the past several years that area was commonly covered with heavy ice.
With regard to walrus, of special interest is Paul's reference to the lack of anleghaq. This is the Yupik word for December walrus that head south with the advancing pack ice. This past December there was no major southern walrus migration with the arriving pack ice that usually happens these days around Christmastime. Also, Paul did not mention the ayughaayak, the local winter bull walrus population that normally lives throughout the winter in dense ice off the northern/northeastern side of Gambell. It used to be a staple winter game for local hunters since people remember it. Instead, hunters have seen plenty of seals and they spotted bowhead whales in early March (it happened two or three weeks earlier than usual). They also have plenty of ice-hauled walrus that are drifting on the moving ice floes from the western and southern side of the island.
Paul's record of Gambell hunting activities demonstrates that the community was actively engaged in hunting throughout the month of March, and had access to animals and fresh food on an almost daily basis.
8 April 2011 - Paul Apangalook; local observer in Gambell
March 2011 Sea Ice Summary from Sivuqaq/Gambell
The ice pack [at Gambell] is different thus far compared to that of the past. It is generally agreed that it has a poorer quality, probably from mostly fluctuating temperatures; storms; and not fully developing, as it has before, into thicker ice. It is in all probability prone to rapid melting with the coming of warmer spring climates. The Siberian lead [between St. Lawrence Island and Siberia] has been open as well with the ice pack drifting beyond the horizon at least a couple of times. The shorefast ice was broken off from the Qitelnguk, Devleghaq, and Aqeftapak bays [along the north shore, around Cape Sivuqaq] around the first of the month of March and remains open to date.
Game has been plentiful with ring, harbor, and bearded seals hunted from on shore. While the anleghaq [late fall walrus coming with the pack ice] was absent, there was ample walrus taken near the village. A few bowheads were also spotted in the area. There is iqalluwaq [tomcod] that birds and seals feed on. A young bearded seal was taken that had fed on these fish and also shrimp. One walrus taken had small clams and what we call kingupagaq, a long sea bottom worm that encase themselves in a membrane-like tube similar to some clams.
With the current conditions leading up to the spring, we may have an early, short harvest season this year. For most crews, it may be just one or two trips due to the high cost of gas and weather/ice conditions.