Date:
Assessment of Current Ice Conditions Relevant to Distribution and Access of Walrus
Near St. Lawrence Island
Sea ice continues to melt rapidly in the northern Being Sea. However, there are remnants of shorefast ice along the north shore of St. Lawrence Island between Gambell and Savoonga. There is a large concentration of pack ice offshore of the shorefast ice just east of Savoonga extending northward about 20 miles. 5-7 tenths of sea ice present east and southeast of the Island consists of mixed floes. "Last ice" is now drifting in bands from the Gulf of Anadyr northeastward toward the Bering Strait. A major band of this sea ice is about 20 miles northwest of Gambell, and extends all the way back to the southern Gulf of Anadyr. Everywhere else there are widely scattered floes in open water.
Wales to Shishmaref
The rugged shorefast ice continues to hold between Wales and Shishmaref. Radar satellite imagery shows some grounded, ridged ice that is trapping the ice along the shore. Offshore of the shorefast ice there are widely scattered floes drifting northward through the Bering Strait in lots of open water.
5 and 10 Day Outlook: June 9 to June 14
Winds (15-20 knots) will vary in direction over the weekend as low pressure in the area begins to break down. High pressure will build over the northern Bering Sea and Bering Strait early next week so that winds in general should be 20 kts or less after June 9th through the 14th. Nighttime temperatures for the area should remain above freezing after June 9th. These higher air temperatures will help melt the scattered floes still in the area.
---
Arrows show wind direction and wind speed in knots

---
St. Lawrence Island/Bering Strait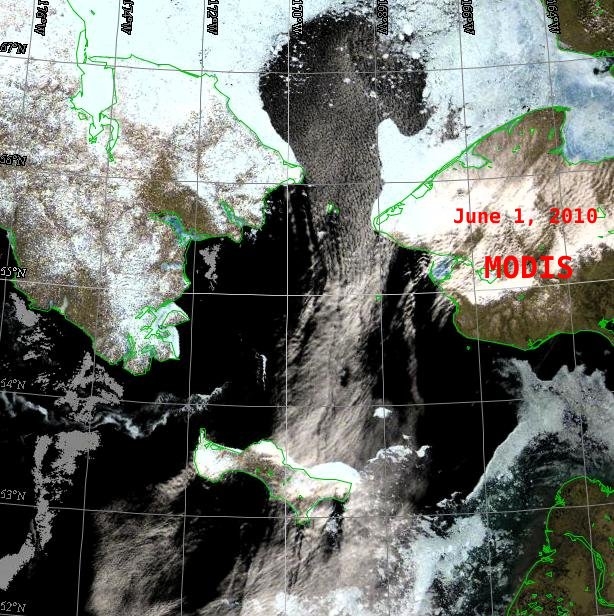 Bering Sea/Southern Chukchi Sea
Remote Sensing Images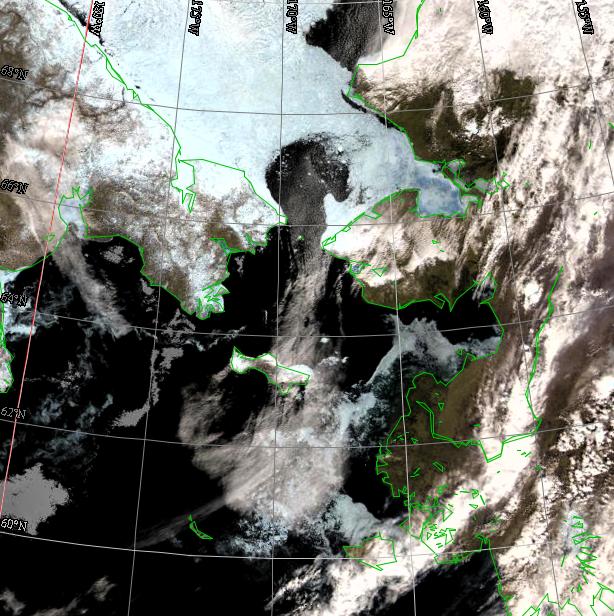 Observations and Comments
Observations of Sea Ice Development
4 June 2010 - Hajo Eicken - Update on Ice Drift
The tracks of the two drifters released from Wales demonstrate the importance of ice movement for walrus. Both drifters were put on ice floes passing by Wales. One of the floes got stuck in the landfast ice between Wales and Shishmaref, which remains, even somewhat late in the season, and impacts hunting conditions in Shishmaref. At some point, this ice will break up and we'll be able to track its drift. The second drifter moved rapidly to the north with the retreating ice, and walrus likely followed this same track. Changing wind conditions have reversed the motion of the ice briefly, but northward drift will likely continue soon.
The two drifters released from Gambell have been reporting, but with some position errors that are being examined by the International Arctic Buoy Project Team in Seattle. Once these issues are resolved drift tracks will be posted.