Date:
Assessment of Current Ice Conditions Relevant to Distribution and Access of Walrus
Wales to Shishmaref
The presence of shorefast ice continues to extend from Wales to Shishmaref. However, the offshore edge of the shorefast ice north of Wales, near Cape Prince of Wales, is eroding slowly. Shorefast offshore of Wales continues to be about 1-2 miles wide with open water along the edge. Further offshore of Wales there is extensive new and young ice with many open water leads and scattered small floes extending more than 30 miles. This area was caused by the generally persistent northerly winds that pushed the heavier concentration of sea ice southward toward St. Lawrence Island. The shorefast ice off of Shishmaref still extends northward more than 40 miles. However, the shorefast ice edge shows sign of erosion from the pack ice in the Chukchi being blown by the winds up against the shorefast ice. Concentration of sea ice north of the shorefast ice is 80-90%. Major leads just north of Shishmaref extend northward from the shorefast ice edge as far north as Pt. Hope.
Near St. Lawrence Island
The persistent northerly winds have pushed the pack ice up against the shorefast ice that still extends from Gambell to Savoonga and on to Northeast Cape. A lot of the pack ice that was north-northeast of the island has been pushed southward by the winds along the east end of the Island. This pack ice is very loose with lots of new and young ice and open water between the floes. Northwest of Gambell, sea ice is very loose and large leads extend from Gambell northwestward to the Russian coast. There is a very large area of new and young ice with open water near the shore just off the Russian coast. About 20 miles south of Gambell, and continuing along the southern coast of St. Lawrence Island, there is open water just off the fast ice, extending about 20-30 miles offshore. South of the open water is another 40-50 miles of new and young ice.
5 and 10 Day Outlook: April 9 to April 19
There will be major changes in the wind conditions over the next ten days compared to previous weeks, which had primarily northeast winds. A series of strong storms moving through the Bering Sea from southwest to northeast make the exact timing of changes in winds difficult to predict. At present there is a storm in the southwest Bering Sea that will slowly move northeastward reaching St. Lawrence Island by Sunday, April 11. Strong southeasterly winds will dominate the northern Bering Sea and Bering Strait over the weekend. Another storm will move eastward across the southern Bering Sea beginning April 11 and finally move onshore April 14. This storm will bring another period of southeasterly winds for the area beginning on April 12, becoming brisk southerly winds on April 14. Another storm will move eastward across the central Bering Sea April 14, going onshore April 16. This storm will bring brisk southeasterly winds to the area April 15. Winds will then weaken to light northerly winds April 17 and remain light through the rest of the period. The dominance of warm southeast winds should compact the pack ice as it is pushed northward and reduce formation of new ice. This will result in the pack moving northward through the Bering Strait, increasing the ice concentration between St. Lawrence Island and the Bering Strait. These winds should also aid in the erosion of the shorefast ice along the north shore of St. Lawrence Island and Wales.
---
Arrows show wind direction and wind speed in knots

---
St. Lawrence Island/Bering Strait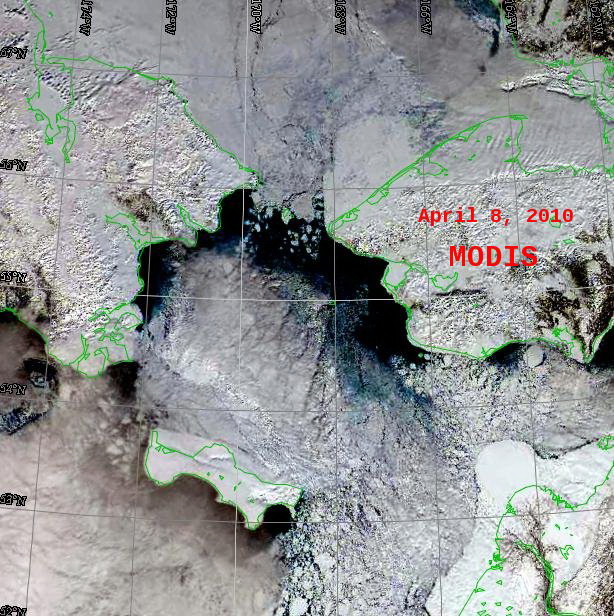 Bering Sea/Southern Chukchi Sea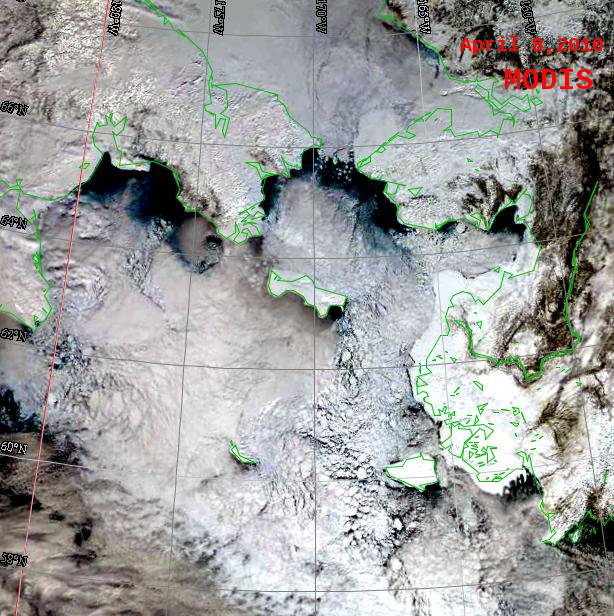 Remote Sensing Images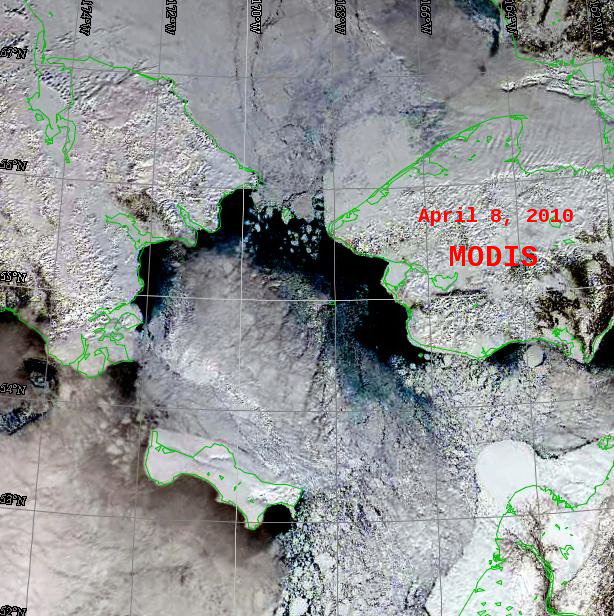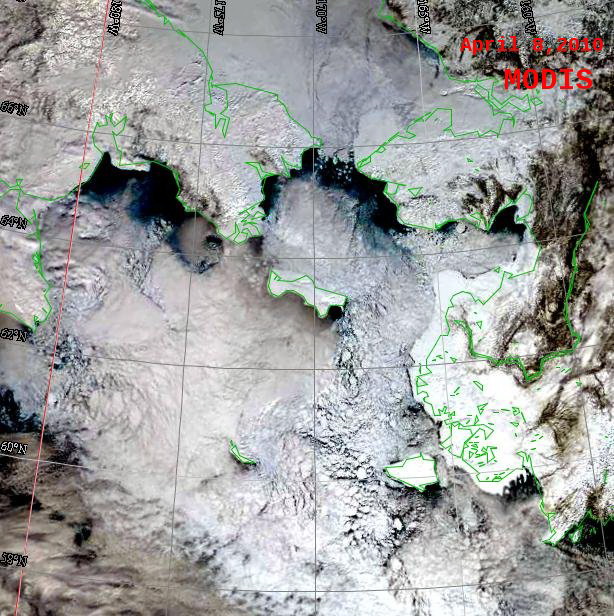 Observations and Comments
Observations of Sea Ice Development
15 April 2010 - Winton Weyapuk, Jr. - Summary of Ice Development in Wales
From April 11 onward pack ice came up against the shorefast ice at Wales, closing coastal leads. On April 11, high tide pushed water up along the beach north of town. For the past couple of days the ice has been drifting slowly through the Strait towards the North.
9 April 2010 - Winton Weyapuk, Jr. - Summary of Ice Development in Wales
For most of the past week, Wales had winds from NE and N, and a lead extended along the shorefast ice for several miles to the North, with young ice and frost smoke. Walrus swimming north were observed in the lead on April 2.
6 April 2010 - Rolf Gradinger - Summary of ice development in central Bering Sea from ship observations in March and early April
Outside the St Lawrence polynya region, ice was typically 2 to 3 feet thick (55 to 85cm) with 1.5 to 3 in (4-8cm) of snow. Ice floe sizes varied from less then 60 feet (20m) within a 20nm distance from the ice edge and the islands to vast floes exceeding several miles in diameter. Drift of ice was about 0.5 to 0.7kn based on ship drift during stations downwind. Both St. Lawrence and St. Matthew polynya extended more than 40nm to the southwest of the islands and were mostly covered with new ice. In St. Lawrence, fast ice was close to 3 feet thick (more than 80cm) and extended half a mile or more out from shore in some places. Snow melt was detectable in the late afternoon hours only. Substantial ridging was visible on the eastern and western edges of the polynyas, likely due to interactions between current, ice and shore. Maximum ridge heights were close to 7 feet (2m), but mostly ridges were less than 2 feet (60cm) high.
5 April 2010 - Curtis Nayokpuk - Ice development in Shishmaref
This year the Wales Shoal shore ice is back! Previous 2-3 years it receded and at one time broke off along the northern shore/beach from Wales to Shishmaref. Looks like it has frozen to historic size/thickness and winter/spring south winds have not chipped away at the shoal ice build up. This means that the migrating sea mammals will be farther out from Shishmaref (direct route from Wales to Pt. Hope) and will require longer or more boat trips to find the walrus and Oogruk this year.