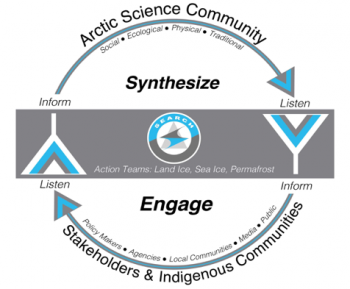 SEARCH is a collaborative program of Arctic researchers, funding agencies, and others that facilitates synthesis of Arctic science and communicates our current understanding to help society respond to a rapidly changing Arctic. SEARCH currently focuses on how shrinking land ice, diminishing sea ice, and degrading permafrost impact Arctic and global systems. The convening power of SEARCH enables SEARCH's interdisciplinary action teams, as well as the wider Arctic research community, to listen to and inform agencies, policy- and decision‐makers, and Arctic residents.
Vision and Mission
The SEARCH vision and mission reflects the evolution of SEARCH and Arctic science over the past several years and emphasizes SEARCH's role in developing scientific knowledge that is relevant to decision-making.
The SEARCH Vision: Scientific understanding of Arctic environmental change to help society understand and respond to a rapidly changing Arctic.
The SEARCH Mission: Advancing scientific understanding and collaboration to help society respond to a rapidly changing Arctic.
Towards this mission, SEARCH:
Generates and synthesizes research findings and promotes Arctic science and scientific discovery across disciplines and among agencies.
Identifies emerging issues in Arctic environmental change.
Provides scientific information to Arctic stakeholders, policy-makers, and the public to help them understand and respond to Arctic environmental change.
Facilitates research activities across local-to-global scales, with an emphasis on addressing needs of decision-makers.
Collaborates with national and international science programs integral to SEARCH goals.
Version: Spring 2017