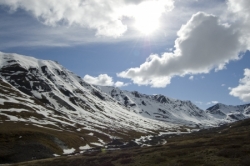 Photo by Joed Polly
SEARCH's 5-year science goals, listed below, were developed by the SEARCH Science Steering Committee (SSC), with input from the broader arctic science community and agency representatives. The goals represent key unknowns in the arctic system and are designed to catalyze interagency and inter-disciplinary activities, with a strong focus on decision-makers' needs. These goals do not represent all of the important science for SEARCH, but have been selected as priorities that are ready for near-term implementation.
SEARCH Goals & Objectives
Click on a goal for more details
A fourth goal that was in the original proposed structure will be integrated into the three goals above:
The goals are framed by the SEARCH science questions, which were adopted from SEARCH's Understanding Arctic Change Taskforce whitepaper:
How Predictable are Different Aspects of the Arctic System, and How Can Improved Understanding of Predictability Facilitate Planning, Mitigation, and Adaptation?

What are the Arctic System's Tipping Points: the Abrupt Changes that are Most Consequential for Ecosystems and Humans?

How Will the Critical Intersections Between Human and Natural Systems in the Arctic Change Over the Next Several Decades?

What are the Critical Linkages Between the Arctic System and the Global System?

How will Changes in the Cryosphere Drive Changes the Economic, Social, and Environmental Components of the Arctic System?
Additional Background Information