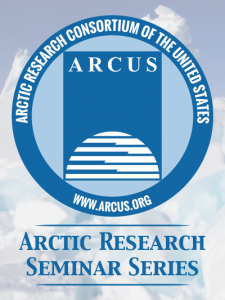 The ARCUS Arctic Research Seminar Series invites leading Arctic researchers and community leaders to Washington, D.C. to share both in person and via simultaneous webinar the latest findings in Arctic research and what they mean for decision-making. The events are free and open to the public, and will be of particular interest to the international Arctic research community, Federal agency officials, Congressional staff, NGOs, Arctic educators, and the media.
If you plan to attend a seminar live in Washington, D.C., our events begin at 12:00 p.m. ET and we welcome you to bring your lunch with you. Cookies and beverages will be provided and there are numerous eateries in our neighborhood. The ARCUS D.C. Office is located at 1201 New York Ave., NW, Washington, DC, 20005. We are on the 4th floor. When you arrive via the elevator, there will be a sign to direct you to the conference room.
The ARCUS Arctic Research Seminar Series is made possible with support by the National Science Foundation under Cooperative Agreement No. PLR-1304316. We would also like to thank the Polar Research Board for their generous in-kind staff support during seminar events.
Registration is required for the both the live seminar as well as the live-streamed webinar associated with each event.
Upcoming Seminars/Webinars
Matthew Jull (University of Virginia) - 29 March 2018
Elizabeth Arnold (University of Alaska Anchorage) - 11 May 2018
Seminar/Webinar Series Mailing List
To receive information about future seminar/webinar events, please subscribe to our mailing list here.
Seminar/Webinar Archive
Please visit our seminar/webinar archive here for videos of past ARCUS Arctic Research Seminars.
Social Media
For those of you on Twitter, we also invite you to join our online discussion of each event using the hashtag #arcuswebinar.
Please contact Brit Myers at brit [at] arcus.org with any questions.
Arctic Research Seminar with Matthew Jull (University of Virginia): "Arctic Design Group. Mediating Environments"
When:
Thursday, 29 March 2018 -

12:00pm

to

1:00pm
(ET)
Where: ARCUS DC Office - 1201 New York Avenue, NW. Fourth Floor. Washington, DC 20005 or online for live webinar
Abstract
The Arctic is undergoing unprecedented changes driven by the impacts of climate change, globalization and related political, cultural and biophysical fluxes. The talk presents the works of the Arctic Design Group that foregrounds design in the act of framing and re-imagining the potential futures of the Arctic, while offering ways of re-engaging with environmental phenomena as malleable design media.
Speaker Details
Matthew Jull, PhD, is an Assistant Professor of Architecture at the University of Virginia School of Architecture and founder and co-Director of the Arctic Design Group (ADG), a design research platform founded with Landscape Urbanist and Assistant Professor Leena Cho at UVA in 2012. With a background in geophysics and architecture, his research explores the potentials of architecture and urban design within the frame of extreme environments and the increasing friction between the built environment and the forces that shape our planet. Funded by grants from the National Science Foundation, the Jefferson Trust, the Graham Foundation, the Rotch Foundation, the UVA Environmental Resilience Institute, the Center for Global Inquiry and Innovation, and the Anchorage Museum, his work with the ADG has been focused on developing design strategies for buildings, cities, and landscapes in the rapidly changing Arctic region. In addition to research collaborations spanning the Arctic, the ADG teaches travelling design studios, seminars, and workshops, and has been featured in publications, exhibitions, symposia, and lectures in the US, Russia, Canada, Norway, Iceland, and Finland. Jull received his M.Arch. from Harvard University's Graduate School of Design and his Ph.D. from Cambridge University; prior to joining UVA, he was an architect at the Pritzker prize winning design practice of Rem Koolhaas/OMA in Rotterdam, NL.
---