Project Abstract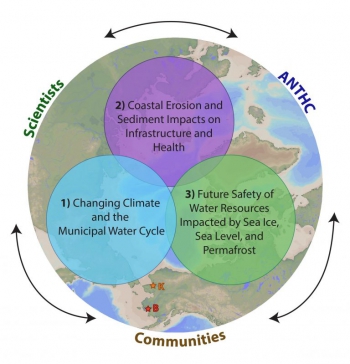 The Arctic is responding rapidly to global climate change, which is driving Arctic temperature increases at twice the rate of the rest of the planet. Sea ice is retreating, permafrost is thawing, sea level is rising, and the timing of precipitation cycles in rain and snow are changing. As the Arctic continues to warm, it is essential that scientists and Arctic residents develop plans that holistically consider how communities might adapt to changes in their physical world. This new warmer Arctic presents challenges to Arctic peoples and ecosystems as traditional ways of life are altered. Adaptation requires knowledge of how, and at what rate, the Arctic is changing. To do so, this project will deepen existing partnerships with Arctic people in western coastal Alaska through the Alaska Native Tribal Health Council (ANTHC) and to collaborate with communities at risk. The research will grow a comprehensive view of community needs and prepare community members for responding to three important areas of concern to society: the impact of a changing climate on municipal water use; the impacts of coastal erosion and river derived sediment delivery to harbor facilities, infrastructure, and health; and the future of access to abundant and clean community water resources.
This planning process will set the foundation for a larger project in the future. While the content and intellectual merit of this future science plan is purposefully not set given the need for community planning and dialogue, it is expected that the three focus areas will yield hypotheses and science goals that will answer important open science questions, while at the same time serving local communities and other stakeholders looking to the future. This planning process will identify new and exciting science questions as conceived by Arctic residents based on their own knowledge and observations. Of course, planning approach has had to change with COVID restrictions. Because we haven't been able to have face to face meetings, we are now seeking community collaborators from either the YK Delta region or NANA regions.
Logistics Summary
What we are asking of Community Collaborators?
We are asking Community Collaborators to partner with us as we identify, prioritize, and draft our full NSF NNA proposal. The majority of our original budget was allocated to directly ensure that financial burden is not an impediment to this exchange of ideas and to provide training and inspiration to community members wishing to partner with the sciences. Given the social challenges of COVID-19, we seek local community members willing to zoom and plan with us via remote collaboration. James Temte with APU/Alaska Native Tribal Health Consortium (ANTHC) is a co-PI on the project with a successful track record of community outreach and engagement.
Responsibilities:
Participate in one-hour web conference calls every two weeks for planning and presentations on needs and plans. We particularly want to make sure that Indigenous Knowledge is included and valued in decisions.
Act as local coordinator, reaching out to local and regional planning groups for input.
Proactively coordinate community engagement and educational opportunities.
Identify communities interested in writing a proposal together, and assist with the writing/editing of the full proposal in spring 2021. This will include the research design, analysis, and deliverables back to the communities and the educational goals and outcomes.
Compensation:
Your time and input is important, valued, and appreciated. We are offering a small stipend of $125/call with the idea that the team will meet for one hour twice a month ($250/month). This compensation is also intended to cover any tasks associated with the project between meetings. We will also assist with internet connections if needed.
How to apply?
Send an email with your name, address, contact information, interests and background. Send your email to both Julie Brigham- Grette (juliebg [at] geo.umass.edu) and James Temte (jtemte [at] alaskapacific.edu).
Planning Goal:
To develop together a 5-year research and education plan for a proposal to the US National Science Foundation for up to $3M. This proposal will explicitly seek to address the needs of indigenous communities concerning physical changes in the environment that impact the broad areas listed above.
Benefit to Tribes/Tribal Citizens:
Ultimately, the follow-on grant from this planning period will include direct training and support of multiple community members, especially young people, empowering them to take charge of their own science as they navigate their own New Arctic. Tribal citizens can be involved as they wish in any part of the planning or follow-on grant, which could include, for example, data collection, scientific analysis, outreach, travel to UMass for training/graduate school, and publishing results. All potential benefits are on the table, and we will define a project that reflects a true partnership that meets the needs of both groups. We hope village educators will also volunteer as we would to involve opportunities for K-12 education in the larger proposal.
Keywords
NW Alaska, YK Delta, coastal erosion, river erosion, permafrost thaw, water supply, sanitation, managed retreat, education
Project Location
Website
PI Website
Dates
-
Location
Kotzebue, AK; YK Delta, AK; Coastal, AK
Members
Principal Investigator
University of Massachusetts, Amherst
Co-Principal Investigator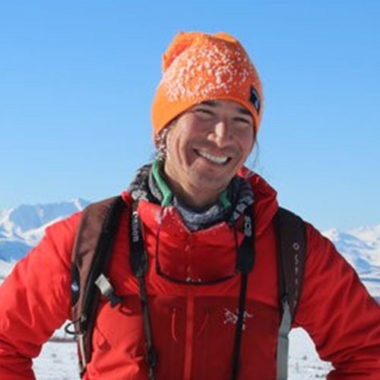 Alaska Pacific University
Co-Principal Investigator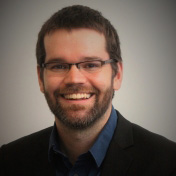 University of Massachusetts, Amherst
Associate
University of Massachusetss, Amherst
Associate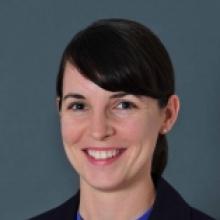 University of Massachusetts, Amherst