By: Roberta Tuurraq Glenn, Alaska Arctic Observatory and Knowledge Hub (AAOKH) Project Coordinator and Community Liaison and Donna Hauser, AAOKH Science Lead
Indigenous people have been living in the Arctic for millennia, developing deep connections to the land, sea, and wildlife on which they depend to thrive, laying the foundation for holistic understandings of marine, terrestrial, atmospheric, and sea-ice systems. These interconnected knowledge systems, as well as western scientific literature, reveal widespread and unprecedented environmental changes that have been ongoing for decades. Communities relying on sea ice for harvesting marine mammals in the winter and spring face more unpredictable conditions, shortened harvesting seasons, decreased harvesting opportunities, and travel safety concerns impacting access to resources. Stronger variations in year-to-year conditions and shifting environmental parameters are leading to changes in the arrival time and duration of subsistence resources. Arctic climate change is thus, inextricably linked to health, well-being, and food security in Indigenous communities. Despite well-documented evidence of change, efforts to understand and respond to changes are often disconnected from communities and do not equitably include the knowledge and priorities of the Indigenous people who live there. Gaps in coordination among researchers and Indigenous people can be filled by partnering with communities to document and share Indigenous Knowledge and observations with the goal of directly informing local decision-making.
"But for hunting, we're always thinking about going out earlier and preparing our minds for other dangers that we're starting to encounter, like rougher waters and having to go out further to harvest animals that are needed. Our time of hunting has been cut really short. Cause once the ice goes, it goes 40–50 miles out, in my mind it's too far." —Billy Adams, AAOKH Observer, Utqiagvik, April 2021
"We used to get caribou almost like clockwork in August, late August, early September. Coming through and migrating south. And this year we got them in November. The conditions out there were just too warm for them to go south. The waterfowl are starting to nest a month earlier than they normally nest. And so, they're in a state of confusion as well. We're so used to the norm that when something like this happens the animals have to evolve and adjust." —Robert "Bobby" Schaeffer, AAOKH Observer, Kotzebue, April 2021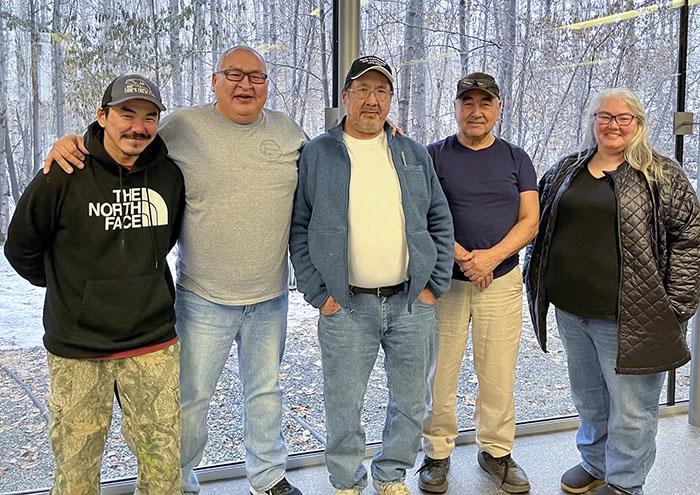 Collaborative community-based monitoring (CBM) programs provide an opportunity for Indigenous Knowledge systems and western science to cooperate in informing sustainable management decisions by bringing together deep knowledge of place with the rigor of classical scientific inquiry. The Alaska Arctic Observatory and Knowledge Hub (AAOKH) is a CBM network of Iñupiaq observers in northern coastal communities working in partnership with UAF researchers to track Arctic environmental change.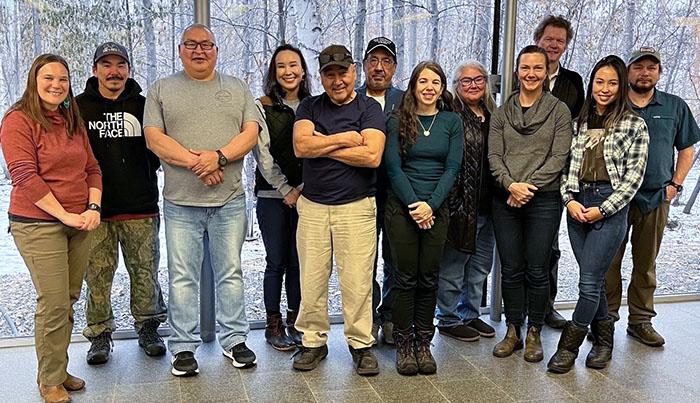 The program is guided by observers and by a Steering Group that includes community members from northern Alaska communities, as well as UAF academics. AAOKH supports long-term environmental monitoring and the sharing of knowledge, observations, and scientific data in the context of a changing Arctic. Observations are housed in an online database and shared regularly through the AAOKH Facebook page.
AAOKH currently has three main goals: (1) to sustain and support local Indigenous observers to share their knowledge and document environmental changes; (2) to create educational opportunities for the next generation of Indigenous leaders and scholars; and (3) to provide services and information to support community priorities. In an effort to share local perspectives and observations more widely with the general public, insights and recent themes in Arctic observing through AAOKH have been synthesized into an online ArcGIS StoryMap, Insights from Coastal Arctic Indigenous Observers. This StoryMap includes observations and recorded comments from local observers, as well as satellite images, that explore how changes in wind patterns; sea-ice conditions; coastal storms, flooding, and erosion; and warming temperatures have impacted changes to the subsistence calendar.
CBM programs like AAOKH allow for real-time detection of environmental change from a local perspective. This includes consistent, local-scale measurements of key environmental parameters, like weather conditions, water temperature and salinity, sea-ice conditions, and wildlife activity. These observations, when shared appropriately, can inform not only the broader Arctic research community but also local community planning and Indigenous co-management entities where observations may be directly relevant to local decision-making. For more information about how AAOKH is working with communities and serves as an Alaska Arctic Observatory & Knowledge Hub, please see Nunaaqqit Savaqatigivlugich — Working with Communities: Evolving Collaborations Around an Alaska Arctic Observatory and Knowledge Hub, Hauser et al.(2023). Funding for AAOKH comes from Community Service Payments made by a corporate defendant convicted of federal and maritime crimes in 2014.
---
References
Donna D.W. Hauser, Roberta Tuurraq Glenn, Elizabeth D. Lindley, Kimberly Kivvaq Pikok, Krista Heeringa, Joshua Jones, Billy Adams, Joe Mello Leavitt, Guy Norman Omnik, Robert Schaeffer, Carla SimsKayotuk, Elena Bautista Sparrow, Alexandra M. Ravelo, Olivia Lee, and Hajo Eicken. 2023. Nunaaqqit Savaqatigivlugich—working with communities: evolving collaborations around an Alaska Arctic observatory and knowledge hub. Arctic Science. e-First. https://doi.org/10.1139/as-2022-0044
---
About the Authors
Roberta Tuurraq Glenn is AAOKH's Project Coordinator and Community Liaison. Roberta helps AAOKH develop and maintain strong relationships with our communities so that our data and observations can be as useful as possible. Roberta is Iñupiaq and was born and raised in Utqiaġvik. She graduated from UAF with her MS in Geography.
Donna Hauser is AAOKH's Science Lead and a Research Assistant Professor at the International Arctic Research Center, UAF. Her interdisciplinary research focuses on changing Arctic marine ecosystems. Raised in Alaska, she is deeply connected to the state, its people, and its marine resources.