By: Kyle Joly, Wildlife Biologist, National Park Service
Caribou (Rangifer tarandus) are highly adapted to extreme environmental variability, which has allowed them to endure dramatic, historic changes including multiple ice ages. However, current climate change is happening up to four times faster in the Arctic than anywhere else on the planet and perhaps at an unprecedented rate.
The National Park Service (NPS), as part of its long-term Inventory and Monitoring Program, funds studies on caribou, climate, and vegetation in northwest Alaska. Caribou monitoring focuses on the movements and distributions of the Western Arctic Herd, one of the largest herds on the planet. NPS collaborates with partners across the Arctic, including the Alaska Department of Fish and Game, US Fish and Wildlife Service, and the Bureau of Land Management, as well as numerous other government wildlife agencies, universities, and non-government organizations.
The key question facing caribou subsistence hunters, researchers, and wildlife managers is: Can caribou, particularly in the face of significant changes in land use and development in the Arctic, keep up with these changes? Migration is a critical behavior trait that allows caribou to deal with environmental variability, seasonal resource scarcity, and achieve large population sizes. In an article published in the journal Animal Migrations (Joly et al. 2021), an international team of experts that spanned the Arctic reviewed potential impacts of climate change on caribou and reindeer (the name used for the same species in Eurasia) and identified key factors to preserve these migrations for the health of the species, individual caribou populations, and human residents of the North that rely upon them. Maintaining free passage of caribou to access their seasonal ranges is vital to conserving caribou migrations. Avoiding development in sensitive locations and mitigating the impacts of development on migration will be essential to the conservation of large, migratory caribou populations in the changing Arctic.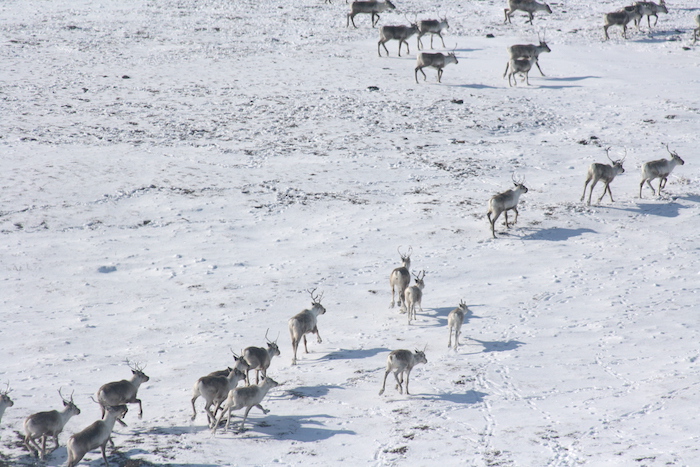 Climate change is impacting, and will continue to impact, caribou and their migrations in myriad ways. Warming temperatures will make ice thinner and dangerous to cross. Eventually, with enough warming, migratory routes across ice will disappear altogether. Accumulating snow in the fall helps trigger migration, and warmer temperatures are associated with both delays in autumn snow and migrations. Loss of sea ice may actually lead to more abundant snowfall over the course of a winter. Deep, soft snow has been linked to delayed and slower spring migrations. Climate change will also impact vegetation. This could impact caribou migrations either directly or indirectly. Barren ground caribou tend to avoid areas of tall shrubs and forest while migrating and these habitats may increase in the Arctic as the climate warms. Climate-related changes in vegetation could also impact forage quality, which ultimately could impact caribou body condition and their propensity for migration. A warmer Arctic will likely also lead to increased prevalence and extent of wildfires, which will alter habitat structure and quality, as well as potentially affect migration routes. Summertime insect harassment can also greatly impact caribou body condition and harassment is expected to increase under warming scenarios.
Climate change presents numerous challenges for caribou and their management. Increasing development in the Arctic adds to these complexities. If you'd like to learn more about caribou, consider attending the joint meeting of the North American Caribou Workshop and Arctic Ungulate Conference in Anchorage, Alaska, USA from 8–12 May 2023 or the National Park Service's caribou monitoring webpage.
---
References
Joly, K., A. Gunn, S. D. Côté, M. Panzacchi, J. Adamczewski, M. J. Suitor, and E. Gurarie. 2021. Caribou and reindeer migrations in the changing Arctic. Animal Migrations 8: 156–167. DOI: 10.1515/ami-2020-0110.
---
About the Author

Kyle Joly, a National Park Service wildlife biologist, works in all the northern Alaska park units. His main focus is on the spatial ecology of caribou, but he also works on projects studying wolves, grizzly/brown bears, moose, Dall's sheep and more.