By: Maureen Biermann, International Arctic Research Center (IARC) at the University of Alaska Fairbanks (UAF); Margaret Rudolf, UAF; Victoria Qutuuq Buschman, UAF; Craig Chythlook, UAF; Hajo Eicken, IARC/IUAF; and Sandy Starkweather, US Arctic Observing Network
The Sustaining Arctic Observing Networks (SAON) is an initiative of the Arctic Council and the International Arctic Science Committee. In its 2018–2028 strategic plan, SAON developed a novel framework called Roadmap for Arctic Observing and Data Systems (ROADS; Starkweather et al. 2021). This framework was a result of shared benefit analysis efforts following the biennial Arctic Observing Summits (AOS) and the Arctic Science Ministerials. Shared benefit analysis focuses on assessing societal benefits generated by observing systems and identifying benefits that are "shared" across groups (e.g., Arctic communities or regional decisionmakers) and not simply confined to the objectives of the research enterprise itself; this helps ensure that the priorities of those living in the Arctic are addressed (ibid.). A critical success factor for ROADS is equitable participation of Arctic Indigenous Peoples in the design and development process, starting at the process design stage to build needed equity. SAON ROADS calls for incremental approaches that are flexible and inclusive; however, the specifics of these approaches have yet to be clearly defined.
This is where the project Research Networking Activities for Sustained Coordinated Observations of Arctic Change (Arctic CoObs RNA) comes in. With funding support from the National Science Foundation, and in-kind support from NOAA Global Ocean Monitoring and Observing Program and the Arctic Institute of North America, Arctic CoObs RNA, now in its third year, supports SAON ROADS by helping to define and build linkages between observations serving local-scale needs of Arctic and Indigenous communities and broader scale regional and global observing frameworks. Arctic CoObs RNA works in partnership with the Indigenous-led Food Sovereignty (formerly Security) Working Group to identify benefits and essential variables central to Pacific Arctic Indigenous food security and sovereignty (Figure 1).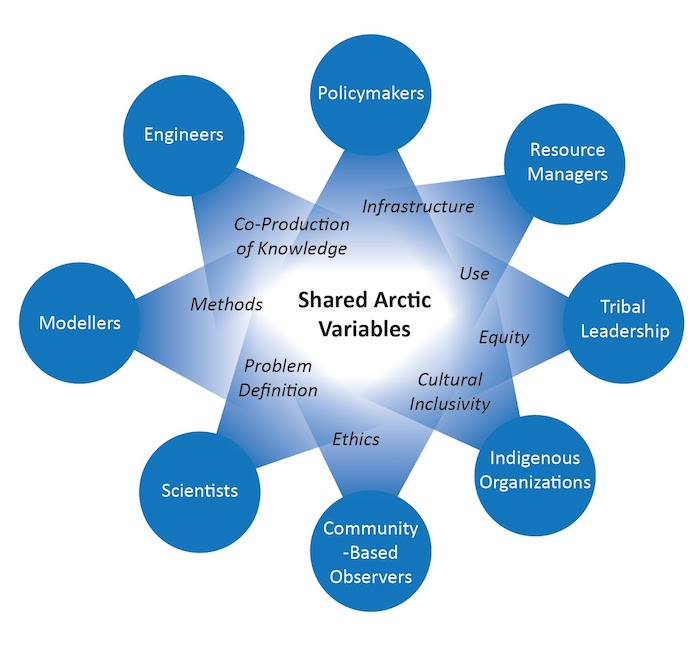 Figure 1 is from Research networking activities support sustained coordinated observations of Arctic change. 2022. Oceanography, https://doi.org/10.5670/oceanog.2022.110.
During the second year, Arctic CoObs RNA added a three-person, Indigenous Liaison Team that allows for directed Food Sovereignty Working Group engagement with project investigators, international observing networks and regional efforts, and Arctic Indigenous communities. The Indigenous liaison team approach gained traction at the 2022 AOS (Figure 2), where its potential as a model for other projects (such as the EU Horizon-funded Arctic PASSION project, another SAON ROADS partner) and other Indigenous communities (e.g., the Sámi of the European Arctic) was recognized. The liaison team's close relationship with Arctic CoObs RNA project coordination has demonstrated significant success with cross-worldview mentoring. Time spent learning histories, cultures, and worldviews—within which RNA CoObs proposes to work—supports the "learning and sharing" aspects of the networking activity and is central to the success and sustainability
Network documentation and analysis emerged as an additional foundational activity during the first two years of the project. This activity offered a means of mapping and analyzing how organizations and projects interact, who works with who, and how information and decisions flow between groups within the context of Arctic observing. Results of a network analysis undertaken as part of this effort were shared both as a poster during the 2021 American Geophysical Union Fall Meeting and as a presentation at the 2022 AOS. A comprehensive pan-Arctic network documentation effort would facilitate efficient coordination, increased transparency, and support a more welcoming Arctic Observing community.
The Arctic CoObs RNA team has supported additional efforts to build an Arctic observing community of practice by fostering linkages with related efforts such as the Polar Observing Assets Working Group (POAwg) and the Arctic Action Plan under the UN Decade of Ocean Science for Sustainable Development. In support of POAwg work, Arctic CoObs RNA developed an Arctic Observing Assets Quick Guide that offers a layperson introduction to existing Arctic observing assets viewers and tools. Arctic CoObs RNA also helped convene a workshop at AOS 2022 on next steps in enacting the UN Ocean Decade Arctic Action Plan. Arctic CoObs RNA has moved forward with work to conceptually link societal benefits to shared Arctic variables (SAVs). SAVs guide coordinated observations across interest groups and sectors, but are more responsive to the specific information needs of Arctic Indigenous communities and, in fact, are defined with significant input from these communities (Bradley et al. in review; Figure 3). Arctic CoObs RNA team members also coordinated and contributed to the AOS 2022 Conference Statement.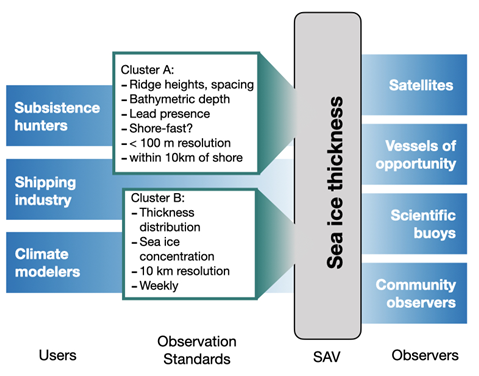 In Year 3, Arctic CoObs RNA is hosting its first in-person meeting of its project team. This meeting will explore an emergent project work plan that centers the concerns of Indigenous partners while realigning the original project goals of collaboratively and iteratively capturing design requirements and bringing together stakeholder communities to capture societal benefits and public interest. Additionally, the meeting will work to identify functional requirements related to observing data capture and aggregation. Team members will also continue the interim planning process for the AOS 2024 with a view toward creating an AOS that functions as a sustained process beyond the biennial events. The team will work with the Food Sovereignty Working Group and Indigenous communities to explore the concept of Shared Arctic Variables (SAVs), using salmon as a key theme, to identify how this may serve as an example for the SAON ROADS process. The Arctic CoObs RNA team is looking forward to participating in a variety of upcoming meetings, such as the American Geophysical Union Fall Meeting 2022, Arctic Circle Assembly 2022, and Arctic Science Summit Week 2023.
For more information, please see the CoObs RNA Project website.
References
Bradley, A., H. Eicken, O. Lee, A. Gebruk, and R. Pirazzini. In Review. Shared Arctic Variable Framework to Link Global and Arctic Regional and Local Observing System Priorities and Requirements.
Starkweather, S., J. R. Larsen, E. Kruemmel, H. Eicken, D. Arthurs, A. C. Bradley, N. Carlo, T. Christensen, R. Daniel, F. Danielsen, S. Kalhok, M. Karcher, M. Johansson, H. Jóhannsson, Y. Kodama, S. Lund, M. S. Murray, T. Petäjä, P. L. Pulsifer, S. Sandven, R. D. Sankar, M. Strahlendorff, and J. Wilkinson. 2021. Sustaining Arctic Observing Networks' (SAON) Roadmap for Arctic Observing and Data Systems (ROADS), Arctic 74: 56–68. https://doi.org/10.14430/arctic74330.
---
About the Authors
Maureen Biermann is the Project Coordinator for Arctic CoObs RNA, housed under the International Arctic Research Center (IARC) at the University of Alaska Fairbanks. She also serves as coordinator for the Center for Arctic Policy Studies at IARC. She has a master's degree in Geography and is based in Colorado on unceded Ute territory.
Maureen's website
---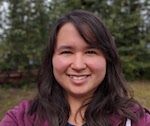 Margaret Rudolf is an interdisciplinary PhD candidate within the Natural Resources and Environment at UAF, with MS in Arctic Engineering and B.S. in Civil Engineering. Her doctoral dissertation research is on co-production of knowledge with Alaska Native communities on climate change research. She is partially funded through Alaska Center for Climate Assessment and Policy to study evaluation and metrics of success along with the roles of boundary spanners. She is also partially funded through Arctic CoObs RNA to be one of three Indigenous liaisons for the Food Sovereignty Working Group, focused on improving Arctic observing with SAON ROADS.
Margaret's website
---
Victoria Qutuuq Buschman is a Postdoctoral Researcher at the International Arctic Research Center (IARC) at the University of Alaska Fairbanks, though sits at the Greenland Institute of Natural Resources. She is an Iñupiaq Dr. of Conservation Biology specialized in centering Indigenous peoples in the conservation of lands, waters, and species within Arctic Indigenous homelands. Her role in research is to challenge the colonial legacy of conservation and instead promote partnerships with Indigenous communities, knowledge, and governance to develop ethically conscious, culturally relevant, and fully knowledge-based conservation efforts. Originally from Utqiaġvik, Alaska, she now lives permanently in Nuuk, Greenland where she works on wildlife conservation and protected area issues across the Arctic.
Victoria's website
---
Craig Chythlook is working as the Indigenous Liaison for the Food Security Working Group, a part of IARC's Arctic CoOBs RNA project. Craig is Yup'ik and originally from the Bristol Bay region in southwest Alaska. Craig is finishing up his undergraduate at the University of Alaska Fairbanks and spends his summers with his family fishing both commercially and subsistence for salmon out of Dillingham, Alaska.
Craig's website
---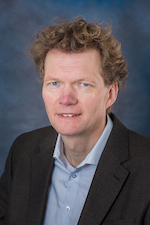 Hajo Eicken is Director of the International Arctic Research Center at the University of Alaska Fairbanks, and an expert in glaciology. He specializes in the growth and evolution of sea ice, its role in the climate system and its importance for ecosystems and people, both as a provider of important services and a major hazard. He collaborates from the local to the international scale to help enhance coordinated observations of rapid change. Hajo leads the Arctic CoObs RNA project coordination.
Hajo's website
---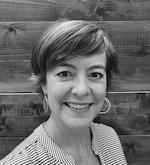 Sandy Starkweather is the Executive Director for the US Arctic Observing Network, a NOAA funded position created to advance NOAA and US agency participation in partnered arctic observing activities and work towards a framework concept for an international Arctic Observing Network (AON), and Chair of the SAON Board. With a joint background in engineering (energy systems, renewables, conservation), earth science (Arctic climatology) and science policy, Sandy has worked in a consulting engineering capacity, university research, project management, and planning.
Sandy's website