By: Evon Peter, University of Alaska Fairbanks; Lisa Wexler, University of Michigan; Stacy Rasmus, Center for Alaska Native Health Research at the University of Alaska Fairbanks; James Allen, University of Minnesota Medical School in Duluth
A network of Alaska Native leaders, social advocates, researchers, educators, and students have been at work over the past several years to change the narrative on suicide prevention and re-imagine Indigenous research partnership within an academic environment at the University of Alaska Fairbanks. The project is called the Alaska Native Collaborative Hub for Research on Resilience (ANCHRR) and is funded through the National Institute of Mental Health (NIMH). ANCHRR is co-led by an interdisciplinary team with longstanding Alaska Native research partnerships. ANCHRR is co-led by Dr. Stacy Rasmus at the Center for Alaska Native Health Research at the University of Alaska Fairbanks; Dr. Lisa Wexler at the University of Michigan; and Dr. James Allen at the University of Minnesota Medical School in Duluth.
Research, along with the public narrative on suicide among Indigenous peoples, has largely been deficit-based and focused on identifying the individuals at highest risk. This individual-level focus results in proposals and best practices for suicide prevention that rarely take into account critical cultural- and community-level context and knowledge. A deficit-based approach generally focuses on identifying what is wrong with the individual and proposes treating that person outside of their cultural and community contexts, thus failing to address root causes and systemic change.
In 2018, ANCHRR set out to flip this paradigm by engaging in research activities that take a holistic, cultural, and strength-based approach to describe what communities are doing to reduce suicide risk and promote the well-being of their young people as they grow into adults. ANCHRR's community engagement infrastructure guides the implementation of the Alaska Native Community Resilience Study (ANCRS). The ANCRS research focuses on community-level strengths and protective factors, and shifts the focus of investigations from individuals responding to adversity to that of adaptive communities working together to self-determine and support Alaska Native cultural and community strengths that serve as protective factors for young people.
Not only did ANCHRR shift the focus of the research, the project also set out to transform the practice of Indigenous community-university research partnerships. It is the first National Institutes of Health (NIH)-funded research hub that is held accountable by an external Executive Advisory Council made up entirely of statewide Alaska Native leaders and scholars. Furthermore, the project is guided by a majority Indigenous Internal Leadership Team (ILT) with a lead principal investigator and five Alaska Native professors and researchers. Importantly, there is a Research Steering Committee made up of mainly Alaska Native community-based leaders and practitioners, which guides each step of the research, informing study development, implementation, and analysis. Having Alaska Native peoples at all levels of ANCHRR leadership has been a defining feature, and has had a significant positive impact on the process and outcomes of the ANCRS research. From the outset, the ANCHRR team understood that the research process, including study design, focus, and implementation shared equal importance with the findings. The approach reflects research as ceremony (Wilson 2008), carried forward collaboratively and with intention and purpose in each step.
Through a relational research process, ANCRS seeks to identify, understand, and build vocabulary about community-level protective factors associated with a reduction in suicidal behavior. ANCRS was modeled from the ground-breaking work of Chandler and Lalonde (1998, 2008) among First Nations and Inuit communities in Canada, but then diverged through ANCHRR's intensive collaborative engagement to create an Alaska Native community-tailored design. The first aim of the ANCRS research is nearly complete; it engaged community members across 64 remote and rural Alaska Native communities in three regions of Alaska to learn about each community's protective processes and practices. These "protective factors" include: approaches to governance, support for culturally responsive services, and access to resources that promote well-being, such as spirituality and cultural teachings. The outcomes are promising, and are in the final review and approval stages before being released. The importance of community-level protection for suicide prevention is becoming clearer with the first phase of research, and the team is preparing to describe how the various kinds of community protection are maintained within communities, and how they work in the lives of young people.
To discuss this research and plan for the next steps, ANCHRR's Internal Leadership Team hosted an in-person gathering of team members in April 2022, the first since the beginning of the pandemic (the last statewide collaborative hub meeting occurred in Juneau in February 2020; Figure 1). After receiving feedback from its Executive Advisory Council and Research Steering Committee, the ANCRS research expanded to include a Youth Steering Committee, adding young people's perspectives from rural communities into the project's knowledge development efforts. This expanded team reviewed initial outcomes from the research study and offered substantive input into framing and next steps. The young participants also received support to create digital stories—two- to three-minute short films about their lives and communities—which were shared at the gathering. These youth perspectives are shaping the analysis of the central research study.
ANCHRR has been breaking trail since inception and is looking forward to sharing project outcomes across multiple platforms in the coming year. The goal is to share these findings in ways that are accessible and meaningful both at the community level and within the academy.
Further information is found on the Alaska Native Collaborative Hub for Research on Resilience website.
References
Wilson, S. Research Is Ceremony: Indigenous Research Methods. Winnipeg, Manitoba: Fernwood Publishing, 2008.
Chandler, M. J., and C. E. Lalonde. 1998. Cultural Continuity as a Hedge Against Suicide in Canada's First Nations. Transcultural Psychiatry 35: 191–219.
Chandler, M. J., and C. E. Lalonde. 2008. Cultural Continuity as a Protective Factor against Suicide in First Nations Youth Horizons. A Special Issue on Aboriginal Youth, Hope or Heartbreak: Aboriginal Youth and Canada's Future 10: 68–72.
---
About the Authors
Evon Peter is Neets'aii Gwich'in from Vashrąįį K'oo (Arctic Village), Alaska. He is an advocate of Indigenous Knowledge, languages, and rights, especially as they relate to the health and well-being of communities, and has focused on incorporating Indigenous Knowledge and practices into healing, leadership development, research, and Alaska Native language programs. Areas of expertise include Alaska Native and Indigenous studies, Arctic Council, University of the Arctic, suicide prevention, and film production.
---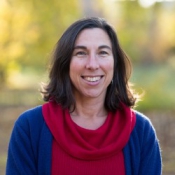 Professor Lisa Wexler's research focuses on three overlapping and complimentary areas that address both scientific and community priorities: suicide prevention, wellness/resilience, and learning. Her research engages participants in all levels of the process, responds to cultural and community priorities, and builds on and promotes personal and collective assets. Currently, she is working with community partners and academics to pilot Promoting Community Conversations About Research to End Suicide (PC CARES) (NIMH R34096884), which uses critical pedagogy to mobilize community members for strategic and collaborative suicide prevention and wellness initiatives. Additionally, her present work utilizes Intergenerational Dialogue Exchange and Action (IDEA)—a participatory research method—to engage young people in efforts to find local strengths, skills, and wisdom through cross-generational and community-based investigations that—through the effort—enhance youth possibilities for action and strengthen their social connections within and outside of their home communities.
---
Dr. Stacy Rasmus is a Research Associate Professor and Director of the Center for Alaska Native Health Research at the University of Alaska Fairbanks. Her research focuses on understanding the intersections between culture, health, and well-being, and the role of resilience and protective factors in reducing health disparities among American Indian/Alaska Native peoples. Her expertise is in social and behavioral sciences and she has a broad background in medical anthropology and psychology with specific expertise in the translation of cultural knowledge and practice into health interventions. She utilizes tribal participatory and collaborative approaches to engage AI/AN communities in quantitative, quasi-experimental, and mixed-method research designs while remaining responsive and respectful to cultural and social norms and practices.
---
James Allen is a Professor in the University of Minnesota Department of Family Medicine and BioBehavioral Health. His research focuses on ways to enhance the capacities of American Indian/Alaska Native communities to promote their own health and well-being. His current emphasis is youth development and health as part of a long-term 25-year collaboration with rural Alaska Native communities. This collaboration has documented culture-based strategies for youth suicide and alcohol misuse prevention and is now testing their effectiveness. The Qungasvik (toolbox) intervention is a strength-based, community-directed, and community-staffed approach that creates protective experiences to buffer risk-factors and promote well-being. The second strand of this work is documenting and describing the role of community-level protective mechanisms, sometimes called cultural continuity, in the low suicide rates of certain communities within high suicide impacted regions of rural Alaska. A third effort seeks to understand cultural and spiritual factors individuals in Pacific Northwest and northern Minnesota tribal communities are using in their recovery from opioid use. All these studies share focus at the intersection of culture, resistance, and health.