By: Logan Berner and Scott Goetz, Northern Arizona University
The boreal forest stretches nearly 9,000 miles across northern North America and Eurasia to form one of Earth's largest terrestrial biomes (biomes are large, naturally occurring communities of flora and fauna occupying a major habitat). This expansive northern forest accounts for nearly a quarter of global forest area and is the coldest forest biome, but also the most rapidly warming. There is emerging evidence that climate change is causing boreal trees and shrubs to expand along the cool northern margins of the boreal forest (Figure 1), while at the same time causing trees to become more stressed and die along the warm southern margins of the boreal forest. These dynamics could lead to a gradual northward shift in the geographic extent of the boreal forest biome, but the extent to which such changes are already underway remains unclear.

In a new study, we investigated indicators of an emerging boreal forest biome shift using nearly four decades of satellite measurements and environmental data from across the circumboreal forest (Berner and Goetz 2022). Satellite measurements of vegetation greenness provide insight into how vegetation productivity changed during recent decades. A long-term increase in vegetation greenness ("greening") indicates increasing vegetation productivity and perhaps the establishment of new plants, whereas a long-term decrease ("browning") indicates decreasing vegetation productivity and potentially die-off of existing plants. We hypothesized climate change is driving an emerging boreal forest shift that includes greening along cool northern margins of the boreal forest, as well as browning along the warm southern margins. To test this hypothesis, we created time-series of annual maximum vegetation greenness from 1985 to 2019 for 100,000 randomly sampled sites across the circumboreal forest using 41.6 multispectral surface reflectance measurements made by Landsat satellite sensors. We then evaluated long-term changes in vegetation greenness and their links with climate and other environmental characteristics. Importantly, we excluded from the analysis areas with recent fires, logging, or other disturbances.
We found changes in vegetation greenness during recent decades indicating a boreal forest biome shift is underway (Figure 2). In particular, vegetation became greener across much of the cool northern margins of the boreal forest as warming increased vegetation growth and enabled trees and shrubs to expand into tundra. At the same time, vegetation became browner along parts of the warm southern margins of this biome as hotter and drier conditions increased tree stress and death. Nevertheless, there was little-to-no systematic change in vegetation greenness across over half of the study region, especially within the climatically central portion of the boreal forest. Forests in these areas could be more resilient to climate change until some climatic threshold is surpassed. Our study contributes to a growing body of scientific evidence showing that significant changes in vegetation are occurring along the northern and southern ecotones (regions of transition between two biological communities) of the boreal forest, though changes are not uniform across these expansive ecotones.
Our analysis showed recent changes in vegetation at both the southern and northern margins of the boreal forest, suggesting early stages of a biome shift are indeed underway. The implications of a continued biome shift over the next few decades are multi-fold. Changes in vegetation could affect both plant and animal biodiversity, especially ungulate browsers like caribou and moose that have specific foraging preferences (e.g., deciduous shrubs and trees). These wildlife species are critical sources of food for subsistence communities in the boreal–tundra ecotone. A boreal biome shift could also likely cause substantial climate feedbacks as northern expansion of trees and shrubs alter many aspects of tundra ecosystems, including stability of carbon-rich permafrost soils and absorption of solar energy by the land surface. At the warmer southern margins of the boreal forest, increasing tree mortality will have widespread implications for forest products while also leading to further degradation of semi-continuous and sporadic permafrost. Along both northern and southern margins of the boreal forest, changes in the amount and composition of vegetation could impact wildfire regimes via both the flammability and density of fuel loads. There is mounting evidence that a boreal biome shift is underway; however, much still remains unclear about the extent, causes, and consequences of these changes. To better understand historical and future changes in the boreal forests, it will be necessary to combine detailed field studies, expansive remote sensing observations, and advanced mechanistic ecosystems models.
This study was carried out by the Global Earth Observations and Dynamics of Ecosystems (GEODE) Laboratory that is part of the School of Informatics, Computing, and Cyber Systems at Northern Arizona University. It was funded by NASA's Terrestrial Ecology program as part of the Arctic-Boreal Vulnerability Experiment (ABoVE).
Additional information
The peer-reviewed paper is openly available:
Berner, L. T., & S. J. Goetz. 2022. Satellite Observations Document Trends Consistent with a Boreal Forest Biome Shift. Global Change Biology 28(10), 3275–3292.
https://onlinelibrary.wiley.com/doi/10.1111/gcb.16121
Further information about this research and other projects can be found on the Global Earth Observation & Dynamics of Ecosystems Lab (GEODE) website, as well as by following @logan_berner on Twitter.
---
About the Authors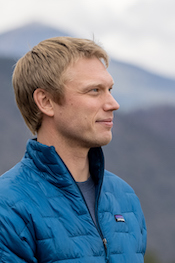 Logan Berner, PhD, is an Assistant Research Professor in the School of Informatics, Computing, and Cyber Systems (SICCS) at Northern Arizona University (NAU). He has worked at NAU since 2017 after receiving a doctorate in Forest Ecosystems and Society from Oregon State University. His research focuses on northern forest and tundra ecosystem dynamics, especially impacts of climate change. This research incorporates field ecology, satellite remote sensing, and ecological informatics. He has worked at remote research locations in Alaska, Canada, Finland, and Russia, and is an author or co-author of more than 45 scientific papers. He lives in Juneau, Alaska, with his wife and a dirty dog.
---
Scott Goetz, PhD, is Regent's Professor in the School of Informatics, Computing, and Cyber Systems (SICCS) at Northern Arizona University (NAU) and directs the GEODE Lab. He is the Science Team Lead for NASA's Arctic Boreal Vulnerability Experiment and Deputy principal investigator of NASA's Global Ecosystem Dynamics Investigation. He has authored approximately 230 peer-reviewed publications cited approximately 37,000 times, is an ISI/Thompson Reuters Highly Cited Researcher in the Cross-Field (interdisciplinary) category, and has mentored dozens of early career scientists and graduate students. He lives in Flagstaff, Arizona and spends summers in southwest France, where his wife has family ties.