Permafrost Pathways Project: Advancing Just Strategies to Address Arctic Warming
By: Sue Natali, Arctic Program Director and Senior Scientist at Woodwell Climate Research Center and Project Lead for Permafrost Pathways, and Brendan Rogers, Associate Scientist at Woodwell Climate Research Center and Project Co-Lead for Permafrost Pathways
The Arctic has warmed three to four times the global rate over the past several decades, with temperatures already greater than 2°C above preindustrial levels (Rantanen et al. 2022). Rapid pan-Arctic warming is intensifying wildfires and thawing permafrost, which along with other climate-driven changes, are transforming northern ecosystems and creating hazardous conditions that are forcing Arctic residents to make difficult adaptation decisions in order to protect their communities and traditional ways of life from the impacts of climate change.
The warming Arctic also impacts the global climate. The Arctic permafrost region stores almost twice as much carbon than is currently contained in the atmosphere (Schuur et al. 2015). As the climate continues to warm, organic carbon in permafrost soils can decompose and release greenhouse gasses in the form of carbon dioxide and methane—leading to further warming and thawing. There is an urgent need to reduce the uncertainties that observational and modeling gaps create in understanding the current and future impact of permafrost thaw. Despite this need, at present, not even the current scientific understanding of the local-to-global impacts of permafrost thaw is reflected in most climate policy.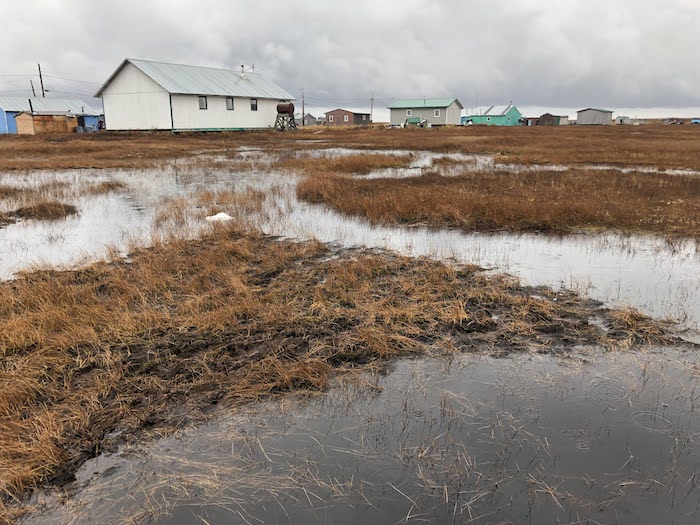 Figure 1. The Alaska Native village of Nunapicuaq (Nunapitchuk). Photo courtesy of Sue Natali / Woodwell Climate Research Center.
Permafrost Pathways is an ambitious new project that brings together scientists, Arctic residents, Indigenous Knowledge holders, environmental justice and human rights experts, and climate policymakers to improve permafrost science in collaboration with the international scientific community, and to inform and develop adaptation and mitigation strategies to address the hazards of permafrost thaw. Permafrost Pathways was launched in April 2022 with funding through the TED Audacious Project—a collaborative funding initiative catalyzing big, bold solutions to the world's most urgent challenges. Permafrost Pathways is a joint effort between Woodwell Climate Research Center, the Arctic Initiative at Harvard Kennedy School, the Alaska Institute for Justice, the Alaska Native Science Commission, and a coalition of collaborators, including the University of Alaska Fairbanks and the International Cryosphere Climate Initiative, with expertise in permafrost issues.
Monitoring and Modeling
Monitoring and modeling gaps are limiting efforts to understand the impact of permafrost carbon on the global climate. Working with partners across the Arctic, we are strategically identifying and filling monitoring gaps and working to improve model representation of permafrost. Over the next three years, we plan to install ten new eddy covariance towers, which are used for landscape-level measurements of carbon dioxide and methane, across the Arctic permafrost region and to support dozens of existing towers to ensure continuous year-round data collection of both carbon dioxide and methane fluxes. We're coupling this on-the-ground monitoring effort with high-resolution satellite observations to detect disturbances, like wildfire and abrupt thaw, and to quantify their carbon consequences. Together, these data will provide an improved assessment of the current carbon balance of the entire Arctic permafrost region.
Figure 2. In early August 2022, Woodwell's Dr. Kyle Arndt and Patrick Murphy installed a new eddy covariance flux tower in Churchill, Manitoba, Canada—the inaugural tower of Permafrost Pathways. The project aims to coordinate a pan-Arctic carbon monitoring network to fill data gaps that have hindered integration of permafrost thaw emissions and impacts into climate targets and adaptation governance. Photo courtesy of Jessica Howard, Woodwell Climate Research Center.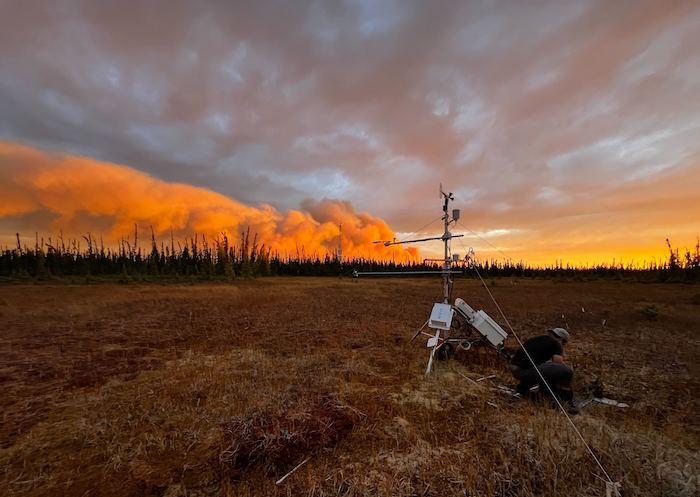 Figure 3. The project is supporting five additional existing eddy covariance sites across Canada by providing instrumentation and/or technical support to ensure these existing towers continue to collect data and to expand their measurement capacity to include both carbon dioxide and methane measurements throughout the year. Pictured above is the Scotty Creek site in the Northwest Territories, Canada that has since been damaged by wildfire. Photo courtesy of Oliver Sonnentag.
The monitoring data will also be used to improve projections of future carbon emissions from thawing permafrost. Working closely with collaborators at the University of Alaska Fairbanks, we are harnessing technological advances in remote sensing and computing technology to build a data assimilation ecosystem model that will improve our ability to model permafrost emissions so that we can accurately assess the impacts of Arctic warming and permafrost thaw on global climate.
Adaptation Strategies
Right now, dozens of communities in Alaska are being forced to make extremely difficult decisions about where and how they can live in order to protect themselves from climate-induced hazards caused by permafrost thaw. Permafrost Pathways is partnering with ten climate-threatened Alaska Native communities, who are documenting the increasing impacts on their communities from storms, permafrost thaw, erosion, and flooding. These data are critical for guiding adaptation decision-making, which can include protection-in-place, managed retreat, or when necessary, whole community relocation. Working closely with our partners, we are working to support the creation of a federal relocation governance framework that respects tribal sovereignty and human rights, ensures the right to self-determination, and fosters long-term climate resilience.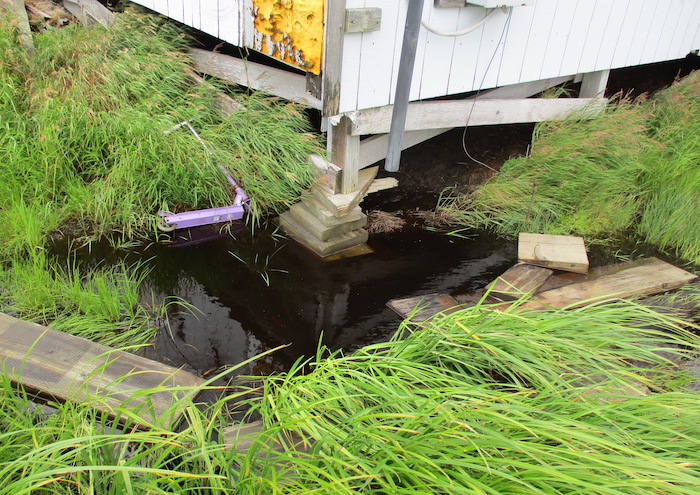 Figure 4. An elevated building atop thawing permafrost in Kuigilnguq (Kwigillingok), Alaska. Photo courtesy of Gary Evon, Permafrost Pathways Tribal Liaison.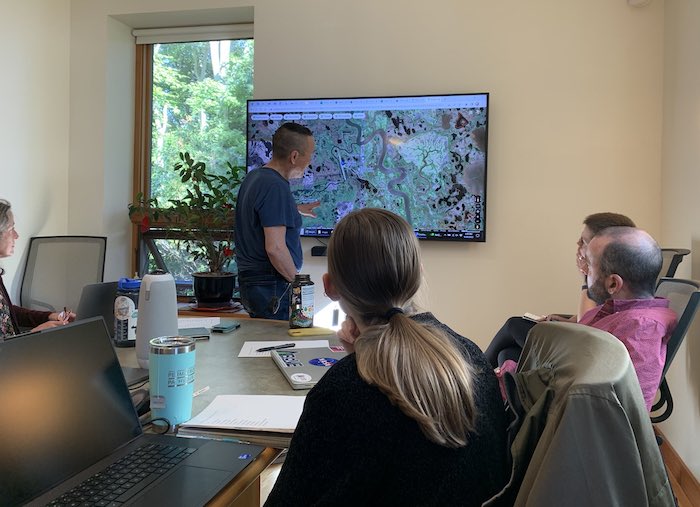 Figure 5. In late September 2022, the Permafrost Pathways team hosted the Alaska Institute for Justice, and Kuigilnguq (Kwigillingok) and Nunapicuaq (Nunapitchuk) Tribal liaisons at Woodwell Climate Research Center in Massachusetts for an Indigenous-led adaptation strategy workshop. Kuigilnguq (Kwigillingok) and Nunapicuaq (Nunapitchuk) are two of four Alaska Native community partnerships established over the past six months, which now also include Cingik/Siŋik (Golovin) and Cev'aq (Chevak). Photo courtesy of Greg Fiske, Woodwell Climate Research Center.
Mitigation Policy
Permafrost thaw emissions could use up between roughly 25—40 percent of the remaining carbon budget that would be necessary to cap warming at the internationally agreed upon 2°C global temperature threshold established in the Paris Agreement (Gasser et al. 2018). Despite the enormity of this problem, permafrost carbon has not been fully accounted for in global climate policies, rendering our emissions targets inaccurate. With updated data and models that reduce the current levels of uncertainty on permafrost emissions, we are working to ensure that the latest science translates into impact by sharing research with decision-makers in order to incorporate permafrost into international climate mitigation policy.

Figure 6. Potential cumulative permafrost carbon emissions (Gt CO2) by 2100 compared to some of the world's largest fossil fuel emitting nations, if their current emissions rates continue through the end of the century. Neglecting permafrost is equivalent to excluding a major world economy from global climate policy. (Natali et al. ERL 2022). Image courtesy of the Woodwell Climate Research Center.
Conclusion
To avoid irrevocable harm from permafrost thaw, it is essential to incorporate current knowledge about permafrost emissions into global carbon budgets. At the same time, we need to dramatically reduce current scientific uncertainty through improved monitoring and modeling of Arctic carbon cycling. Additionally, adaptation policy must also respond to the compounding threats communities are facing due to a warming Arctic.
Even with the most ambitious climate action, some permafrost will continue to thaw. But the decisions made now and over the next several years can make all the difference in preventing a worst-case scenario. Equitable action is needed right now to respond to this climate hazard and develop an adaptation governance framework that respects the health, well-being, and human rights of Arctic residents. To do this, solutions must be grounded in an improved understanding of thawing permafrost and designed and implemented with frontline communities at the table.
For further information, please see the Permafrost Pathways website and the Permafrost Pathways TED Talk by Dr. Sue Natali.
---
References
Gasser, T., M. Kechiar, P. Ciais, E. J. Burke, T. Kleinen, D. Zhu, .Y. Huang, A. Ekici, and M. Obersteiner. 2018. Pathdependent Reductions in CO2 Emission Budgets Caused by Permafrost Carbon Release. Nature Geoscience 11(11), 830–835, https://www.nature.com/articles/s41561-018-0227-0.
Rantanen, M., A. Y. Karpechko, A. Lipponen, K. Nordling, O. Hyvärinen, K. Ruosteenoja, T. Vihma, and A. Laaksonen. 2022. The Arctic has Warmed Nearly Four Times Faster than the Globe Since 1979. Communications Earth and Environment 168 (3). https://doi.org/10.1038/s43247-022-00498-3.
Schuur, E., A. McGuire, C. Schädel, G. Grosse, J. W. Harden, D. J. Hayes, G. Hugelius, C. D. Koven, P. Kuhry, D. M. Lawrence, S. M. Natali, D. Olefeldt, V. E. Romanovsky, K. Schaefer, M. R. Turetsky, C. C. Treat, and J. E. Vonk. 2015. Climate Change and the Permafrost Carbon Feedback. Nature 520: 171–179. https://doi.org/10.1038/nature1433.
---
About the Authors

Sue Natali, Ph.D., is the Arctic Program Director and Senior Scientist at Woodwell Climate Research Center and project lead for Permafrost Pathways. In particular, her research examines the effects of permafrost thaw and fire on the storage or release of carbon and, thus, on the global climate. She works with Indigenous communities, scientists, resource managers, and policymakers at all levels to develop just and effective strategies for limiting harm from Arctic warming.
Dr. Natali holds research and leadership roles in major multi-institution initiatives including Permfrost Pathways, the Permafrost Carbon Network, and NASA's Arctic Boreal Vulnerability Experiment. She was featured in the documentary film, Permafrost Now, and was a contributor to the award-winning book, The Big Thaw. She recently received the Sulzman Award for excellence in education and mentoring from the American Geophysical Union.

Brendan Rogers, Ph.D., is an Associate Scientist at Woodwell Climate Research Center and project co-lead for Permafrost Pathways. Dr. Rogers studies the vast expanses of Arctic permafrost and boreal forests across Alaska, Canada, and Siberia. His work focuses on understanding how these systems impact—and are impacted by—global climate change. Dr. Rogers is particularly interested in the effects of changing disturbance regimes, including wildfires and thermokarst. He combines field measurements, satellite remote sensing, and a range of modeling platforms to gain insight into rapidly changing carbon and energy cycles, vegetation dynamics, and ecosystem resilience. Dr. Rogers is widely recognized for his expertise, acting as a member and leader of various working groups, steering committees, science teams, and editorial groups focused on Earth's rapidly changing high-latitude ecosystems. He engages stakeholders and uses his science to inform natural resource management and policies for improved climate mitigation, adaptation, and ecosystem protection.
About
Witness Community Highlights is an online publication launched in May 2017 to complement the regular publications of Witness the Arctic. It was developed in response to community feedback identifying the need for a monthly publication to highlight 1–2 Arctic research efforts and other timely items of interest to our readers. Community Highlights is distributed monthly via our Witness the Arctic mailing list of over 8,800 subscribers.
Archives/Subscribe
Starting with the premier issue in May 2017, articles published in Witness Community Highlights are archived online.

Archive

Subscribe
Contact
Editors of Witness Community Highlights welcome ideas for future articles. If you have an idea or a question about this publication, please contact Betsy Turner-Bogren at betsy@arcus.org.
Witness the Arctic
Witness the Arctic provides information on current Arctic research efforts and findings, significant research initiatives, national policy affecting Arctic research, international activities, and profiles of institutions with major Arctic research efforts.

Witness the Arctic