By: Terri Edillon, Lead Communications Specialist, NSF Office of Polar Programs
Dr. Jennifer Mercer is serving as the acting Section Head for the Arctic Section at the US National Science Foundation. She is a program manager for Arctic Sciences and Arctic Research Support & Logistics. She also serves as Chair of the international Forum of Arctic Research Operators (FARO), and she co-leads the Atmosphere Collaboration Team for the US Interagency Arctic Research Policy Committee (IARPC).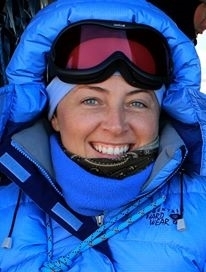 Dr. Mercer has a broad scientific background with extensive field experience in both the Arctic and Antarctic. She has been conducting research and leading projects in remote field locations for over two decades with efforts on all seven continents, as well as four ocean research vessels. Her doctoral work focused on using chemical biomarkers in ocean sediments to reconstruct past climate and environmental conditions, and her first 'cold' experience was in the Dry Valleys of Antarctica, studying organic biomarkers in the soil. That experience was the beginning of a deep love for Earth's polar regions and a defining point in her career that led to six years of leading NSF-funded atmospheric research projects, mostly based in Antarctica. In 2009, she joined the US Army Cold Regions Research and Engineering Laboratory (CRREL) as a polar engineering program manager. During her tenure at CRREL, she became involved in program management for NSF's Arctic Research Support & Logistics program and became a permanent NSF employee in 2016. In 2017, Dr. Mercer completed an Embassy Science Fellowship (ESF) with the US Embassy in Denmark, where she focused on research initiatives in Greenland. Her time as an ESF fellow inspired her ongoing efforts to facilitate increased engagement between the Greenland and US research communities.
She holds a bachelor's degree in Environmental Physical Science from Black Hills State University in South Dakota and a doctorate in Earth Sciences from Dartmouth College.
---
About the Author
Terri Edillon is a Communications Specialist at National Science Foundation based in Alexandria, Virginia.