By: Renee D. Crain, Program Officer, Arctic Research Support and Logistics, Office of Polar Programs, National Science Foundation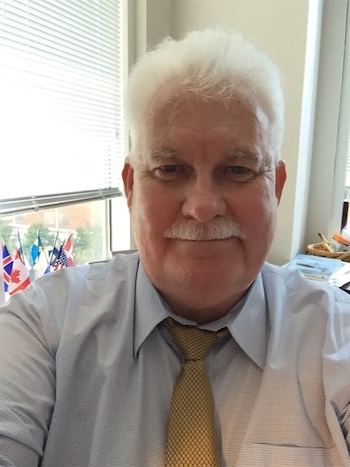 Simon Stephenson, Section Head, Arctic Sciences Section, in the Office of Polar Programs (OPP), will retire at the end of February 2021, concluding an extraordinary decades-long career at the National Science Foundation (NSF). Stephenson is known for supporting the ideas that arise from the research community and from his staff of experts in the Arctic Sciences Section.
Stephenson, whose research background is in glaciology, came to the US from the British Antarctic Survey to work at NASA Goddard. Following that, in 1989 he joined the Antarctic Infrastructure and Logistics Program at NSF, then known as the Polar Research Support Services. In 1999, Stephenson became the first Program Manager of the Arctic Research Support and Logistics program, which was created with special funding from Congress in response to the 1997 report, Logistics Recommendations for an Improved US Arctic Research Capability.
As Program Manager of the Arctic Research Support and Logistics program, Stephenson advanced research support through a number of efforts. He recognized the science support capabilities in Utqiaġvik (known as Barrow at the time) and built on those by investing in local support for research. Stephenson supported developing the capabilities of Toolik Field Station into a world-class research station through a cooperative agreement with University of Alaska (UAF) and oversaw the transition of research support and logistics capabilities from the Polar Ice Coring Office (PICO) to the current incarnation of the Arctic Research Support and Logistics Services contract, now held by Battelle Arctic Research Operations. He supported the science trials and use of the US Coast Guard (USCG) Cutter Healy (commissioned in 1999) to support research in a decades-long cooperation between NSF and USCG to make the Healy available to all federal agencies for research. He developed an international science collaboration with Fisheries and Oceans Canada for use of the Canadian icebreaker the CCGS Louis S. St. Laurent in support of a project to study the Beaufort Gyre. Stephenson was also a founding member of the Forum of Arctic Research Operators (FARO), which brings together all countries with research operations in the Arctic to share knowledge and resources.
In 2005, Simon became Section Head for Arctic Sciences. In that role he led many significant efforts, including: increasing investments in Arctic Social Sciences and Arctic Natural Sciences, while continuing to support Arctic System Science; advancing the Arctic Observing Network program and engagement with other federal agencies and international partners working to increase Arctic observing; transforming the Interagency Arctic Research Policy Committee by providing a secretariat office that developed the IARPC Collaborations portal, where agencies can collaborate on implementing the 5-year Arctic Research Plan; serving as detail to the White House Office of Science and Technology Policy as the Assistant Director for Polar Sciences, where he worked on policies in support of Arctic research and interagency coordination; and collaborating on the establishment of the Sustaining Arctic Observing Networks (SAON) and supporting activities of the SAON Board to coordinate and advance Arctic observing.
Stephenson supported collaborations across NSF that enhanced the Arctic Section's investments, notably in Advanced Cyberinfrastructure, EarthCube, Documenting Endangered Languages, Polar Science Education, and Long-Term Ecological Research. Stephenson also supported his staff in many endeavors to advance Arctic research, such as:
Investments in the Arctic Digital Elevation Model (ArcticDEM) by the Polar Geospatial Center that collected and processed high-resolution stereo imagery across the Arctic into the 2-meter resolution;
Investments in the international MOSAiC Expedition;
Focusing on risk management in field research;
Promoting collaboration with the Government of Greenland, Greenlandic research institutes, and colleagues in Denmark and at the US embassy in Copenhagen to increase scientific cooperation in Greenland;
Development of Navigating the New Arctic (NNA) as one of NSF's 10 Big Ideas;
Investments in Indigenous organizations to lead research and data stewardship projects; and
Support for polar science education and efforts to engage the next generation of polar researchers.
Simon Stephenson is renowned for making individual connections with people and his steady leadership toward advancing Arctic research will be missed.
A virtual retirement party for Stephenson will be held Friday, 12 March 2021 from 3:00-4:00 p.m. EST. For more information and to register, please visit: https://www.iarpccollaborations.org/members/events/20625