By: Anna-Sofie Skjervedal, Head of Secretariat, International Arctic Hub in Nuuk, Greenland
During 2021, an area as big as Sweden and Norway combined melted from the Greenlandic Ice Sheet. Researchers worldwide visit Greenland to study these extreme weather conditions and socioeconomic effects. Meanwhile, politicians struggle to navigate an ocean of information, while locals try to adapt new realities, with everyone strongly depending on each other to adapt. The International Arctic Hub is here to create a bridge between knowledge and action.
The year 2021 became a record year in regard to ice melting from the Greenlandic Ice Sheet. According to National Snow and Ice Data Center (NSIDC), the melt extent peaked at 872,000 square kilometers (337,000 square miles) on 14 August, melting an area as big as Sweden and Norway combined. In all the years we have had satellite observations, this scale of melt was only matched in 2012. Meanwhile, new studies from the Intergovernmental Panel on Climate Change (IPCC) state that within 30 years the Arctic will experience the first ice-free conditions during summertime.
Greenland is the Center of Attention
The changing climate has undoubtedly increased international attention to Greenland, where much important scientific knowledge is conducted. However, much of this knowledge is never absorbed into society. That is one of the reasons why the governments of both Denmark and Greenland decided to finance the International Arctic Hub locally anchored in Nuuk, Greenland, concentrating on building bridges between science and the community.
"We are trying to prevent what we call 'fly in-fly out' conditions. So many different researchers come to Greenland to conduct their research, collect data, and discovering ways to approach various topics and solutions. The researchers often have so little time, and many are uncertain as to how to approach, for instance, local community engagement or how to disseminate their valuable data," says Anna-Sofie Skjervedal, Head of Secretariat, International Arctic Hub (Arctic Hub) in Nuuk, Greenland.
At the same time, coming to Greenland is not easy, as the infrastructure and logistics are difficult and expensive. Further, many of the researchers coming to Greenland do not have a local network.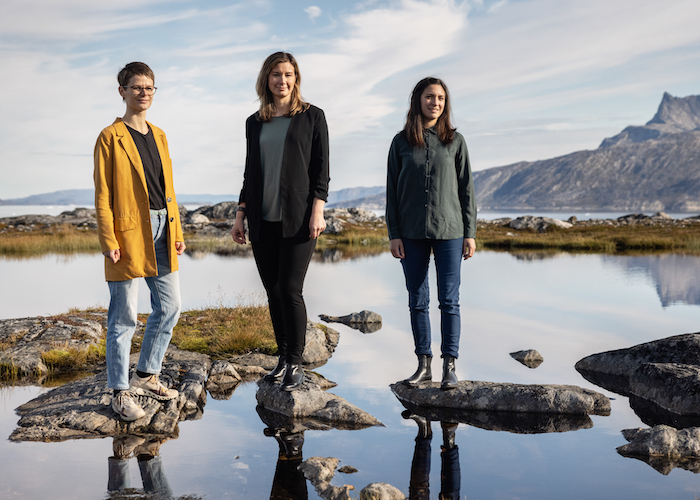 The Arctic Hub will be a one-door entry point to research in Greenland, and a forum for information and inspiration on how to navigate matters like this. The aim is that Arctic Hub can help smooth the initial process and facilitate communication and dialogue across disciplines and Arctic research stakeholders.
Local anchorage of knowledge is key to sustainable development, and there is much to gain for both researchers and society if researchers put more effort into disseminating their findings. A primary function of Arctic Hub is, therefore, to contribute to making knowledge from research in and around Greenland more visible and more easily accessible, and in that way, to support society at large.
As a first step, Arctic Hub focuses on disseminating knowledge from research conducted in and around Greenland to a broader audience through video and popular scientific articles. Arctic Hub also arranges workshops, providing tips and tools for communicating research to, for instance, the Greenlandic media or a specific Greenlandic audience. Another way Arctic Hub contributes to strengthen the link between research and society is by facilitating events that encourage dialogue beyond research, across research and education, business and industry, from citizens to politicians, as well as across national boundaries.
"It is so important that we now have a forum of sharing knowledge and connecting people. We are very excited to be part that collaboration." Anna-Sofie Skjervedal, Head of Secretariat, International Arctic Hub (Arctic Hub) in Nuuk, Greenland.
Combining Expertise
Arctic Hub is a new secretariat established as a Danish-Greenlandic collaboration. The Danish Finance Act annually contributes three million Danish kroner, and the Greenlandic Finance Act contributes 750,000 Danish kroner a year from 2019–2022. Arctic Hub has a Board consisting of eight members; four Danish members and four Greenlandic members. The secretariat is administrated through the Greenland Institute of Natural Resources.
For more information, see the International Arctic Hub or follow #ArcticHub at LinkedIn and on Facebook. Or, contact the International Arctic Hub via email (info [at] arctichub.gl), or by mail: International Arctic Hub; Pikialaarfik, 1.floor; Kivioq 2, 3905 Nuussuaq; Greenland.
---
About the Author

Anna-Sofie Skjervedal is Head of Secretariat at the newly established International Arctic Hub (Arctic Hub) in Nuuk, Greenland. (Photo is courtesy of Christian Sølbeck.) Anna-Sofie holds a PhD from Ilisimatusarfik (University of Greenland) and Aalborg University, in which she focused on meaningful youth engaging through visual means and social media (Towards Meaningful Youth Engagement: Breaking the Frame of the Current Public Participation Practice in Greenland, 2018). As prior head advisor in public participation, she has also overseen public participation strategy development—and implementation at the Municipality of Sermersooq in Nuuk, Greenland. Moreover, Anna-Sofie is part of the steering committee of the Greenland Science Week, a multidisciplinary science event for networking and outreach. To read more, see Greenland Science Week and #greenlandscienceweek2021.