By: Johnny Ryan, postdoctoral researcher in the Institute at Brown for Environment and Society (IBES) at Brown University
Motivation
The Arctic is currently experiencing some of the fastest rates of environment change on Earth due to climate warming. One of the most consequential impacts of this warming for coastal communities in the Arctic is loss of shorefast sea ice. Shorefast ice (also known as 'landfast' or 'fast' ice) is sea ice that is attached to the coastline. Since it does not drift with the winds and currents, shorefast ice forms an important habitat for wildlife and a platform for human subsistence food production and transport in the Arctic. As the climate warms, local residents report that it is breaking up earlier in the year and is thinner than it was a few decades ago. These environmental changes threaten the sustainability of wildlife and traditional human activities that depend on shorefast ice. Yet, despite its sociocultural importance and reports of its decline, a comprehensive multidisciplinary assessment of shorefast ice and its ongoing response to climate change has yet to be made in Greenland.
Research Goals
The overarching goal of this NSF-funded Navigating the New Arctic project is to co-produce knowledge about shorefast ice in the Uummannaq region of West Greenland. To do this, we are combining the latest advances in satellite remote sensing technology with community-based monitoring and local and Indigenous knowledge. In the first part of our project, we obtained observations from high-resolution satellite sensors and interviewed local residents to develop a better understanding of historical and current shorefast ice conditions. We are now in the process of initiating a community-based monitoring program using small multi-rotor drones to document key shorefast ice processes (e.g. formation, deterioration, and break-up). The quantitative and qualitative shorefast ice knowledge generated by these two activities will be used to understand not only how the shorefast ice has changed but how these changes matter to individuals and communities in the Uummannaq region. The involvement of residents and institutions in Uummannaq at all stages of the project, in combination with state-of-the-art scientific observations, will lay the foundations for ongoing community support and hopefully enable new insights into the complex social, cultural, and economic changes caused by rapid environmental change.
Key Project Partners
A key factor for our project's success is our partnership with the Uummannaq Children's Home (UCH) and Uummannaq Polar Institute (UPI). The UCH is a residential home founded in 1929 that aims to strengthen the self-worth and self-esteem of disadvantaged children and young adults through participation in traditional Greenlandic activities. The UCH has been headed by Ann Andreasen since 1985. In the International Polar Year (2007), Ann founded the UPI to contribute to the preservation of the local Greenlandic culture and promote educational programs. The UPI functions as a permanent workshop for inspiring alternative educational activities such as dogsled expeditions, scientific work, film-making, music, theater, and art. The UCH and UPI together provide Greenlandic children and adolescents with cultural, environmental, and scientific resources for personal development and sustainable well-being.
Preliminary Activities
We visited Uummannaq in Spring 2019 to initiate the project (view photos). During this visit, we presented some of our preliminary findings and began to learn about just how important the shorefast ice is to the culture of people living in Uummannaq Bay. At a workshop, we laid out some of our remote sensing analyses which attracted some interest and were useful for initiating discussion about past and future changes to shorefast ice. We found that many of our findings were corroborated by local knowledge. We also gained a lot of insight into shorefast ice, which will be useful for directing our future research efforts, such as, learning that in some years an icebreaker is sent in to the community to start the breakup process! One of the most memorable experiences was a barbeque on the sea ice where we supervised some drone flying lessons with children from the Children's Home in exchange for some delicious food. The children were fascinated by our drills which measure shorefast ice thickness. After discussions with leaders of the Children's Home, we decided to leave the Kovacs drilling equipment so it could be used next winter.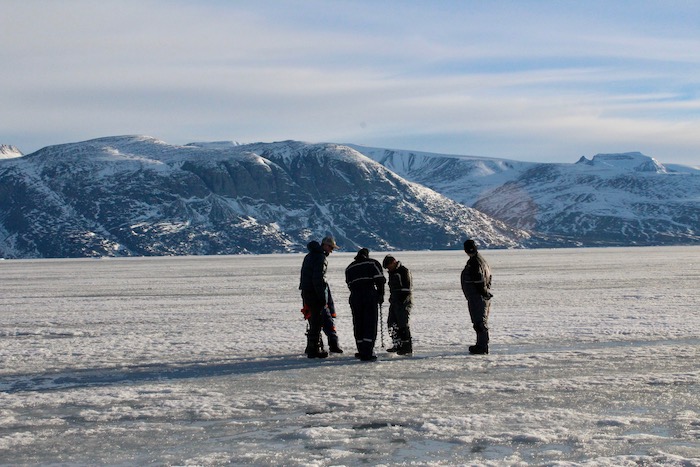 These experiences laid the foundations for the first publication of our project which investigates contemporary and future changes in shorefast ice breakup in 28 coastal Arctic communities in northern Canada and Greenland using medium-resolution satellite imagery and global climate models. The study finds that shorefast sea-ice breakup timing is strongly correlated with springtime air temperature and that the length of springtime shorefast ice season will be reduced by five to 44 days by 2100. This variability has contrasting implications for communities in northern Canada and western Greenland and emphasizes the importance of considering the local nature of climatic changes alongside community-level differences when making policy decisions or other preparations for the consequences of climate change. The press release from Brown University can be found here.
Sadly, the major data gathering activity in the second year of the project was cancelled due to travel restrictions imposed by COVID-19. But, we are looking forward to returning to Uummannaq in Spring 2021.
---
About the Author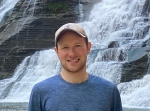 Johnny Ryan is a postdoctoral researcher in the Institute at Brown for Environment and Society (IBES) at Brown University. His research aims to understand how the cryosphere and climate interact so that we can better forecast the societal consequences of Arctic warming through the 21st century. He approaches this goal using a combination of satellite and remotely-piloted aircraft remote sensing and fieldwork campaigns. Before arriving in the U.S., he graduated from Aberystwyth University (UK) with a PhD in Geography, the University of Cambridge with an MS degree in Polar Studies, and the University of Nottingham with a BSc in Geography. He is extremely grateful to collaborators Sarah Cooley, Brigt Dale, Chris Horvat, Amanda Lynch, Laurence C. Smith, Vida Steiro, Siri Veland, as well as Ann Andreasen, Malik Johansen, Paaluk Kreutzmann, and numerous other people in Uummannaq who have been so welcoming during the early stages of this project.