Activity Updates from the Arctic Domain Awareness Center

By: Director Randy "Church" Kee, ADAC Executive Director
The U.S. Department of Homeland Security, Science and Technology's University Programs (DHS S&T UP) established the Arctic Domain Awareness Center (ADAC) in summer 2014 to research and provide a scientific basis to address the challenges faced by U.S. Coast Guard (USCG) and other DHS maritime missions in the Arctic region. ADAC's principal customer is the USCG. ADAC investigates capability shortfalls and gaps, and orients research activity to support the USCG mission needs. The particular areas that ADAC seeks to assist the USCG are related to missions in support of Arctic search and rescue, humanitarian assistance, disaster response, and security matters. While oriented to the USCG's Arctic mission needs, ADAC also seeks to support other DHS maritime mission needs in the Arctic. As U.S. Coast Guard leads U.S. Federal On-scene Coordination (FOSC) in time of maritime crisis, ADAC's research that supports other federal agencies that report to USCG FOSC leadership is also of value. Chief among these other U.S. Federal Agencies is the National Oceanic and Atmospheric Administration (NOAA). As a university-hosted research venue, ADAC supports student education. ADAC's approach is to align the Center's research agenda with U.S. national, DHS, and USCG Arctic strategies and strategy implementation plans. ADAC notes existing strategies may change, and DHS strategy for the Arctic remains in development. As in prior years of efforts, research and development conducted by ADAC will not only serve USCG and other DHS maritime missions, but also benefit an array of ADAC partners and collaborators and support the public good.
Since 17 March 2020, the ADAC Center management team has been in telework status and based on the current University of Alaska Anchorage guidelines, we anticipate this posture to remain until at least through Fall semester. We are very appreciative that restrictions in field access, laboratories, and workshops across our network are loosening, and as a result, will hopefully allow us to quicken the pace on associated research activities.
Figure 1. ADAC's 2019 Arctic Summer Internship Program participants. From left, Executive Director Randy "Church" Kee, Jessica Manning (lower left), Jack McCaslin (upper left), Andrew Segalla, ADAC Senior Research Professonal Jason Roe, Daniel Cruz, Cameron Carlson, Hector Dominguez, Sarah Gering, Grace Santella, Luke Cota, and Megan Verfaillie. Photo courtesy of ADAC.
During current Program Year 7, ADAC will continue to work with and mentor our student Fellows, presently at different stages in their studies, to ensure their successful transition to the Homeland Security Enterprise workforce once they graduate. ADAC Center leadership will continue to support student transition efforts with enrichment efforts that will enable their success. ADAC has recently completed our summer 2020 "Arctic Student Intern Project" (ASIP) that transitioned from a series of planned field activities at the Barrow Arctic Research Center near Point Barrow, to a virtual experience that provided ADAC's ASIP Fellows from across the University of Alaska, University of New Hampshire, U.S. Naval Academy, and the University of Texas El Paso. The virtual experience included a remarkable series of multi-disciplinary lectures, presentations, and discussions on the Arctic.
Figure 2: ADAC leads gathered for the 2019 visit from the Division of Homeland Security (DHS) Senior Official Performing the Duties of the Under Secretary for Science and Technology (SOPDUSST), Mr. Bill Bryan. Pictured from left, RADM Matt Bell, USCG D17 Commander; DHS SOPDUSST, Mr. Bill Bryan; CAPT Sean MacKenzie, former Commander USCG D17 Sector Anchorage; Mr. Shannon Jenkins, Sr Arctic Policy Advisor to Commandant, U.S. Coast Guard; RADM (Ret), Rudy Peschel, USCG, ADAC Executive Counselor; Mr. Theo Gemelas, DHS Science and Technology (S&T) Office of University Programs, ADAC Program Manager; CDR Mark Kuperman, former USCG D17 Sector Anchorage Deputy Commander; and Ms. Gail Miller, DHS S&T. Photo courtesy of ADAC.
As a DHS S&T UP Center of Maritime Research (CMR), ADAC's top priority is to transition research that can best support the U.S. Coast Guard and other Arctic operators. All ADAC's research projects included in Year 7 plan include transition as an integral part of their work plans. Center leadership evaluates project progress on schedules and milestones and advancement to overall transition planning during quarterly reviews via the ADAC Review Group. This review is one-way to discern the pathway of transition planning needed to support end-users. If a research project is not able to discern a primary pathway to DHS and other end users, ADAC's next approach is seeking transition for commercial application. ADAC believes the following categories are the most feasible for commercial application of ADAC research:
Oil and mineral extraction;
Coastal and port security;
Destination adventure cruises;
Arctic region maritime shipping; and
Education materials.
ADAC will work to advance partnerships and investigate potential for joint or sponsored research with these and other federal agencies that are oriented toward USCG mission needs in the Arctic. ADAC's leadership will conduct teleconferences and webinars with these key agencies, participate in their workshops and conferences when invited, and provide invitations for these agencies to participate in ADAC or University of Alaska hosted venues.
One research activity ADAC would like to highlight is our Propeller-Driven Long Range Autonomous Underwater Vehicle (LRAUV) System. This remarkable project led by ADAC investigators at Woods Hole Oceanographic Institution and Monterey Bay Aquarium Research Institute is fielding an advanced marine pollution response characterization platform. For further information, please see the ADAC Projects website.
In summary, ADAC is thrilled for the chance to advance relevant research, programs, and personnel workforce development in support of the U.S. Coast Guard and other Arctic operators. We are honored to be a part of the Homeland Security Enterprise research network and in particular, dedicated to advance the DHS S&T Office of University Programs endeavors in support of their mission to advance innovation and collaboration to better secure and protect our nation.
---
About the Author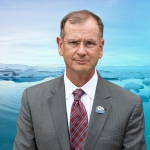 Maj Gen Randy "Church" Kee, United States Air Force (ret) is the Executive Director of the Arctic Domain Awareness Center (ADAC) at the University of Alaska, a DHS Center of Excellence. Since January 2016, General Kee leads a distributed team of Science and Technology, Research & Development. General Kee has led at the Squadron, Group, Wing and Air Ops Center levels. General Kee's staff assignments include U.S. Transportation Command, Headquarters USAF, and the U.S. Joint Staff in both Operations plus Strategic Plans and Policy Directorates. He has contributed to U.S. Arctic Strategy, supported domain awareness technology development, and Defense Support to Arctic crisis response. He culminated his military service as Director of Strategy, Policy, Planning and Capabilities for U.S. European Command in Stuttgart, Germany. General Kee is a Global Fellow at the Woodrow Wilson Center Polar Institute and serves an important role for the International Cooperative Exchange for Polar Research.
About
Witness Community Highlights is an online publication launched in May 2017 to complement the regular publications of Witness the Arctic. It was developed in response to community feedback identifying the need for a monthly publication to highlight 1–2 Arctic research efforts and other timely items of interest to our readers. Community Highlights is distributed monthly via our Witness the Arctic mailing list of over 8,800 subscribers.
Archives/Subscribe
Starting with the premier issue in May 2017, articles published in Witness Community Highlights are archived online.

Archive

Subscribe
Contact
Editors of Witness Community Highlights welcome ideas for future articles. If you have an idea or a question about this publication, please contact Betsy Turner-Bogren at betsy@arcus.org.
Witness the Arctic
Witness the Arctic provides information on current Arctic research efforts and findings, significant research initiatives, national policy affecting Arctic research, international activities, and profiles of institutions with major Arctic research efforts.

Witness the Arctic