By: Donna D.W. Hauser, Research Assistant Professor, International Arctic Research Center (IARC) at University of Alaska Fairbanks (UAF); Joshua Jones, Research Professional, IARC and the Geophysical Institute at UAF; Robert (Bobby) Puya Schaeffer, AAOKH Observer, Kotzebue, Alaska; Billy Adams, AAOKH Observer, Utqiaġvik, Alaska; Matthew L. Druckenmiller, Research Scientist with National Snow and Ice Data Center at University of Colorado Boulder; Roberta Tuurraq Glenn, graduate student in Geography at UAF; Elena Bautista Sparrow, Education and Outreach Director at IARC and Research Professor in the Department of Natural Resources and Environment, at UAF; and Hajo Eicken, Professor of Geophysics and Director of IARC at UAF.
Alaska Arctic coastal communities are the "first responders" to experience and detect changes in ecosystems and the environment, given their deep connections to place and integral reliance on traditional marine and land resources. Coordinated community-based observing efforts, such as the Alaska Arctic Observatory & Knowledge Hub (AAOKH), provide sustained long-term observations of shifting environmental conditions in the Arctic. AAOKH is an ongoing (since 2015) observing network with the primary goal to provide northern Alaska coastal communities with the tools, resources, and scientific support to share their expertise through observations of changing coastal conditions and associated impacts to their access of traditional marine resources. AAOKH focuses on building capacity across seven coastal communities, extending from Wales at the Bering Strait to Kaktovik near the Canadian border (see Figure 1). Coordinated observations from Indigenous local observers collectively provide a broad-scale and synoptic view of changing coastal sea ice and ocean conditions, and ultimately impacts at the community scale.
AAOKH observers are Iñupiat hunters with extensive knowledge and expertise in observing coastal conditions, often synthesizing a holistic and inter-generational perspective on environmental conditions. The AAOKH network records year-round narrative observations, as well as several standardized measurements, relevant to each community's local concerns (see Figure 2), including: erosion and flooding events, weather, sea ice cover and thickness, coastal water conditions (Conductivity, Temperature, and fluorescence measurements at Depth via hand-held CTD instruments), wildlife sightings, and community harvesting activities (see Figure 3). For example, mapping of sea ice trails used by whalers near Utqiaġvik is one observing protocol that AAOKH now supports, including an ongoing analysis of how sea ice thickness along trails has changed over the past thirteen years.
Our northern Alaska coastal observation network began in 2006 through the initiation of an earlier program called the Seasonal Ice Zone Observing Network (SIZONet), resulting in the engagement of multiple observers and communities who have contributed coastal observations across various periods over time. AAOKH and SIZONet share an online observations repository with the Exchange of Local Observations and Knowledge of the Arctic (ELOKA) of >7,500 observations so far. Observations are openly searchable online provided that users accept the terms of the catalog's use agreement, which includes agreeing to give credit to the observers when using the information and preserving the context in which the observations were made.
Why Collect Observations and Participate in a Project like AAOKH?
(written by Kotzebue observer Bobby Schaeffer)
I believe that temperatures will become hotter in the Arctic from now on and will do more damage to the environment and our subsistence resources. Monitoring and assessment will become even more important as we will use the data we have collected to plan for the future. What will replace the seals and whales when they become extinct? What will replace the sea birds and their eggs when they are gone? What will replace the salmon and white fish when they succumb to the overheating water in their spawning streams? What will happen to the caribou as their summer ranges become too hot for them to survive? What will we do when our ever-important berry products dry up and die in the ever-increasing heat? A lot of scary questions, but this may become a reality sooner than you think. Monitoring and collecting data today may allow us the opportunity to derive a plan to replace the subsistence resources we may lose to climate change.
Below are examples of local observations and measurements collected as part of AAOKH (see Figures 3, 4, and 5). More examples are highlighted at the AAOKH facebook page.
Note: The CTD ocean measurement was made by Vince Schaeffer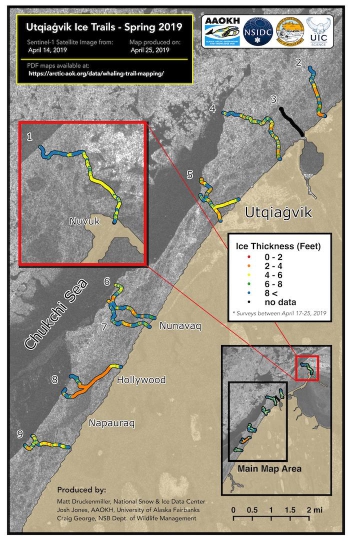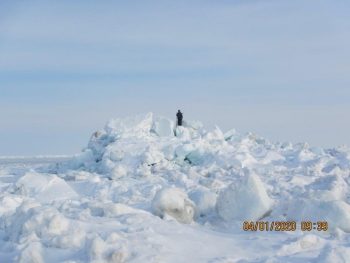 A "Knowledge Hub" to Exchange Information and Identify Future Needs
Observations and related scientific information, such as satellite imagery, are exchanged via the "knowledge hub" which incorporates web-based, social media, print, and in-person communication opportunities. These outlets serve as a forum for local observers, scientists, and community members to exchange information and knowledge on seasonal environmental changes and how these matter to each community. AAOKH is designed to be flexible and responsive to the coastal observing needs and interests of each community, as guided by regular community visits, the knowledge hub, and the AAOKH Science Steering Group (composed of community representatives and academic subject matter experts). Additional education and outreach components are aimed at interweaving Indigenous and western science and ways of knowing to engage educators, community members, and youth in climate change learning and stewardship projects in their communities (Spellman et al. 2018). For example, AAOKH helps support University of Alaska Fairbanks (UAF) graduate student Roberta Tuurraq Glenn's research to document coastal shoreline changes and establish erosion monitoring protocols in communities, which can then be used for future planning. Overall, community-based observations, such as those collected via the AAOKH network, are not only useful for tracking the changing Arctic coastal ecosystem (Eicken et al. 2014), but can also aid in assessing impacts to the safety and accessibility of traditional harvesting activities, such as the trails built on shorefast ice by hunters during the spring bowhead whaling season (Druckenmiller et al. 2013).
Acknowledgements
AAOKH evolved from a previous project called the Seasonal Ice Zone Observing Network, funded by the National Science Foundation. AAOKH is coordinated by the International Arctic Research Center at University of Alaska Fairbanks. Funding for AAOKH results from Community Service Payments made by a corporate defendant convicted of federal environmental and maritime crimes. We are also grateful to a growing number of partner organizations that contribute to our observing activities, including UIC Science, Native Village of Kotzebue, ELOKA, North Slope Borough, GLOBE program, Scenarios Network for Alaska & Arctic Planning, Arctic & Earth SIGNs, Aerokats & Rover Education Network, and Alaska Division of Geological & Geophysical Surveys.
References
Druckenmiller, M. L., H. Eicken, J. C. C. George, and L. Brower. 2013. Trails to the whale: reflections of change and choice on an Iñupiat icescape at Barrow, Alaska. Polar Geography 36:5-29.
Eicken, H., M. Kaufman, I. Krupnik, P. Pulsifer, L. Apangalook, P. Apangalook, W. Weyapuk, and J. Leavitt. 2014. A framework and database for community sea ice observations in a changing Arctic: an Alaskan prototype for multiple users. Polar Geography 37:5-27.
Spellman, KV, Sparrow, EB, Chase MJ, Larson, A and Kealy, K. 2018. Connected climate change learning through citizen science: an assessment of priorities and needs of formal and informal educators and community members in Alaska. Connected Science Learning 1(6): 1-24.
About the Authors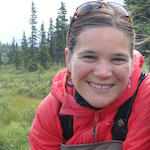 Donna Hauser is a Research Assistant Professor at the International Arctic Research Center at UAF where she pursues interdisciplinary and collaborative research in marine ecology. She joined AAOKH as the Science Lead in 2018 and her work is increasingly focused at the social-ecological interface through partnerships with tribal organizations and Indigenous coastal communities across northern Alaska. Her broader research portfolio centers on understanding the roles and responses of marine mammals in rapidly changing Arctic and Alaskan marine ecosystems.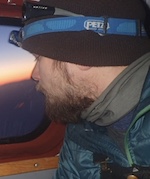 Joshua Jones is a research professional splitting time between the International Arctic Research Center and the Geophysical Institute at UAF. He began working with AAOKH in 2017 as the Research Coordinator, working closely with the observers in the AAOKH communities. He participates in many of the community outreach efforts such as school field trips and classroom activities. His background is in sea ice geophysics with research in sea ice dynamics, oceanography, and climatology, primarily in the coastal regions.
Robert (Bobby) Puya Schaeffer was born in Kotzebue, Alaska, and has lived in and near Kotzebue his entire life. From a young age, he learned about the environment from his dad and other elders. He grew up hunting, fishing, and trapping. He has spent a lot of time on the waters and ice of Kotzebue Sound, fishing commercially and observing the fish, animals and sea ice physics. He has been involved with marine-based research with the Native Village of Kotzebue for many years, including now as an Observer for AAOKH.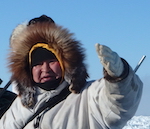 Billy Adams was born and raised in Utqiaġvik. He has worked with the AAOKH project as an Observer since 2014, sharing his knowledge of local ice, animals, and ocean conditions that he has learned from his family and a lifetime hunting in the region. He also works with the North Slope Borough Department of Wildlife Management and currently serves as the Chairman for the Ice Seal Committee, the co-management organization for ice seals in Alaska. He is also part of the Anagi crew and participates in several other co-management committees.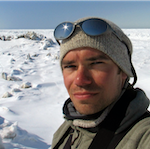 Matthew L. Druckenmiller is a Research Scientist with the National Snow and Ice Data Center (NSIDC) at the University of Colorado Boulder. Matthew works within the coastal regions of Arctic Alaska, investigating the connections between changing sea ice conditions and marine mammal habitat and local community use of sea ice for hunting and travel. Currently, he co-leads the Exchange for Local Observations and Knowledge of the Arctic (ELOKA) Program at NSIDC—a program that explores novel approaches to community-led data management, community-based environmental monitoring, and supporting data sovereignty.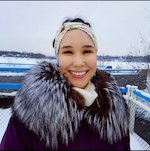 Roberta Tuurraq Glenn is a graduate student from Utqiaġvik pursuing a M.S. degree in Geography at UAF. Her thesis involves historical erosion mapping and community-based erosion monitoring in the Bristol Bay region and Wainwright, Alaska. She began working with AAKOH in June 2019 familiarizing herself with the AAOKH organization and identifying ways to build capacity to include erosion observations in the AAKOH database. Roberta also works with the State of Alaska Coastal Hazards Program supporting erosion mapping for rural communities in western Alaska.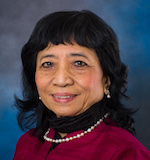 Elena Bautista Sparrow, Ph.D., is the Education and Outreach Director at the International Arctic Research Center and a Research Professor in the Department of Natural Resources and Environment, at the University of Alaska Fairbanks. She leads the Arctic and Earth SIGNs (STEM Integration of GLOBE and NASA assets) project in exploring impacts and feedbacks of a warming Arctic and weaving knowledge systems by educators, community members and youth in climate change stewardship projects. She also leads the AAOKH education outreach efforts and is a co-PI of the Arctic Harvest: Public Participation in Scientific Research Winterberry project.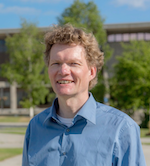 Hajo Eicken is Professor of Geophysics and Director of the International Arctic Research Center at the University of Alaska Fairbanks. His research focuses on sea ice geophysics, Arctic coastal processes, and their importance for human activities and ecosystems. He helped establish the Seasonal Ice Zone Network out of which emerged the community ice observations that transitioned into AAOKH.