By: Kimberly Kivvaq Pikok, Utqiaġvik, Alaska
My name is Kimberly Kivvaq Pikok and I am from Utqiaġvik, Alaska. I am a senior at the University of Alaska Fairbanks studying Wildlife Biology and Conservation. I chose this degree because in middle school and throughout high school, I was involved in a youth science, technology, engineering and mathematics (STEM) program that taught students in the North Slope of Alaska about geologic processes. I was intrigued by how land formations were created and what organisms inhabited these environments. However, it was not until I graduated from high school when I realized I wanted to be a scientist, but I never thought I wanted to go to school for it. When I graduated from high school, I had the opportunity to be a part of an outdoor leadership program. Unknowingly, that is what shaped the path I wanted to go on. I started to become curious about the natural processes around me and began to spend more time with my dad and brother on the land. They taught me how to respect and appreciate the plants and the animals. Since I started my degree, I have not been able to keep quiet about Arctic vegetation and wildlife.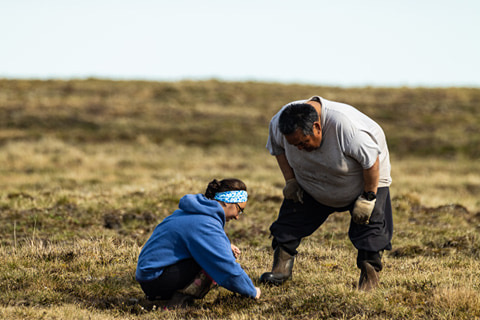 The Arctic Indigenous Scholars Program gives the scholars a chance to voice and take action on the most important issues we see in our communities by having conversations with policy and decision makers in Washington, DC. The program defines scholars as any Indigenous person from youth to elders whose education either came from the land and sea or the classroom. The program's definition of scholars and the efforts the organization demonstrates validates that no matter what type of education you have, Indigenous people's voices are valuable, and we have the power to make positive changes in our communities. The mission and goals of the program stood out to me because the programs I see outside of our communities allows us to voice our concerns, but rarely are we allowed to lead and take action. The Arctic Indigenous Scholars Program allows us to step out and create discussions with officials who will help us better our communities, land, and sea for future generations.
As an Indigenous student pursuing a degree in Wildlife Biology, I do not see a lot of Indigenous representation or involvement in the classroom. From my experience, I felt excluded from class discussions because some students ignored my thoughts or tried to argue about what I said. Some instructors and students told me I would not succeed because I did not come from the right place. I felt like I had to work harder than other students to prove to the instructors and peers that I do belong. I was struggling to fit in with the class so I found myself code-switching, but always ended up crying at the end of the day because I knew I was not accepted. If it was not for the support I received from my friends and family, I would not be in college right now.
These experiences I shared may be similar to other Indigenous students in STEM or other degree programs. We know Indigenous involvement in scientific research is important and accepted in the field now, but how can institutions reciprocate that energy in the classroom and in course materials? From my experiences in college, I learned that organizations and institutions take pride in having a diverse population—but are the people who make that population diverse treated in a way that reflects that pride in these spaces? This has me questioning how institutions can change their courses and classroom environment to make everybody feel capable and accepted in their field. Therefore, the questions I would like to discuss with officials in DC, such as the National Science Foundation (NSF), National Oceanic and Atmospheric Administration (NOAA), and the United States Department of Education are: (1) how can we encourage more Indigenous people to pursue a career in STEM, (2) how could we Indigenize or diversify course materials, classroom environments, and field work, and lastly, (3) how can classroom environments be more inclusive of Indigenous students rather than exclude or neglect our knowledge and passions? To start improving the learning experiences for Indigenous students, institutions can teach material that is relevant to Indigenous communities and students, incorporate Indigenous guest lecturers, and offer more meaningful learning opportunities such as field work, research projects, and opportunities to network with organizations.
I would like to thank ARCUS, the Inuit Circumpolar Council Alaska, the Arctic Indigenous Scholars' staff, committee, scholars, and the program's funders for uplifting our voices, guiding us in the right direction, and helping us find solutions on the issues we are tackling.
---
About the Author
Kimberly Kivvaq Pikok is an Iñupiaq from Utqiaġvik, Alaska. She is a senior at the University of Alaska Fairbanks studying Wildlife Biology and Conservation. Kimberly has many interests, but she is passionate about learning how climate change impacts animal health and behavior. After she graduates with her bachelor's degree, she sees herself furthering her education and wanting to get a degree in environmental education so she can work with her community and inspire and encourage Native youth to pursue a career in the sciences. Since 2016, she has been involved in the Fresh Tracks program, which is a leadership training expedition that brings together diverse young leaders from urban, rural, and tribal communities from across the nation. The leadership program uses cross-cultural leadership experiences that tap into the power of the outdoors to unite and ignite young leaders, transforming personal dreams into civic action. In the summer of 2019, Kimberly was a Haskell Environmental Research Studies intern at Haskell Indian Nations University. The internship and her time at UAF taught her how important it is to have Indigenous people in the sciences. As an Arctic Indigenous Scholar, Kimberly hopes to address and strengthen the relationship between western science and Indigenous knowledge in the college classroom setting and in communities.