By: Olivia A Lee, Assistant Research Professor, International Arctic Research Center, University of Alaska Fairbanks.
Savvy travelers know that when you are new to a place — and interested in learning about it — you need to talk to the locals. In the Arctic there is a growing urgency to learn more about ecosystem change and its potentially lasting impacts. However, with the exception of a few long-term ecological monitoring sites, most researchers are short-term visitors to the Arctic. In an effort to better leverage the knowledge of local experts, the UArctic has newly established the Thematic Network on Collaborative Resource Management.
UArctic's Thematic Networks foster issues-based cooperation within networks that are focused but flexible enough to respond quickly to topical Arctic issues. They form a natural framework, empowered by local knowledge and international level academic expertise, for development of multidisciplinary solutions to challenges in the Arctic.
The Network on Collaborative Resource Management seeks to develop capacity in collaborative natural resource management and community monitoring in the Arctic and to bridge community-based monitoring (CBM) networks across the Arctic and sub-Arctic with the research community, and natural resource managers. In collaborative management fishermen, hunters, and local community members play a central role in the decision-process about the use of natural resources. The goal is to support a resilient society that is capable of adapting to the rapidly changing environment. The Collaborative Resource Management network will contribute to this goal by increasing the number of resource managers and scientists who can use bottom-up, participatory tools and connect local Indigenous and science knowledge for management decisions. Using the context of learning through experience-exchange workshops, and providing tools and training materials, the Thematic Network aims to help resource managers, and masters students based in the Arctic, learn ways to adopt community-based approaches to gather information, and use it to support management decisions.
The Thematic Network is led by Finn Danielsen (Nordisk Fond for Miljø og Udvikling), with key collaborators from the Greenland Institute of Natural Resources, the National Institute of Polar Research Japan, the University of Alaska Fairbanks, and Hokkaido University. A timeline of activities that supported the development of this Thematic Network are listed on the UArctic webpage. Financial support for the effort from 2018-2019 came from the Danish Agency for Science and Higher Education (DASHE), the National Science Foundation, and the European Commission's Horizon-2020 Programme's Integrated Arctic Observation System INTAROS project.
An experience-exchange workshop at Hokkaido University, held June 2019, brought together CBM practitioners, resource managers, and representatives from the collaborating institutions that helped develop this Thematic Network. Participants from USA (Alaska), Greenland, Japan (Hokkaido), Russia (Western Siberia and Sakha Republic), and Canada (Nunavut) shared interdisciplinary perspectives on issues including sea ice, marine oil spills, marine and freshwater fish and invertebrates, marine mammals, caribou, and human wellbeing. There was common appreciation for learning about various CBM approaches and co-management experiences across the Arctic and that a "one-size fits all" model for collaborative resource management would not work. As a workshop participant, hearing success stories of other CBM programs building partnerships with industry and government inspired new ideas that might be worth trying in the future. One poignant example from Japan was the highly successful annual International Symposium on Okhotsk Sea and Polar Oceans, held in Mombetsu, Hokkaido, Japan. This symposium offers opportunities for local students and coastal community members to learn about research activities, and share local knowledge while also providing a venue for diverse stakeholders to interact. The full workshop proceedings are now available online
Members of the UArctic Thematic Network welcome new opportunities to collaborate on future activities that support the Thematic Network goals. Some upcoming activities are listed on the webpage. I especially encourage those interested in further developing activities to support collaborative resource management in Alaska to contact me, Olivia Lee (oalee [at] alaska.edu).
About the Author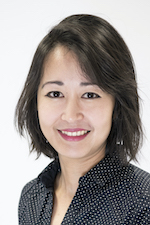 Olivia Lee's research focuses on the integration of community observations and remote sensing imagery of sea ice to assess walrus and ice seal habitat in northern Alaska. She also works on participatory scenarios projects that aim to broaden our understanding of the socio-economic and biophysical drivers affecting the future of the Arctic, particularly in coastal regions of Alaska. She contributes to the Sea Ice for Walrus Outlook and the Alaska Arctic Observatory and Knowledge Hub, to support coastal observing programs that take into account the interests of coastal communities in Alaska. Interdisciplinary science.