Meet the Board of Directors – Kaare Sikuaq Erickson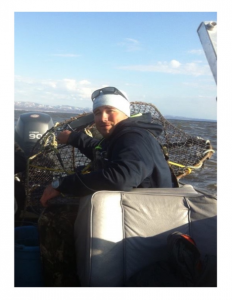 Kaare Erickson was elected to the Board of Directors in 2017 and his term expires in 2020.
Kaare Sikuaq Erickson is the North Slope Science Liaison for the Ukpeaġvik Inupiat Corporation in Utqiagvik (formerly Barrow), Alaska. As liaison, Kaare represents hundreds of Arctic researchers to thousands of Arctic residents, and vice versa; he represents thousands of Arctic residents to hundreds of Arctic researchers. Day-to-day responsibilities include providing advice to Arctic research projects during all phases of their projects and facilitating outreach and engagement initiatives in communities in the Arctic. Kaare currently leads several outreach and engagement initiatives on the North Slope, such as the annual BARC Science Fair that includes three days of family friendly events, barbeques, and evening presentations in Utqiaġvik; the Soup N' Science lunchtime seminar series, which provides a positive space for Arctic residents and researchers to share time, food, and ideas; and an Arctic science outreach tour that includes a series of community meetings, field schools, and school visits in several villages in the Arctic each spring.
Both Arctic residents and Arctic researchers are alarmed by the extreme climatic and seasonal changes the Arctic is facing. The value of Arctic research has never been greater as the world needs to know the threats we are currently facing. The threats are not only serious to Arctic residents, these are threats against all humans. We need to come together, both Arctic residents and Arctic researchers, and fight together as allies against our common threats and challenges.
It is becoming clear that Arctic research is moving towards more convergence, transdisciplinary, and co-produced research that is actionable and that makes tangible and positive social impacts. Organizations such as ARCUS, who bring coordination and communication to the Arctic research community, are crucial for Arctic research to continue moving forward.
Kaare spends his free time with his beautiful wife Roxanne, and his amazing daughters Kaia Rae (12) and Chanel "Teeny Tiny" (9), and his mischief son/hunting partner Keok JD (3). Kaare and his family feel most at home when they are on the land and water hunting, fishing, gathering, travelling, and LIVING.