The LEO Network, Addressing Climate Change One Event at a Time
By: Michael Brubaker, Director, Department of Community Environment and Health, Alaska Native Tribal Health Consortium; Erica Lujan, LEO Network Coordinator Alaska Native Tribal Health Consortium; Desirae Roehl, Tribal Capacity and Training Program Manager, Alaska Native Tribal Health Consortium; and Michael Brook, Senior Software Architect, Alaska Native Tribal Health Consortium
Arctic residents are experiencing the impacts of climate change every day. It is affecting people's homes and their ability to travel, access clean water, and harvest healthy foods. With temperatures outside of normal, landscapes altered, and seasons unhinged, the impacts of climate change are being expressed by specific events that are unusual or unprecedented. Over the past decade, the Alaska Native Tribal Health Consortium (ANTHC) has been developing a conversation with Arctic residents to share our experiences, better understand these event-based symptoms, and describe relationships between climate change, environmental impacts, and health effects. The goal is to improve understanding about climate change and to find healthy ways to adapt. (See ANTHC's Center for Climate and Health.) We have found no easy answers, but have come up with a simple strategy: address the impacts of climate change, one event at a time.
Sea Ice Break at Diomede, 26 January 2017. Photo courtesy of Opik Ahkinga, Native Village of Diomede, Alaska.
To do this we needed an easy way to share information about climate-related events, and a tool to connect observers with other knowledge and topic experts. This was the framework for the Local Environmental Observer (LEO) Network. The LEO Network is an online platform for documenting the symptoms of environmental change (not just climate related) as described by people who are experiencing the impacts first hand. LEO is an almanac of first-person accounts of unusual environmental events, which are often the first signals of significant and systemic change. This approach works because people who have intimate knowledge about their local environment share their observations on the platform, and by doing so, share information with people in other communities and countries. The purpose is two-fold: first, to raise awareness about climate and environmental change through description of specific events; and second, to connect people who can explore these events and develop specific adaptation strategies.
Locations of local environmental observations in Alaska provided by members of the LEO Network. Image courtesy of the Alaska Native Tribal Health Consortium.
The LEO Network began in 2012 as an effort by the tribal health system to understand and address emerging environmental health threats. It was patterned after the Alaska telemedicine system, used to connect medical specialists with health care providers in rural villages. With primary funding from the Environmental Protection Agency (EPA), the Commission for Environmental Cooperation (CEC), and the Bureau of Ocean Energy Management (BOEM), the network has grown across Alaska and expanded nationally and internationally. Today, LEO Network has approximately 3,600 members in 700 communities globally. The platform is available in fifteen languages including French, Portuguese, Norwegian, Iñupiaq, and Northern Sámi.
The LEO Network itself is part observation system, part social and consultation network, and part publishing platform. LEO welcomes anyone interested in environmental change to become a member, learn from the content, make observations, and share their expertise. Observers often connect by email with other subject matter experts to share information about an event and collaborate as co-authors on a LEO Network post. Typical observations describe seasonal change, unusual weather, natural disasters, and changes in wildlife health or behavior. The posts are often supplemented with links to webpages, related news articles, and relevant weather data or satellite images. Looking at collections of observations can help identify local and regional trends and inform community planning, research activities, and policy. Members can also use the system to do analysis and create their own mapping projects. These projects are personally curated collections of articles and observations which can be shared or kept private.
Permafrost Thaw Along the Koyukuk River, 10 August 2017. Photo courtesy of Jonathan Henzie, Allakaket Village Council, Alaska.
Climate change, when taken as a whole, is complex, confusing, even overwhelming. But at the local level, the circumstances and impacts can be described, questions can be raised, and strategies and interventions explored. The LEO Network approach is just this: focus at the local level and address environmental change one event at time.
Further information, including how join the LEO Network, is available on our website and by viewing an informational video, "About the LEO Network"
---
About the Authors
Michael Brubaker, Director, Department of Community Environment and Health Alaska Native Tribal Health Consortium, has been working in the Alaska Tribal Health System for over twenty years. His work focuses on environmental health, health impact assessments, climate change, and achieving safe, healthy, sustainable communities. He was born in Juneau and raised in Anchorage. He earned a BS in Biology from St. Lawrence University and a MS in Environmental Management from the University of San Francisco. He spent ten years as Community Services Director at the Aleutian Pribilof Islands Association, a regional tribal non-profit health consortium serving the Unangan population in Southwestern Alaska. He has spent the past ten years working for the statewide arm of the tribal health system where he directs environmental health services. Mike co-founded and directs the Local Environmental Observer (LEO) Network and is managing editor of the weekly e-journal, The Northern Climate Observer. He is associate faculty at Alaska Pacific University where he directs the Center for Climate and Health. Mike lives in Anchorage with his wife and four children.
Erica Lujan, LEO Network Coordinator, Alaska Native Tribal Health Consortium (ANTHC) is a member of the Tribal Capacity and Training Program at ANTHC, and works to help Alaskan communities document, and plan for, the impacts of climate change. Prior to coming on board with ANTHC, Erica worked as a Graduate Intern for the Division of Subsistence at the Alaska Department of Fish and Game and as a Research Associate at the University of Alaska Anchorage Institute for Circumpolar Health Studies.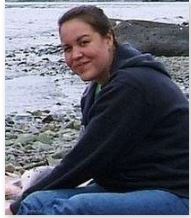 Desirae Roehl, Tribal Capacity and Training Program Manager, Alaska Native Tribal Health Consortium, is the Senior Program Manager for the Tribal Capacity and Training Program at ANTHC. She has over 14 years of experience working with tribal organizations on environmental and sustainability issues.
Michael Brook, Senior Software Architect, Alaska Native Tribal Health Consortium, is a software engineer who has worked in the tribal health system since 2015. His work focuses on developing software that helps communities better monitor and address health conditions. He is the primary software architect for LEO Network.