By: Alice K. DuVivier, Associate Scientist, Climate and Global Dynamics Laboratory, National Center for Atmospheric Research; and Elizabeth C. Hunke, Deputy Group Leader, T-3 Fluid Dynamics and Solid Mechanics Group, Los Alamos National Laboratory
January 2012 headlines from New York to Oregon cried: "A New Race of Mercy"1, "Worst Alaska Winter" 2, "Bering Sea Sea-Ice Slows Rescue Mission."3 Unusually extensive and thick sea ice off the Alaskan coast4 had delayed the final fuel delivery to Nome, Alaska, and a U.S. Coast Guard icebreaker needed to navigate a path through the ice for a Russian oil tanker. For a special mission like this, high quality predictions of sea ice evolution are essential for the ships' safe passage. The tool used by the joint Coast Guard/Navy/National Ice Center team for this mission's sea ice predictions was CICE, also known as the Community Ice CodE and the Los Alamos Sea Ice Model.
CICE is a computer code developed through years of community collaborations, which solve a collection of mathematical equations that represent the physical processes that occur during sea ice evolution: growth, melting, and movement of sea ice, along with the snow and melt water carried with it. The funny thing is that humans (or walruses or polar bears) care a lot about where the sea ice is, but the most important thing to understand in order to model the physical system is where the ice is not. The open water between ice floes largely controls fluxes of energy, moisture, and momentum between the atmosphere and ocean, and the snow and ponds on top of the ice dominate sea ice evolution.
CICE History
CICE was initially developed in the mid-1990's at the Department of Energy's Los Alamos National Laboratory (DOE/LANL) by Dr. Elizabeth Hunke and her colleagues, and first released in 1998. The first CICE community user was the Naval Postgraduate School, and soon other national and international scientists began using and contributing to the code. Today, CICE is a sea ice model used in more than 20 countries for applications as diverse as global climate projections for Intergovernmental Panel on Climate Change reports, research into fundamental sea ice processes, daily sea ice and weather forecasting, and special missions such as the fuel delivery to Nome, NASA Operation IceBridge flights, and support for the Navy's 2018 ICEX Camp Skate in the Arctic by the U.S. National Ice Center (see Figure 1).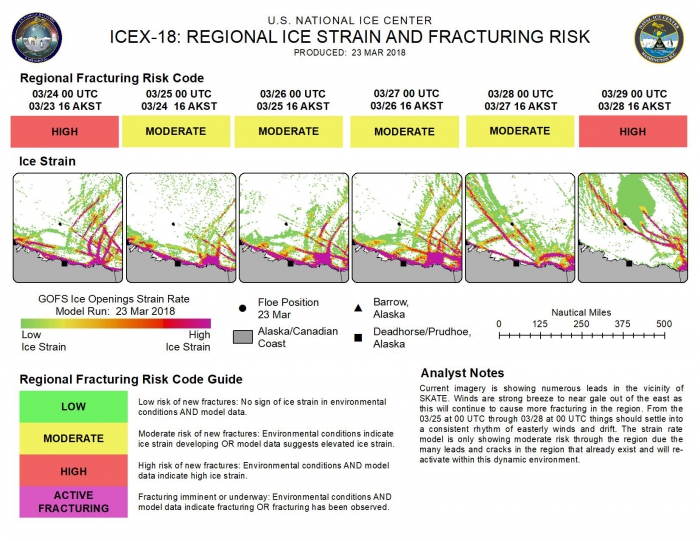 The dynamic, yet informal, partnerships between LANL and community CICE developers have led to significant enhancements of CICE through contributions of bug fixes, parameterizations, and infrastructure, with Dr. Hunke coordinating inclusion of model improvements. As numerical approaches for solving the sea ice model equations have diversified across the U.S. and international modeling centers, separation of the sea ice column physics from the main CICE model became desirable. The new, independent colmn phusics code, now known as "Icepack," opens fresh opportunities for using CICE's extensive sea ice phusical parameterizations in other sea ice models and for single-column applications.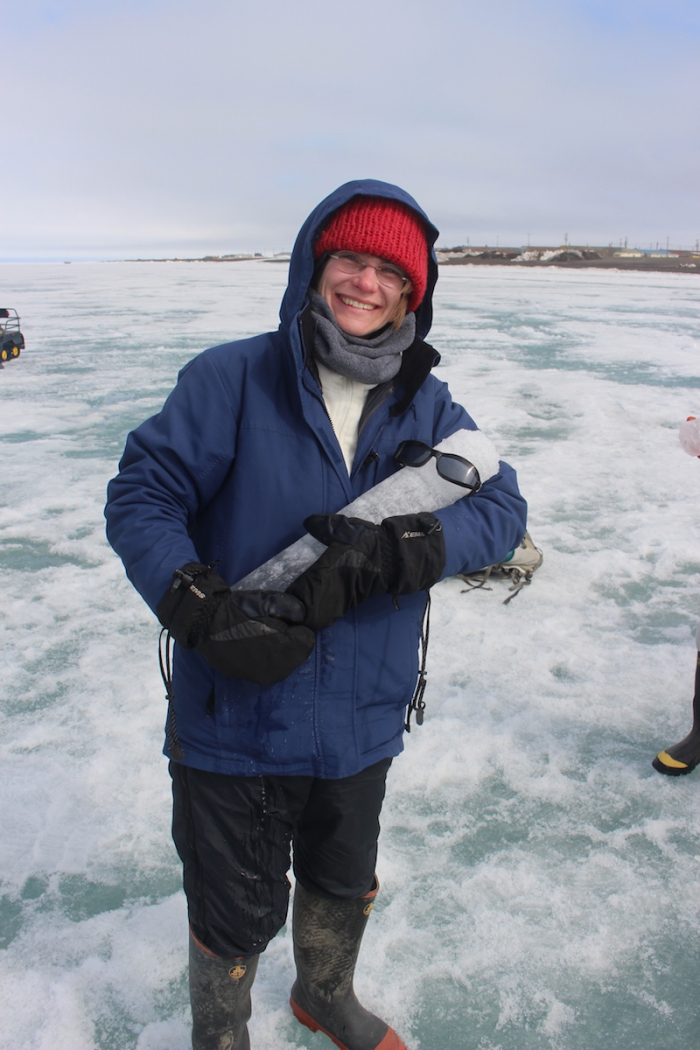 Creation of the CICE Consortium
The expansion of testing and maintenance requirements associated with the Icepack code revealed the need for CICE community members to share responsibility for model support, and in autumn 2016 a core group of CICE developers founded an interagency and international CICE Consortium to formalize longstanding collaborations. The first order of business was voting to resolve a long-standing debate within the community: the pronunciation of CICE (now "sice").
The Consortium aims to incorporate and maintain scientific sea ice model development in CICE for the community, accelerating its transfer into operational applications. The Consortium's role is to assist the community in code development, not to develop the model itself. The Consortium (highlighted blue in Figure 3) functions at the center of a much larger group of universities, government agencies, and other institutions moving sea ice modeling into the future (highlighted purple in Figure 3). Consortium members are agencies or institutions contributing in-kind personnel support for the Consortium's tasks, which focus on CICE dynamics, Icepack column physics, community support, code infrastructure, and testing capabilities, coordinated by Dr. Hunke and the Consortium's software engineer.
Consortium Resources
Github
The CICE and Icepack model codes, documentation, and related information can be freely accessed from GitHub.
Icepack version 1.0 release
Icepack version 1.0 was released in February 2018. Icepack consists of all physical parameterizations from the CICE sea ice model that are confined to single grid-cell columns, independent of the model grid, including full vertical biogeochemistry, radiation physics, hydrology, and thermodynamics.
CICE version 6.0 release
CICE version 6.0, currently in open-source development, will be released in late 2018 with upgrades including a new landfast ice parameterization, a flexible scripting package, and Icepack implemented as a git5 submodule within CICE.
Testing Infrastructure and Quality Control
The Consortium has developed extensive testing procedures, all of which are documented online. There is a comprehensive test suite to check for reproducibility. There is also an additional layer of quality control and compliance testing for non-reproducible changes that exploits the statistical properties of sea ice thickness to determine whether the changes significantly alter the sea ice simulation6. Consortium automated test results are reported to Github.
Contributing to and Contacting the CICE Consortium
Users of CICE or Icepack, regardless of if they are Consortium members or not, are encouraged to contribute to code development with the assistance of Consortium members. The Consortium has a community liaison in order to facilitate these contributions. Further Information
Acknowledgements
We acknowledge the broad support of U.S. and Canadian agencies and institutions: U.S. Department of Defense (Naval Postgraduate School and Naval Research Laboratory-Stennis Space Center), Department of Energy (Los Alamos National Laboratory), Environment and Climate Change Canada, National Oceanographic and Atmospheric Administration (National Weather Service and Geophysical Fluid Dynamics Laboratory), and National Science Foundation (National Center for Atmospheric Research).
Authors
Alice K. DuVivier is the CICE Consortium Community Liaison, based at the National Center for Atmospheric Research. Dr. DuVivier has studied and modeled the polar system from the atmosphere, through sea ice, and down into the ocean.

Elizabeth C. Hunke is the CICE Consortium Lead Coordinator, based at Los Alamos National Laboratory. Dr. Hunke has spent a lifetime on sea ice—from her childhood in Alaska to more than two decades in New Mexico, simulating sea ice on DOE's supercomputers for the Energy Exascale Earth System Modeling program.
References
1 https://www.nytimes.com/2012/01/10/us/icebreaker-slowly-carves-path-for…
2 https://www.cbsnews.com/news/worst-alaska-winter-piles-on-more-snow/
3. http://www.oregonlive.com/pacific-northwest-news/index.ssf/2012/01/beri…
4 http://nsidc.org/arcticseaicenews/2012/02/
5 Git is a free and open source version control system that is used for tracking changes in computer files. More Information
6 Roberts, A. F., et al., Quality Control for Community Based Sea Ice Model Development, Phil. Trans. Royal Soc. A, in review 2018.