Building the Arctic Data Center Community
By: Kathryn Meyer Community Engagement & Outreach Coordinator, Arctic Data Center; Vanessa Raymond, Training and Outreach Coordinator, Arctic Data Center; Amber Budden, DataONE, Co-Principal Investigator Arctic Data Center; Matthew Jones, National Center for Ecological Analysis and Synthesis (NCEAS), Principal Investigator Arctic Data Center
Since 2016, the Arctic Data Center has been actively supporting data authors in the curation and preservation of Arctic research data. This work has encompassed developing efficient data upload tools and providing on-call data management support for a broad research community covering multiple research disciplines and variable data types such as structured text, image files, audio files, and others. Currently, there are about 5000 datasets in the Center representing over 650,000 files, and the size of data holdings has quintupled during the past two years to over 20 terabytes today. The Center's software developers and data support team continue to pursue the ongoing curation of Arctic data and building of efficient data management and discovery tools. At the same time, the outreach and training team is ramping up community engagement with new activities, including Data Science Fellowships and training events, throughout the coming year. These activities and events provide opportunities to learn how the Arctic Data Center supports the Arctic research community, discover new Arctic research and data, develop hands-on experience in data management, and connect with the Arctic Data Center.
Community Engagement
Data Science Fellowship
The Arctic Data Center has launched a practicum-style fellowship, focused on providing early career researchers with the opportunity to build their data science skills through practical projects in support of Arctic research. The first cohort of Data Science Fellows began supporting the Arctic Data Center in January 2018, after having been selected from a large pool of over 60 candidates. Abundant applications have shown there is a large unmet demand in the Arctic community for practical data science training. Fellows work with Arctic Data Center leadership and staff to identify productive projects that both advance their data science skills and assist Arctic researchers with best-practice data submission to the Arctic Data Center repository. Joining the team with a variety of backgrounds and fresh ideas, the Fellows have also been contributing their skills to improve the efficiency of the Center's services for Arctic researchers. In July 2018, the Center will welcome a new cohort of fellows to the team at the National Center for Ecological Analysis and Synthesis (NCEAS).
The first cohort of Data Science Fellows at NCEAS. Left to Right: Steven Chong, Stephanie Freund, Dominic Mullen, Mitchell Maier, Rachel Carlson, Emily O'Dean, Irene Steves. Photo courtesy of Kathryn Meyer.
Synthesis Working Group
The Arctic Data Center's first Synthesis Working Group, titled "Reconciling historical and contemporary trends in terrestrial carbon exchange of the northern permafrost-zone," was awarded to Ted Schuur, Eugenie Euskirchen, Sue Natali, and Marguerite Mauritz in August 2017. The purpose of the synthesis working groups is to address Arctic-related issues through the analysis and synthesis of Arctic data that are primarily, but not exclusively, housed within the Arctic Data Center repository. The working groups help evaluate the utility and efficiency of data re-use within the Arctic Data Center, and inform future directions for data access and integration services. The Permafrost Carbon Synthesis Working Group is meeting at NCEAS at the end of March 2018. More information is available on the Synthesis Working Group project web page to learn more and stay up-to-date on their efforts. The next call for Synthesis Working Group proposals will be posted on the Arctic Data Center website in early April 2018.
Data Highlights
The Arctic Data Center recently launched Data Highlights, a space where datasets from the Arctic Data Center repository are highlighted alongside an interview with the project's lead investigators. The inaugural highlight features data from Michael Ricketts on "Soil bacterial community and functional shifts in response to altered snow pack in moist acidic tundra of Northern Alaska." The page features datasets that incorporate best data management practices and tools offered by the Arctic Data Center, while also providing an opportunity to gain direct insights from researchers on how their data can be applied to assist the Arctic research community. The Ricketts data set is valuable scientifically and as an example of documenting the entire computational provenance of the flow of data from initial acquisition to final figures and results. Arctic Data Center highlights and other activities are also available via twitter.
Example of the visual interface depicting provenance associated with the Ricketts et al. data package. The center panel of the user interface provides metadata for the object being examined with source objects (input) depicted on the left and products (output) depicted on the right. In this example, the object of interest is an R script which used one source file and generated four output files. Image courtesy of the Arctic Data Center.
Training Events
2018 Data Science Training for Arctic Research flyer. Image courtesy of the Arctic Data Center.
The Arctic Data Center held its first Data Science Training in August 2017. Eighteen Arctic researchers came together for two days in Santa Barbara, California to learn data science and data management skills to aid in their research. The Arctic Data Center is soliciting applications for the 2018 Data Science Training workshop for Arctic researchers, which will take place 13-17 August 2018. This five-day training will allow for a deeper dive into data science tools and the specific data management needs of participants. In addition to this summer's intensive training, the Arctic Data Center will be attending conferences and meetings throughout the year to meet with Arctic researchers. The outreach team will be providing three workshops at POLAR2018 on data management planning, best practices for data preservation, and publishing data with the Arctic Data Center. For a full list of upcoming opportunities, see the schedule below.
Workshop Schedule
2018 Data Science Training for Arctic Research
13 – 17 August 2018 in Santa Barbara, California
Application Deadline: 30 March 2018
POLAR 2018 Arctic Data Management 101
(3 Workshops)
19, 21, and 22 June 2018 in Davos, Switzerland
Ecological Society of America (ESA) Annual Meeting
5 August 2018 in New Orleans, Louisiana
"Managing Ecological Data for Effective Use and Re-use: A Workshop for Early Career Scientists"
Upcoming Presentations
48th International Arctic Workshop
4 – 5 April 2018 in Boulder, Colorado
NOAA 2018 Environmental Data Management Workshop
22 – 24 April 2018 Silver Springs, Maryland
Polar Data Planning Summit
22 – 24 May 2018 in Boulder, Colorado
Looking ahead
These training events and outreach activities reflect the commitment of the Center to uphold our mission of helping the Arctic research community reproducibly preserve and discover all products of NSF-funded science in the Arctic. This commitment extends beyond the technical development of software and other tools to supporting the development of a community around Arctic research data preservation. The Arctic Data Center is dedicated to increasing data literacy through training in data management best practices and in building a community by showcasing research and data highlights, supporting synthesis research, and engaging with Arctic researchers. We look forward to meeting you at upcoming workshops or conferences, seeing your application to our data science, data fellow or synthesis working group opportunities, or connecting online via Twitter (@arcticdatactr) or email (training [at] arcticdata.io).
Further information is available on the Arctic Data Center website.
Author Briefs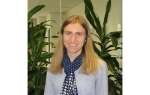 Kathryn Meyer is a Community Engagement and Outreach Coordinator working with the Arctic Data Center. Photo courtesy of NCEAS.
---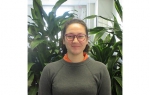 Vanessa Raymond is the Training and Outreach Coordinator for the Arctic Data Center. Photo courtesy of NCEAS.
---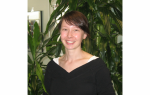 Amber Budden is the Director for Community Engagement and Outreach for DataONE. She is also a NCEAS Senior Fellow and a Co-Principal Investigator for the Arctic Data Center. Photo courtesy of NCEAS.
---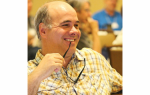 Matthew Jones is the Director of Informatics at NCEAS at UC Santa Barbara, and in that role serves as Principal Investigator for the Arctic Data Center and as a Co-PI for DataONE, among other projects focused on open data infrastructure. Photo courtesy of the NCEAS.
About
Witness Community Highlights is an online publication launched in May 2017 to complement the regular publications of Witness the Arctic. It was developed in response to community feedback identifying the need for a monthly publication to highlight 1–2 Arctic research efforts and other timely items of interest to our readers. Community Highlights is distributed monthly via our Witness the Arctic mailing list of over 8,800 subscribers.
Archives/Subscribe
Starting with the premier issue in May 2017, articles published in Witness Community Highlights are archived online.

Archive

Subscribe
Contact
Editors of Witness Community Highlights welcome ideas for future articles. If you have an idea or a question about this publication, please contact Betsy Turner-Bogren at betsy@arcus.org.
Witness the Arctic
Witness the Arctic provides information on current Arctic research efforts and findings, significant research initiatives, national policy affecting Arctic research, international activities, and profiles of institutions with major Arctic research efforts.

Witness the Arctic