By: Lauren Frish, Public Information Officer, Sikuliaq Science Liaison, College of Fisheries and Ocean Sciences, University of Alaska Fairbanks
The University of Alaska Fairbanks (UAF) and the research vessel Sikuliaq will join partners from Europe and Canada in the newly formed Arctic Research Icebreaker Consortium (ARICE). This new international consortium, consisting of 15 partners from 13 different countries, will support planning and implementation of Arctic research cruises by better coordinating the existing icebreaker fleet, allowing researchers to compete for fully-funded ship time, and collaborating with commercial vessels to increase Arctic data collection.
Retreating sea ice and warming waters have given rise to unprecedented political, economic, and scientific interest in the Arctic Ocean over the past decade. Research icebreakers provide the infrastructure and tools for studying ice-covered areas of the Arctic Ocean. But only a few icebreakers are capable of supporting such research. One objective of ARICE is to help increase the efficiency of how icebreaker cruise time is designated so this limited resource is used effectively.
Recognizing the need to provide polar scientists with better research icebreaker capacities for the Arctic, the European Commission will give ARICE $7.1 million over the course of four years to better coordinate the existing polar research fleet.
The R/V Sikuliaq is owned by the National Science Foundation and operated by the UAF College of Fisheries and Ocean Sciences (CFOS) as part of the U.S. academic research fleet. The global-class research vessel is used by scientists in the U.S. and international oceanographic community through the University-National Oceanographic Laboratory System (UNOLS).
"Our role as a key partner in ARICE raises the international visibility of Sikuliaq and brings new resources to support our ship operations," said Bradley Moran, dean of the UAF College of Fisheries and Ocean Sciences. "A priority of this program is to enhance international scientific collaboration in the Arctic Ocean and adjacent seas, and in that regard, we look forward to increased demand for use of Sikuliaq by the broader research community. This is an important accomplishment for CFOS as operator of Sikuliaq."
The 261-foot R/V Sikuliaq was designed for moderate sea ice conditions. With a name that translates to "young sea ice" in Inupiaq, Sikuliaq can operate and maneuver through sea ice up to three feet thick. The ship is a smaller and more economical option than more serious icebreakers in the ARICE fleet, making her ideal for Arctic research expeditions along the outer boundary of Arctic sea ice, or throughout the summer when ice is not as thick. ARICE hopes to factor in the strengths of Sikuliaq and other icebreakers to make it easier for researchers to study the changing Arctic.
Sikuliaq allows up to 26 researchers at a time to collect samples and analyze them in onboard laboratories, host remotely operated vehicles, and conduct surveys throughout the water column and seafloor using an extensive set of research instrumentation. The vessel is designed to have a reduced environmental impact, including a low underwater radiated noise signature for marine mammal and fisheries work.
For the first time, scientists conducting research in the Arctic Ocean will be able to apply for fully funded access to six international icebreakers, including Sikuliaq. While cruise time will be granted to researchers based on merit, ARICE project coordinators hope the program will increase opportunities for early career researchers and scientists from countries who do not have easy access to an icebreaker.
ARICE will also increase coordination between icebreaker operators and work with marine businesses to increase data collection on Arctic commercial vessels. In the long run, ARICE aims to implement a sustained International Arctic Research Icebreaker Consortium to continue to maximize and expand the use of these resources.
As the U.S. representative in ARICE, Sikuliaq is well positioned to serve an increasingly international audience, and to foster greater collaboration between U.S. Arctic ship users and international partners.
ARICE is coordinated by the Alfred Wegener Institute in Germany (AWI). The consortium was launched with a kick-off meeting at the German Maritime Museum in Bremerhaven in early February 2018.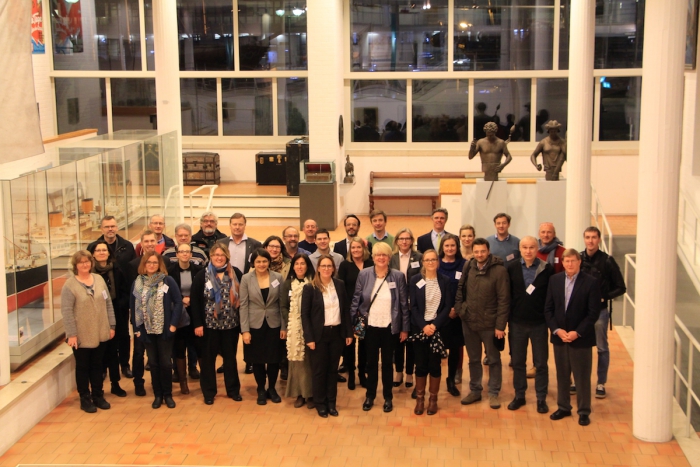 Learn more about the consortium on the ARICE website and from the Alfred Wegener Institute's press release.
For questions, contact Lauren Frish (lcfrisch [at] alaska.edu).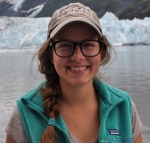 Lauren Frish is the Public Information Officer and Sikuliaq Science Liaison at the UAF College of Fisheries and Ocean Sciences. Lauren has a master's in Environmental Policy from Bard College's Center for Environmental Policy, and a bachelor's in Environmental Geology from Colgate University. Lauren is excited to be a part of Sikuliaq's outreach team, where she can promote all of the exciting research that happens on the ship and collaborate with Arctic researchers around the world.
---
Members of the Arctic Research Icebreaker Consortium
Alfred Wegener Institute, Helmholtz Centre for Polar and Marine Research, Germany (Coordinator)
Association of Polar Early Career Scientists, Germany (hosted by the Alfred Wegener Institute)
Arctic Portal, Iceland
British Antarctic Survey, UK
Finnish Meteorological Institute, Finland
Institute of Oceanology, Poland
Italian National Research Council, Italy
National Center for Scientific Research, France
Norwegian Polar Institute, Norway
Spanish National Research Council, Spain
Swedish Polar Research Secretariat, Sweden
University of Alaska Fairbanks, USA
University of Laval, Canada
Technical University of Denmark, Denmark
World Ocean Council, UK
The Research Icebreakers
PRV Polarstern, Germany
IB Oden, Sweden
RV Kronprins Haakon, Norway
RRS Sir David Attenborough, United Kingdom
CCGS Amundsen, Canada
RV Sikuliaq, United States of America