Inspired by Usteq, Yup'ik Word for Catastrophic Land Collapse
By: Robin Bronen, JD, PhD, Executive Director the Alaska Institute for Justice and Denise Pollock, Research Director at the Alaska Institute for Justice
The Arctic is in the midst of an unprecedented environmental transition caused by increasing land and ocean temperatures. Arctic sea ice is rapidly decreasing. Typically, sea ice forms in the southern Chukchi and northern Bering seas during October (McFarland, H.R., H. Eicken, et al. 2018). During the winter of 2017-2018, ice formed several months after October, and when it did form the ice repeatedly moved in and out of the Bering Strait shoreline. (See Figures 1 and 2.) With little sea ice, Alaska Native coastal communities have limited protection from storm surges. In addition, erosion and thawing permafrost damage infrastructure, including health clinics and water and sewage treatment facilities, and affect the health and well-being of Alaska Native communities. In 2009, the US Government Accountability Office found that 31 communities were imminently threatened by flooding and erosion.
Several of these 31 communities have decided that the relocation of their entire community is the best long-term adaptation strategy to protect residents from the permanent disappearance of land caused by usteq, a Yup'ik word meaning catastrophic land collapse triggered by the combination of thawing permafrost, erosion, and flooding. Relocation requires long-term planning to ensure that people can maintain kinship and their connections to culture and land as well as construct housing and public infrastructure in another location.
In the United States, no institutional framework currently exists to determine whether and when relocation needs to occur in order to protect people from environmental hazards. Working with 15 Alaska Native communities, the Alaska Institute for Justice (AIJ), a non-profit organization, addresses this institutional gap. AIJ recognizes that Indigenous knowledges and methodologies must inform and focus all research priorities. Indigenous staff at AIJ understand the intricacy and extent of Indigenous relationship building protocols, which require reflection, time, and trust (Kovach 2009). Since October 2015, AIJ has facilitated a series of one-on-one telephone calls, bi-monthly community-wide teleconference calls, in-person meetings in Anchorage and within village communities to build trust and understanding between the Tribe and non-profit organization.
Community-based environmental monitoring, done in partnership with Alaska Native Indigenous knowledge-holders, research institutions, and state and federal government agencies, provides the framework for the co-production of knowledge and is a critical and foundational component of this work. Alaska Native peoples' deep connection with their environments, informed by millennia of fishing, hunting, and traveling across the land, helped to determine what types of Indigenous knowledge would be applicable to understanding local environmental observations and impacts.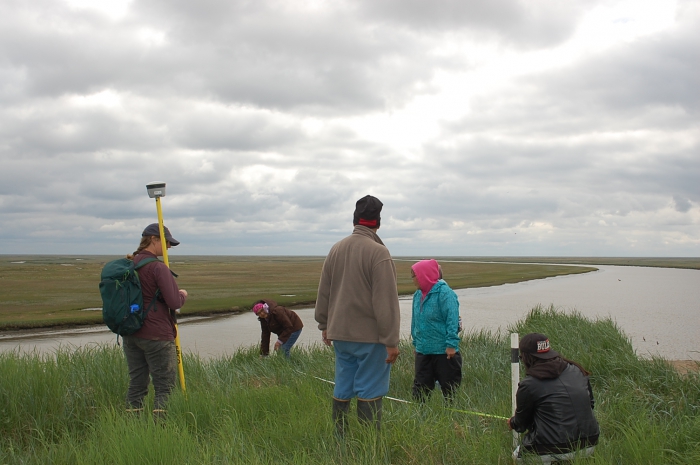 Funding, including an NSF EAGER grant, provided resources to install erosion monitoring devices in eight Alaska Native communities Chevak, Kwigillingok, Kotlik, Shishmaref, Golovin, Quinhagak, Nunapitchuk, and Nelson Lagoon with the Alaska Division of Geological and Geophysical Surveys Coastal Hazards Program during the summer of 2017 and 2018 and permafrost monitoring in two Alaska Native communities, Nunapitchuk and Quinhagak, during the summer of 2018 with the Woods Hole Research Center. In addition, during the 2017-2018 fall and winter storm season, AIJ worked with Alaska Native communities and the National Weather Service to document 42 storms and their impact on community infrastructure and the health and well-being of community residents. Monitoring both slow-onset environmental change as well as extreme weather events is critical.
The information and data gathered from this community-based environmental monitoring is critical for decision-making and governance processes related to long-term adaptation. Government agencies and research institutions are analyzing this information to understand predictive rates of change at a local level so that communities have the information they need to determine whether protection in place is possible. Understanding environmental risk to the places where people are living is critical in order for them to make the extremely difficult decision to relocate and leave the places they call home. Community-based environmental monitoring is also critical to the design of a methodology to identify environmental indicators to determine whether and when community relocation needs to occur to protect the lives and livelihoods of community residents.
Through this work, AIJ led an interdisciplinary team of scientists and Yup'ik linguists to the term usteq, a newly defined hazard which was recently included in the hazard profiles of the 2018 Alaska State Hazard Mitigation Plan. The creation of the new hazard definition demonstrates the way this research project facilitates the co-production of knowledge and multi-level governmental collaboration: tribal, city, state, and federal. The Federal Emergency Management Agency (FEMA) and the State of Alaska are now in the final stages of approving the Alaska Hazard Mitigation Plan which includes usteq. Once the plan is approved, the next phase of AIJ's work will be to work with Alaska Native communities, research institutions, and state and federal government agencies to document how usteq occurs and damages or destroys community infrastructure. Through this collaboration, Alaska Native communities are developing the tools to better understand the rapidly changing Arctic environment which are needed to make adaptation decisions.
More information is available on the Alaska Institute for Justice Climate Change website.
References
Kovach, M. 2009. Indigenous Methodologies: Characteristics, Conversations, and Contexts. University of Toronto Press: Toronto Buffalo London.
McFarland, H.R., H. Eicken, R. Thoman, Z. Labe, M. Druckenmiller, and G. Sheffield. 2018. Bering Strait: An overview of winter 2018 sea ice conditions. International Arctic Research Center, University of Alaska, Fairbanks.
---
About the Authors
Robin Bronen is co-founder and Executive Director the Alaska Institute for Justice where she works as a human rights attorney and senior research scientist affiliated with the University of Alaska Fairbanks Institute of Arctic Biology.
Denise Pollock is Research Director at the Alaska Institute for Justice, an Iñupiaq language teacher and a tribal member of the Native Village of Shishmaref, Alaska. Together, they work with 15 Alaska Native communities to design and implement transformational community-based adaptation strategies including creating a community-led relocation process.