By: Kate Ramsayer and Nathan Kurtz, NASA Goddard Space Flight Center
The National Aeronautics and Space Administration's (NASA) Ice, Cloud and Land Elevation Satellite-2, or ICESat-2, lifted off through the pre-dawn fog of Vandenberg Air Force Base on 15 September 2018, beginning its mission to precisely measure Earth's ice from space. The satellite carries an advanced laser altimeter that will record the height of ice sheets, glaciers, sea ice, and land surfaces with unprecedented detail, tracking both seasonal and annual changes.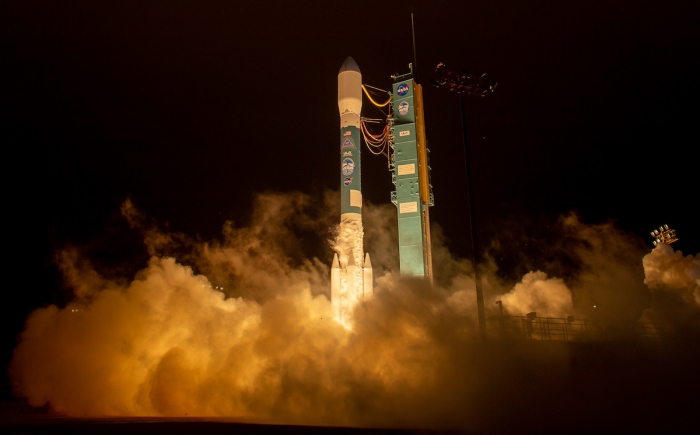 Prior to the 15 September launch, NASA Goddard Media Studios posted a video "countdown" of ten quick facts about ICESat-2.
Two weeks after launch, the ICESat-2 mission operations team turned on the laser, and within days the satellite was collecting data on the height of ice, clouds, and even forest canopies that were so clear it surprised even the mission scientists.
ICESat-2's instrument, called the Advanced Topographic Laser Altimeter System (ATLAS), measures height by timing how long it takes individual laser photons to travel from the spacecraft to Earth and back, with a precision of better than a billionth of a second. With this and other technological advancements of ICESat-2, managed by NASA's Goddard Space Flight Center, scientists will be able to provide new insights into how the polar regions are changing with global temperature rise. The mission is designed to measure the amount of sea ice floating above the ocean surface to within an inch, for example, and to measure annual changes across ice sheets to within the width of a pencil.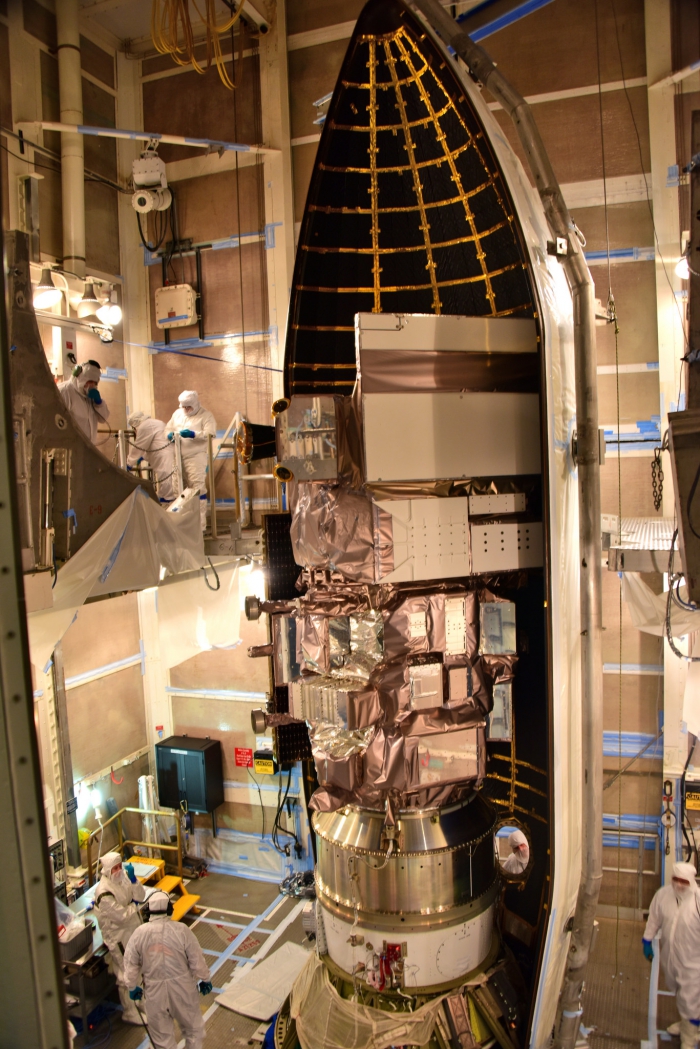 With about a terabyte of data products per day from ICESat-2, scientists will have a lot to work with. The basic-level products set for release in mid-November, after satellite commissioning ends, are the geo-located photon heights and atmospheric characteristics. Higher-level data products are scheduled to be released no later than May 2019 and include land ice height, sea ice freeboard, land and vegetation height, inland water elevation, and ocean elevation. Monthly gridded land ice height, ocean height, canopy height, sea ice freeboard, atmosphere, and ice height change time series data will then be released once sufficient data has been collected.
All data products will be freely available to the public from the National Snow and Ice Data Center (NSIDC) in Boulder, Colorado.
NASA prepared a series of five video clips, "ICESat-2 By the Numbers" to describe the precise laser technology of the ATLAS instrument.
Scientists with the ICESat-2 mission are looking forward to studying a range of questions about Earth's frozen reaches. One researcher is planning to investigate mountain glaciers melt, while another is intrigued by sea ice ridges that could influence how floes move across the ocean. Others are interested in small changes across the vast Antarctic ice sheet that can have a large impact, and the regions where that ice sheet leaves the continent and starts floating in the ocean as an ice shelf. Others are anticipating tracking the change in ice throughout the seasons—ICESat-2 is designed to last for at least three years, giving scientists several cycles to study changes to the frozen reaches of our planet.
For more information, visit the NASA Goddard Space Flight Center ICESat-2 website.
---
About the Authors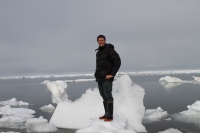 Nathan Kurtz received a B.S. degree in physics from Iowa State University in 2004, and M.S. and Ph.D. degrees in atmospheric physics from the University of Maryland Baltimore County (UMBC) in 2007 and 2009, respectively. He worked on sea ice thickness retrievals from the original ICESat mission during his graduate school studies, and has since focused his work on improving model parameterizations and satellite-based retrievals of sea ice properties from NASA's Operation IceBridge mission as well as ESA's CryoSat-2 radar satellite. He joined the Cryospheric Sciences Branch at NASA's Goddard Space Flight Center in 2013 and led the IceBridge project from 2015-2018 before moving on to his current position as the ICESat-2 Deputy Project Scientist.
---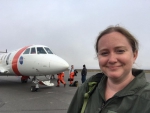 Kate Ramsayer received her B.A. in biology from Williams College, and a masters certificate in science writing from the University of California, Santa Cruz. She was an environment reporter for two daily newspapers in Oregon—the Daily Astorian and The (Bend) Bulletin—where she covered topics including forestry, water rights, natural hazards, and public lands. She moved back east in 2011 to write about Earth and space science for the American Geophysical Union. Since 2013, she's written features, press releases, outreach materials, and more about Earth science and the ICESat-2 mission for NASA Goddard.