SEARCH Program Updates
By: Brendan P. Kelly, SEARCH Executive Director
Science Steering Committee Member Rotation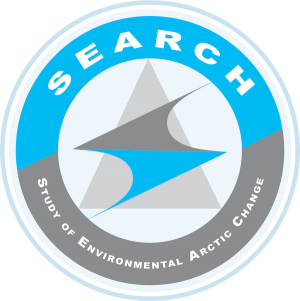 In September SEARCH will welcome four new Science Steering Committee (SSC) members: Gifford Wong (U.S. Department of State), Kit Kovacs (Norwegian Polar Institute), Francis Wiese (Stantec), and Leah Braithwaite (ArcticNet). Courtney Carothers (University of Alaska Fairbanks) and Dee Williams (U.S. Geological Survey) will rotate off of the committee and, hopefully, remain engaged in SEARCH activities. Their service on the committee and to the community is greatly appreciated. The SSC elected Marika Holland (National Center for Atmospheric Research) to serve as the SSC Chair, George Kling (University of Michigan) as Vice Chair, and Caspar Ammann (National Center for Atmospheric Research) as Past Chair.
Arctic Carbon Exchange
The Permafrost Carbon Network's Synthesis Working Group held a workshop to 'Reconcile historical and contemporary trends in terrestrial carbon exchange of the northern permafrost-zone' with support from the Arctic Data Center on 28-30 April 2018, in Santa Barbara, California. The goal of this activity was to assemble data products of high latitude permafrost CO2 flux measurements to update understanding of how the carbon balance of these systems has changed over time. A second workshop to advance these efforts will be held in October of 2018. More details about the workshop activities can be found on the Arctic Data Center webpage
Arctic Futures 2050: Briefs, Scenarios Workshop, and Science to Inform Decisions
SEARCH's Arctic Futures 2050 initiative comprises three related activities: Arctic Answers, science briefs answering specific questions about the changing Arctic; a scenarios workshop held in April 2018; and Arctic Futures 2050: Science to Inform Decisions, a conference that will bring together Arctic scientists and decision makers to jointly explore research needed to address the changing Arctic in the coming decades.
Arctic Answers briefs are reviewed by scientific experts and policy staff in local, state, and federal government offices. Three new Arctic Answers briefs are now available on the SEARCH website to provide answers to the following policy-relevant questions:
How will the diminishing sea ice affect commercial fishing in the Bering Sea? Download PDF
How will the changing Arctic affect subsistence (or traditional) fisheries? Download PDF
Arctic meltdown and unruly tropical storms: are they connected? Download PDF
To suggest topics for additional briefs or to volunteer to serve as a brief author, please contact Brendan Kelly (

bpkelly

[at]

alaska.edu

).
The Arctic Futures 2050 Scenarios Workshop addressed the question "What information is needed to effectively respond to a changing Arctic by 2050?" Thirty-five scientists and decision makers, including policy staff from all levels of government, co-developed 16 key factors expected to drive Arctic change and projected how those factors might develop in the future (future projections).
During these workshops participants will determine the plausibility of the future projections and their consistency with one another. Scenarios will be considered robust if they are both plausible and consistent. Finally, narratives of plausible scenarios will be the basis of white papers intended to focus discussions about research need to aid decision making in the coming decades.
One venue for such discussions will be the Arctic Futures 2050: Science to Inform Decisions conference. The conference will bring together Arctic scientists and decision makers at the National Academy of Science in Washington on 4-6 September 2019 to explore:
What we currently know (and don't know) about the changing Arctic and why it matters?
What challenges confront decision makers in the rapidly changing Arctic?
What basic research (e.g., process studies) is needed to inform responses to Arctic change?
What applied research (e.g., impact studies) is needed to inform responses to change?
What tools can facilitate informing decision making with science?
What opportunities exist for partnerships between decision makers and scientists?
Next Phase of SEARCH
Over the next year, SEARCH is seeking input on future activities that will advance Arctic science in ways that increase our understanding of the system and inform decision making. Please consider participating in our town hall, "Where Does Arctic Research and SEARCH Go Next?" at the Fall meeting of the American Geophysical Union, 10-14 December 2018. The town hall will explore with interested scientists where the program has provided benefit and—more importantly—where it could do so in the future. How can the Arctic research community best advance actionable and discovery science? What could or should a multi-disciplinary effort accomplish that otherwise would not get done? Whether or not you participate in the town hall, please contact Brendan Kelly (bpkelly [at] alaska.edu) with thoughts about SEARCH and the future of Arctic research.