By: Judy Fahnestock and Janet Warburton, Arctic Research Consortium of the U. S.
For over a decade, ARCUS has administered the PolarTREC - Teachers and Researchers Exploring and Collaborating program, an educational program that exposes students to the excitement and diversity of polar science by including their U.S. based teachers in hands-on experiences with researchers working in the Arctic and Antarctica. It's been so successful that it's considered a model program for other educational research experiences. This success can be attributed to a number of factors, including staff management, ongoing funding through the National Science Foundation, and a growing network of supportive and engaged program alumni.
In the past 10 years, PolarTREC has provided over 150 U.S. teachers with this unique opportunity. In turn, those 150 teachers have reached thousands of students both in and out of their classroom. Data collected through the program evaluation demonstrates that these research experiences impact the teachers long after the initial experience ARCUS 2015. Every year, PolarTREC teachers are recognized for their dedication to science education. Many have received awards, are featured in the news and present at local and national meetings. These teachers share their experiences as they happen, and carry a new perspective back to the classroom.
A number of PolarTREC teachers have been featured in news for their achievements in advancing science education:
Marjory Stoneman Douglas High School teacher Adeena Teres Operation IceBridge 2017 received special recognition for her participation with the NASA Mission Operation IceBridge. She received a proclamation from Broward County Commissioner Michael Udine for her passion in science and dedication to education; June 2, 2017 was declared Adeena Teres Day in Broward County, Florida.

Kate Miller IceCube Neutrino Observatory 2016 from Washington-Lee High School in Arlington, Virginia was featured in a Popular Mechanics article about the Antarctica Research Station's Living Quarters. In the article, Kate gives a 20-minute video tour of the South Pole Station.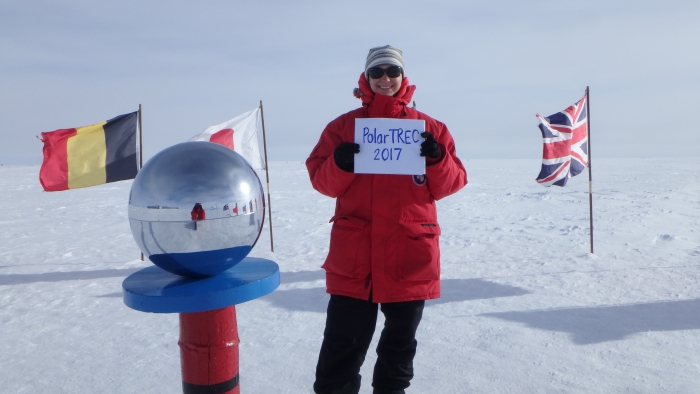 For more information and to view the latest reports and articles about PolarTREC teachers, visit the PolarTREC Newsroom. For more information about the PolarTREC program, contact PolarTREC staff at info [at] polartrec.org.
Reference