Science Priorities for a Changing Arctic: The National Academies' Public Forum in Honor of the White House Arctic Science Ministerial
By: Riya Anandwala and Laurie Geller, National Academies of Sciences, Engineering, and Medicine
On 28 September 2016, science ministers and advisers from 25 nations came together at the first-ever Arctic Science Ministerial hosted by the White House, to discuss collaboration and commitment to address the dramatic environmental changes facing the Arctic. This cadre of international leaders gathered to increase understanding of these environmental changes and to identify priorities for international scientific cooperation. Some of the major themes the group focused on were: solidifying and integrating data and observations on the region, building resilience and response mechanisms, and empowering citizens with Science, Technology, Engineering, and Mathematics (STEM) education.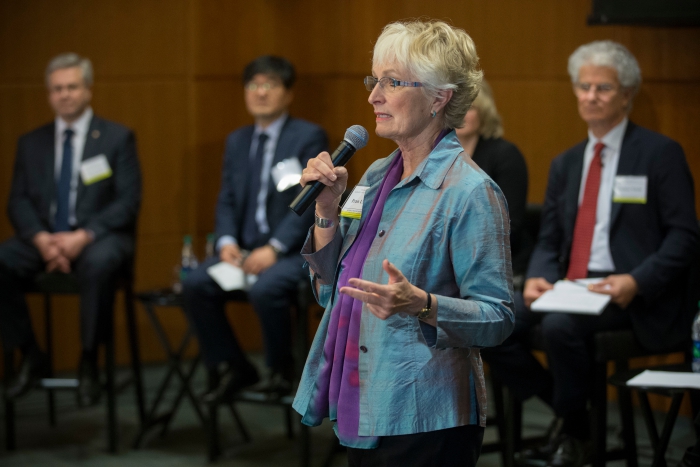 Figure 1: Fran Ulmer, chair of the U.S. Arctic Research Commission, discusses Arctic science at the forum. Photo courtesy of the Polar Research Board.
The following day, the National Academies of Science'(NAS) Polar Research Board (PRB) invited several of the representatives from the Ministerial and other speakers to continue the conversation, in a public event hosted at the National Academy of Sciences NAS building. Panelists at the Academies' forum were Nikolai Toivonen, Director for International Cooperation, Ministry of Education and Science of Russia; Hyoung Chul Shin, Head of International Cooperation at the Korean Polar Research Institute; Andrea Tilche, Head, Climate Action and Earth Observation Unit and Directorate General for Research and Innovation, European Commission; and Satu Paasilehto, Senior Adviser, Finland Ministry of Education, Science, and Culture—each of whom fielded questions from the moderator, Julie Brigham-Grette, chair of the Academies' PRB, and members of the audience. In addition, Ambassador Mark Brzezinski, Executive Director of the Arctic Executive Steering Committee and former U.S. Ambassador to Sweden, Fran Ulmer, chair of U.S. Arctic Research Commission (USARC), and Kelly Falkner, Director of National Science Foundation's (NSF) Division of Polar Programs also spoke at the forum.
Figure 2: Panelists discuss the Arctic Science Ministerial Meeting with PRB chair, Julie Brigham-Grette. Photo by Mark Finkenstaedt, courtesy of NAS.
The ambition to contribute to Arctic science is different for each nation. Shrinking glaciers, receding sea ice, and coastal erosion are directly impacting the eight Arctic nations, but countries far away from the region are also feeling the consequences of a changing Arctic. For example, a warmer Arctic may be contributing to more extreme weather outbreaks around the mid-latitudes of the northern hemisphere.
"It's a delicate region, environmentally and also strategically, and no one country can dictate to everyone else what is needed," said Mark Brzezinski (AESC) at the National Academies forum. "Following President Obama's visit to the Arctic, we decided to convene this international gathering of science ministers to engage a process of cooperative setting of priorities in Arctic science. That resulted in a process that will continue beyond this administration about a problem that is increasing globally—hence the participation of a lot of non-Arctic countries."
The biggest takeaway from the ministerial, said Fran Ulmer (USARC), was identifying the need to create a more robust observation system with an international governance regime and long-term financing. Observation is crucial in building the research infrastructure going forward and is also needed for improving weather, water, and sea-ice forecasting; understanding how changes in the Arctic will affect conditions around the world; and the evolution of the Arctic under different global-emissions scenarios.
A number of efforts are underway to strengthen observation practices and improve data policies that promote sharing through full and open access. The work has already started moving in that direction with the European Union's five-year project to develop an Integrated Arctic Observing System (INTAROS) that will take shape starting this year. In 2017, the U.S. Office of Naval Research will start a five-year Arctic Mobile Observing System (AMOS) project that will develop new sensors, platforms, and techniques for a science platform that will drift with the moving sea-ice cover or operate autonomously in the ocean below the ice.
The Arctic can also serve as a real-time laboratory to educate and train the next generation of scientists and engineers in a variety of disciplines. Incorporating more Arctic science into STEM education will help to develop experts who can contribute to addressing some of these regional and global challenges.
For Nikolai Toivonen (Ministry of Education and Science of Russia), improving education for Arctic populations is an important issue, and he also favors a working group to combine knowledge and competencies with other countries and build concrete research for data-sharing. "We care about the training and education of Indigenous people, to help them stay in their native areas and develop their businesses for sustainable development of the Arctic region," said Toivonen.
The current challenges, and the potential to build unique solutions to address them, exemplify this Arctic effort as a model of sustainable development goals for the rest of the world, said panelists at the forum. Repeating the sentiments of one of the science representatives at the ministerial, Kelly Falkner (NSF Division of Polar Programs) said, "If we don't succeed in the Arctic, then we will have trouble succeeding in the world."
The Academies event ended with a special preview showing of a new 3D film about Greenland, along with a discussion about the use of storytelling to enhance public communication about the Arctic (the film was produced by Peter Chang and directed by Todd Jones). The event also included Arctic science exhibits: the National Aeronautics and Space Administration (NASA) "PufferSphere", a 360° interactive system that highlight's NASA's Earth science data; and "ArcticDEM", a demonstration of the NSF, National Geospatial-Intelligence Agency, and the Environmental Systems Research Institute (ESRI) project to produce a high-resolution digital elevation model of the entire Arctic.
Video recordings of the event can be viewed here.