Update from the U.S. Arctic Research Commission
By: John Farrell, U.S. Arctic Research Commission (USARC) Executive Director and Cheryl Rosa, USARC Commission Deputy Director
Obama Appoints New Commissioner
On 8 August 2016, President Obama appointed engineer Ms. Jacqueline A. Richter-Menge, research civil engineer at the U.S. Army Corps of Engineers Cold Regions Research and Engineering Laboratory (CRREL) in Hanover, NH, to a four-year term on the U.S. Arctic Research Commission (USARC), an independent federal agency that advises the President and Congress.
Richter-Menge replaced Charles Vörösmarty, Director, City University of New York Environmental Cross-Roads Initiative at the City College of New York, who served on the commission for eight years (more information about current Commissioners is available here).
Fran Ulmer, the Chair of the USARC, endorsed Richter-Menge's selection, saying, "I am grateful that President Obama has appointed an outstanding scientist to join USARC. She has many years of experience doing research in the Arctic focused on solving problems with innovative solutions, which will be a great benefit to our work."
Commissioner Richter-Menge. Photo courtesy of Andrew Roberts, U.S. Naval Post Graduate School)
Richter-Menge, an expert in Arctic sea ice, has made fundamental contributions to the understanding of the mechanical and physical properties of ice, from both laboratory and field experiments. She has led or participated in over 15 field programs to the Arctic, and formerly served as Chief of the Snow and Ice Branch at CRREL. Her work improves projections of sea ice in support of near-real-time operations and on longer timescales.
Richter-Menge has been instrumental in the SCience ICe EXercise (SCICEX) program, a collaboration between the U.S. Navy and the marine research community to use nuclear-powered submarines to study the Arctic Ocean. She chairs the program's Science Advisory Committee that met at the Navy's Arctic Submarine Laboratory on 25 October 2016.
For many years, Richter-Menge was either a lead author or a co-author of the annual "The State of the Arctic Report" (now titled "Arctic Report Card") for NOAA that summarizes and presents the most recent observations collected by the international community on the Arctic environment. The 2016 Arctic Report Card will be presented during the Fall Meeting of the American Geophysical Union, 12-16 December in San Francisco.
About her appointment, Richter-Menge said, "I am excited to join this impressive group in developing, promoting, and supporting the U.S. Arctic research plan."
USARC and the White House Arctic Science Ministerial
The Commission played a significant role in preparing for, supporting, and conducting the first-ever White House Arctic Science Ministerial that was held in Washington, D.C. on 28 September 2016. The U.S. delegation to this meeting included USARC Chair Fran Ulmer and NSF Director Dr. France Cordova, who served as Vice-Chairs of the meeting, and Dr. John Holdren, the President's Science Advisor, who served as Chair. Representatives from 25 countries participated in the day-long event that also included representatives from Indigenous organizations.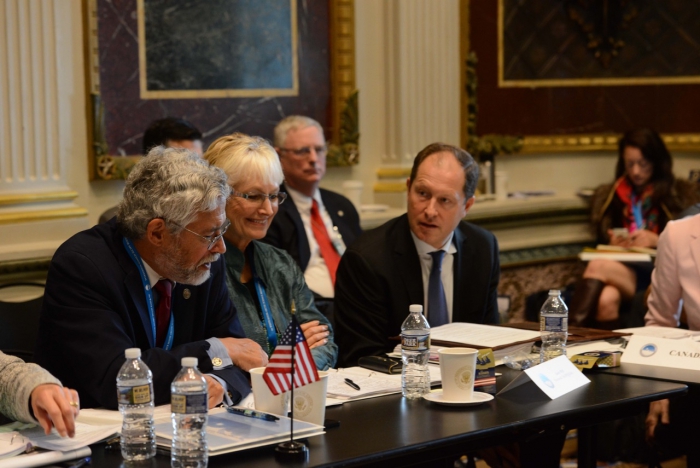 White House Arctic Science Ministerial, with Chair Dr. John Holdren, Vice-Chair Fran Ulmer, and Mark Brzezinski. Photo courtesy of U.S. Coast Guard Petty Officer 2nd Class Connie Terrell.
USARC compiled, edited, and published a booklet about the ministerial meeting to serve as a record of the event and its outcomes. Notably, this booklet contains a compilation of two-page descriptions of Arctic science support from each of the 25 countries. This compilation served as background and reference for the meeting and is of interest to the broader Arctic research community. This booklet is available under "publications" at the USARC website.
USARC's 2017-2018 Goals Report
The Commission will soon release its next biennial goals report, which recommends key goals and objectives for the U.S. Arctic Research Program Plan. As the Interagency Arctic Research Policy Committee is also releasing its next five-year Arctic Research Program Plan for 2017-2021, the USARC report will include a focus on achievements.
New USARC Working Group Websites and the Conference on Water Innovations for Healthy Arctic Homes (WIHAH)
Because one of the primary duties of the USARC is to interact with Arctic residents, local institutions, and regional governments, USARC coordinates Alaska-based working groups to examine and develop research needs for specific topics. USARC staff in Anchorage are currently coordinating three such groups that are addressing "real-world issues" facing Arctic residents. These are the "Alaska Rural Water and Sanitation Working Group," the "Arctic Renewable Energy Working Group," and the "Arctic Mental Health Working Group." Descriptions of each working group, information on member organizations, and affiliated publications are available online. The group focusing on water and sanitation played a significant role in the recently-completed conference on Water Innovations for Healthy Arctic Homes that was held in Anchorage, 18-21 September 2016. This Arctic Council-endorsed conference brought together U.S. and international engineers, health experts, researchers, community members, policymakers, and innovators to discuss the challenges and opportunities associated with making running water and sewer services in remote northern communities safe, affordable, and sustainable. A conference-related publication is expected in early 2017.
Further information is available on the USARC website.