By: Sara Bowden, Executive Secretary, Interagency Arctic Research Policy Committee (IARPC); Meredith LaValley, Intern, IARPC; and Sandy Starkweather, Senior Scientist, IARPC
The Interagency Arctic Research Policy Committee, a subcommittee of the National Science and Technology Council (NSTC), is made up of representatives from 15 federal agencies and chaired by the National Science Foundation. It is in the process of drafting its next 5-year research plan—Arctic Research Plan 2017-2021—to guide the overall federal effort in Arctic research. Like its predecessor, Arctic Research Plan 2013-2017, which was issued in February 2013, the new plan intentionally builds on the strong intellectual accomplishments and ideas of the research community at the federal, state, local, and tribal levels. It also includes ideas from the academic community, non-governmental organizations, and the private sector. Learn more about the current Arctic Research Plan here.
The outline for Arctic Research Plan 2017-2021 includes four tiers of organization: Policy Drivers, Research Goals, Research Objectives, and Performance Elements.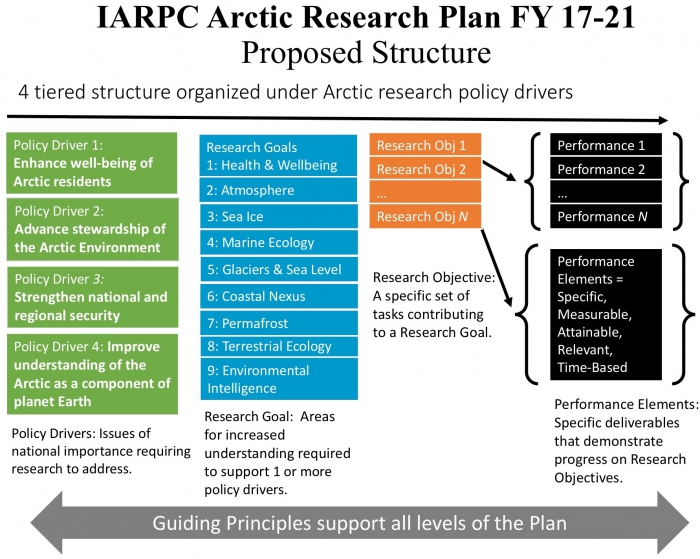 Research objectives and performance elements are currently under development.
What Might Change in the New Plan?
This plan aims to increase the visibility of research that addresses socio-economic factors of import to human well-being as well as the integration of research from across the spectrum of basic to use-inspired research.
Two topics, "Coastal" and "Permafrost," are new to this plan and IARPC hopes they will pull a rich array of existing activities together into greater coordination. The concept of "Environmental Intelligence" is also new to the plan, but it is drawing on familiar territory: observations, models, and data management.
All current IARPC Collaboration Team members and new members are welcome to contribute to the implementation of the new plan.
What is the Timeline for the Next Plan?
March-June 2016: The federal-only IARPC Drafting Subgroup will develop Research Objectives and Performance Elements. They will incorporate extensive agency input, public input, and review.

July-August 2016: IARPC will solicit public input. In mid-July there will be a Federal Register Notice and in early August IARPC will hold an electronic town hall meeting to hear input and comments. Through the open Federal Register process, anyone is welcome to submit a comment on the plan, and IARPC will respond to all comments.

September 2016: The plan will be submitted to the appropriate federal bodies for approval and clearance to publish.

December 2016: The target for public release of the approved plan.
Anyone with an interest in the development of Arctic Research Plan 2017-2021 is encouraged to request an account on the IARPC Collaborations member space. Here, scientists and others from federal, state, academic, non-governmental, private sector, and other organizations share resources and collaborate on the implementation of the current 5-year plan. Information related to the IARPC Arctic Research Plan 2017-2021 process will be shared periodically on the member space and at collaboration team meetings.