NOAA's 2015 Arctic Report Card
On a clear summer day, a series of interlocking melt pools show as beautiful aquamarine reminiscent of shallow tropical lagoons. Photo courtesy of Dr. Pablo Clemente-Colon, Chief Scientist National Ice Center.
The National Oceanic and Atmospheric Administration (NOAA) released the 2015 Arctic Report Card on 15 December 2015 during a press conference associated with the Fall Meetings of the American Geophysical Union in San Francisco, California. The report was presented by Report Card co-Editors, Martin Jeffries (Office of Naval Research) and Jackie Richter-Menge (U.S. Army Corps of Engineers, Cold Regions Research and Engineering Laboratory), along with contributor Kit Kovacs (Norsk Polarinstitutt/Norwegian Polar Institute) and NOAA Chief Scientist Rick Spinrad.
This year's report card is comprised of 12 contributions from 72 scientists in 11 different countries. The 2015 report follows the same format as the previous year, with three sections: Vital Signs, Indicators, and Frostbites. The Vital Signs section is for annual updates on air temperature, terrestrial snow cover; the Greenland ice sheet, sea ice, sea surface temperature, ocean primary productivity, and tundra greenness. The Indicators section is for recurring topics not included every year. The Frostbites section reports on new and newsworthy items, describing emerging issues, and addressing topics that relate to long-term scientific observations in the Arctic.
Highlights from the 2015 Report Card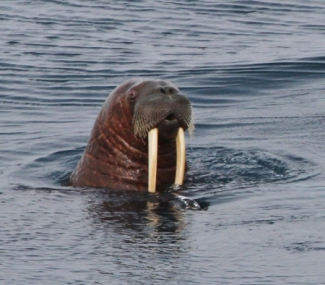 A male walrus seen from aboard the USCGC Healy icebreaker on the Chukchi Sea. Photo by Tim Sullivan, Courtesy of Andrea Skloss (PolarTREC 2013), ARCUS.
Maximum sea ice extent on 25 February was 15 days earlier than average and the lowest value on record (1979-present). Minimum ice extent in September was the 4th lowest on record. Sea ice continues to be younger and thinner: in February and March 2015 there was twice as much first-year ice as there was 30 years ago.
Changes in sea ice alone are having profound effects on the marine ecosystem (including fishes, walruses, primary production) and sea surface temperatures.
Air temperatures in all seasons between October 2014 and September 2015 exceeded 3°C above average over broad areas of the Arctic, while the annual average air temperature (+1.3°C) over land was the highest since 1900.
The second lowest June snow cover extent on land continued a decrease that dates back to 1979, while river discharge from the great rivers of Eurasia and North America has increased during that time.
Melting occurred over more than 50% of the Greenland Ice Sheet for the first time since the exceptional melting of 2012, and glaciers terminating in the ocean showed an increase in ice velocity and decrease in area.
Walruses are negatively affected by loss of sea ice habitat but positively affected by reduced hunting pressure, while sea ice loss and rising temperatures in the Barents Sea are causing a poleward shift in fish communities.
Widespread positive sea surface temperature and primary production anomalies occurred throughout the Arctic Ocean and adjacent seas corresponding to sea ice retreat in summer 2015.
Terrestrial vegetation productivity and above-ground biomass have been decreasing since 2011.
The Report Card editorial team is:
Martin Jeffries, Office of Naval Research, Arlington, Virginia;
James Overland, NOAA Pacific Marine Environmental Laboratory, Seattle, Washington; and
Jackie Richter-Menge, U.S. Army Corps of Engineers, Cold Regions Research and Engineering Laboratory, Hanover, New Hampshire.
Financial support for the Arctic Report Card is provided by the Arctic Research Program in the NOAA Climate Program Office, and in-kind support is provided by the Office of Naval Research. An independent peer-review of the 2015 Report Card was organized by the Arctic Monitoring and Assessment Programme (AMAP) of the Arctic Council.
The 2015 Arctic Report Card, a link to a YouTube video, and previous report cards are available on the Report Card website.
For questions contact Martin Jeffries (martin.jeffries [at] navy.mil) or Jackie Richter-Menge (Jacqueline.A.Richter-Menge [at] usace.army.mil).