By: Alan C. Mix, Oregon State University, Martin Jakobsson, Stockholm University, and the Petermann-2015 Scientific Party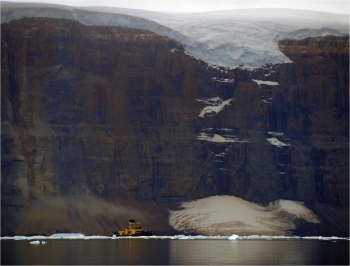 In summer of 2015, 58 scientists from six countries took Swedish Icebreaker (I/B) Oden to explore and sample the Petermann Fjord and Ice Shelf system and its outer reaches in Hall Basin and Nares Strait northwest of Greenland. This region plays an outsized role in the changing global climate; a deep canyon extending 750 km inland serves as a drain for the Greenland Ice Sheet and Nares Strait serves as a flow pathway of low-salinity waters from the Arctic Ocean to deep-ocean convection sites in the Labrador Sea, potentially influencing global ocean circulation.
The Petermann Ice Shelf offers insights into ice shelf-ocean interactions, essential to projecting future climate impacts on Greenland and global sea level changes. Until recently, the ice front has been relatively stable near the fjord's outer sill. In 2010 and 2012, however, Manhattan-sized bergs calved and 30-40% of the shelf disappeared. A smaller, approximately 3 km berg, calved during the expedition in 2015. The ice shelf is thinning near the zone where it is grounded in the Petermann Fjord, and deep surface cracks in the floating shelf suggest that it may be poised for further ice losses in the future. When this will happen, and how significant this will be to the grounded portions of Petermann Glacier and the interior of Greenland, remain unknown.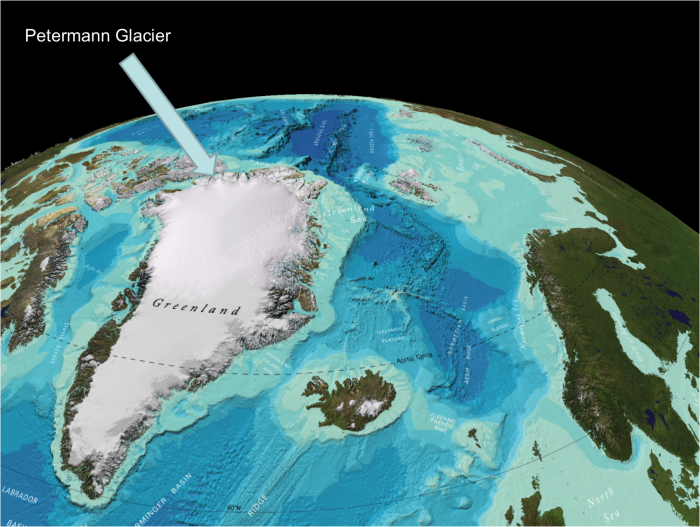 The Petermann-2015 expedition (29 July to 2 September) focused on past variations of the ocean-ice-climate-sea level system to assess how the coupled system has responded to changing climate. Interagency and international collaborations included NSF, NASA, the British Antarctic Survey, UNAVCO, the Polar Geospatial Center (PGC), the Swedish Polar Research Secretarial, and the Geological Survey of Denmark and Greenland. Specific objectives included 1) multi-beam bathymetric surveys to map this poorly known area, 2) sub-bottom reflection profiles to optimally site sediment coring transects and to constrain sedimentary and crustal geometries, 3) water column profiles to track sources and variability of relatively warm deep waters entering the fjord, 4) coring transects to assess past climate/ocean changes and their relationship to ice shelf and ice sheet responses, 5) boreholes through the ice-shelf to recover sub-ice cores and to emplace instruments to monitor the water column beneath the shelf and weather at the surface, 6) date relative sea-level (RSL) histories in uplifted coastal deposits to model isostatic adjustments to former ice loading and retreat , 7) cosmogenic exposure dating of moraines and erratic boulders to reconstruct paleo-ice distributions, 8) paleomagnetic assessment of Earth's magnetic field variation near the North Pole, 9) baseline observations of marine mammals and terrestrial ecosystems, and 10) public education regarding changing climate in the Arctic and the potential impacts of future sea-level change including blogs, videos, a CBS/60 Minutes news feature, visits with a delegation from Nunavut, a teacher-at-sea, and a teleconference with three U. S. Senators and Swedish dignitaries.
Not only did every scientific element of the expedition succeed, each contributed synergistically such that all goals were exceeded. Icebreaker Oden proved to be nimble in heavy ice and an exceptional mapping platform; the region was transformed in one month from Mare Incognita to one of the best-mapped regions in the high-latitude oceans. Sub-bottom surveys and coring transects documented multiple generations of glacial advance and retreat in at least three different ice streams; we mapped several "fossil" bathymetric rises where a larger glacier previously established stable grounding lines. Preliminary analysis of the new sediment cores suggests that past ice shelves may have jumped between these grounding zones during retreat phases, perhaps very rapidly, implying that future changes in the grounded Petermann Glacier and inland ice may also occur quickly.
Water column studies verified projected warming of waters spilling over the Petermann Fjord sill, and tracked the watermass flow paths from the Arctic Ocean along the Canadian margin and through a series of newly mapped silled basins and channels, all the way to the ice-shelf grounding line. This complex pathway suggests that warming of the deep fjord near the ice shelf grounding line may occur in discrete steps, depending on how the intermediate basins control mixing of the water flows. Instruments left behind to monitor the sub-ice temperatures and salinities will detect these changes.
Following up on the field sampling, post-expedition dating, and modeling will constrain rates of change in regional ice cover and relative sea level. With this rate information we will know better how fast and how much the system can change. And analysis of the sediment cores will reveal the ocean's role in large scale ice retreats of the past.
The biology teams documented several unique ecosystems in Hall Land, Washington Land, and Ellesmere Island, still taking shape in response to past ice retreats and highly dependent on their geological substrate such as whether the land surface was recently below sea level. Differences in regional populations suggest relative isolation from migration. Post-expedition studies will help to assess the degree of genetic mixing between these populations. Marine mammal observations provided a comprehensive catalogue of regional populations and behaviors. Both studies form a strong baseline against which future studies may document changes in biological structure in a warming climate.
Although much work remains for the laboratory, the field study provides a strong base upon which future expeditions may build. Southward transport of thick multiyear ice in 2015 prevented access to much of the Canadian coast and Robeson Channel toward the Lincoln Sea; these regions provide logical targets for future studies. The well-surveyed portion of the Petermann Fjord and Hall Basin is now ready to serve as a natural laboratory for multi-disciplinary monitoring of fragile Arctic systems under a changing climate.
Acknowledgements: We thank U. S.-NSF Polar Programs, NASA, UNAVCO, CH2M Polar Field Services (Jessy Jenkins), Polar Geospatial Center (George Roth), British Antarctic Survey, GEUS, the Swedish Polar Research Secretariat (Ulf Hedman), and the Swedish Maritime Administration (Captain Mattias Petersson and crew).
Further information including related maps, videos, and a list of participants is available on the Petermann's Glacial History website.