ACADIS Data Management At Your Service
By: ACADIS Community Support Team members Toni Rosati, Lynn Yarmey, Lisa Booker, Don Stott, Janet Scannell, Eric Nienhouse, and Sean Arms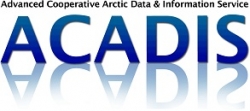 ACADIS
The Advanced Cooperative Arctic Data and Information Service (ACADIS) team continues to support the data management needs of projects funded by NSF's Division of Polar Programs (PLR) Arctic Sciences Section with data submission, preservation, search, and sharing services. Updates include:
A new and improved data submission interface is now available for data submission on the ACADIS website. For a quick review of changes, please see the documentation here or download full documentation here.

ACADIS team members are ready to help meet NSF proposal requirements and encourage community members to request a review of their individual Data Management Plan (DMP). The DMP template is also freely available for download and use here.

ACADIS is in the process of reviewing and cleaning metadata. Metadata updates will ultimately improve data search services. Some Principal Investigators (PIs) may be asked for participation, so keep an eye out for an email from the ACADIS team. The cleanup project is an ongoing process to help ensure that this critical component of the archive is accurate for all datasets. The metadata serves as a key link for interoperability with other archives and search engines to discover and access ACADIS data holdings.

The Arctic Data Explorer (ADE) search portal for Arctic data across agencies, repositories, and nations has greatly increased in speed and efficiency. The search tool now includes over 20,000 datasets across 10 repositories. It is available here.
ACADIS, funded by NSF, is a joint effort by the National Center for Atmospheric Research (NCAR), the University Corporation for Atmospheric Research (UCAR), and the National Snow and Ice Data Center (NSIDC).
For more information about ACADIS; to send feedback; or to submit, retrieve, and search data; please visit the ACADIS website or contact the team via email (support [at] aoncadis.org) or call 720-443-1409.