Linguistic Team Studies Caribou Anatomy
By: Craig Mishler, Research Professor, Alaska Native Language Center, University of Alaska Fairbanks
As the buffalo is to the Plains Indians and the bowhead whale is to the Inuit, so too is the caribou (vadzaih) to the Gwich'in people of northeast Alaska and northwest Canada. In 2011 a team of Gwich'in linguists affiliated with the Alaska Native Language Center at the University of Alaska Fairbanks began to document traditional knowledge of caribou anatomy under a grant from the National Science Foundation Arctic Social Sciences Program. The project coordinator is Craig Mishler, and the lead research associate and elder is Kenneth Frank, of Venetie and Arctic Village, now residing in Fairbanks. Between 2011 and 2014 Mishler and Frank conducted field interviews in Arctic Village, Venetie, Fort Yukon, and Fairbanks, Alaska, and Old Crow, Yukon.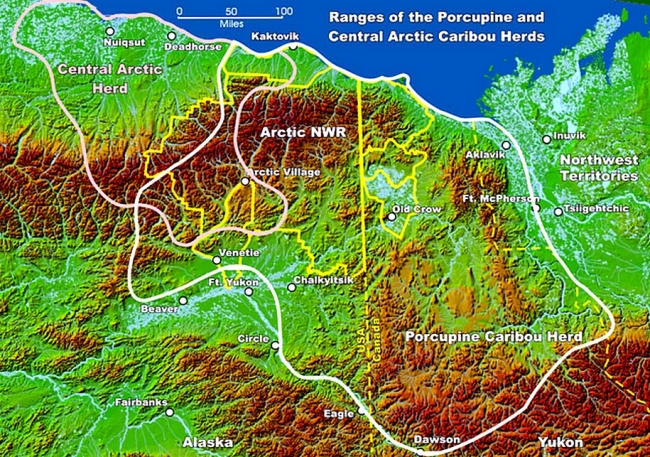 The ranges of the Porcupine and Central Arctic caribou herd are outlined in white on this map of northern Alaska and western Canada. Gwich'in villages are also identified. Map courtesy of the U.S. Fish and Wildlife Service.
Associated with the caribou's anatomy are not just descriptive Gwich'in names for all of the bones, organs, and tissues (to date over 150 names for body parts have been collected), but an encyclopedia of stories, songs, games, toys, ceremonies, traditional tools, skin clothing, personal names and surnames, and a highly developed ethnic cuisine. One especially productive area has been the documentation of traditional hunting, butchering, and cooking methods. Another productive endeavor has been the recording and processing of oral narratives, including traditional tales, ethnohistorical accounts, and memorates (narratives from memory relating a personal experience). Elders have been especially vocal about respecting caribou by observing taboos.
Caribou bone names in Gwich'in, by Kenneth Frank. Sketch courtesy of Lee Post.
A major goal for our team has been to map Gwich'in local knowledge about caribou (Rangifer tarandus) as a keystone subsistence species, using still cameras, videography, digital audio, field notes, structured interviews with elders, and participant observation. A fundamental question for the research is to elicit not only what the Gwich'in know about caribou anatomy, but how they see caribou and what they say and believe about caribou that defines themselves, their dietary and nutritional needs, and their subsistence way of life.
We are convinced that all of this has profound implications for zooarchaeology, for applied linguistics, and for folklore and cultural anthropology. It is an empirical approach, which essentially weds natural science with the humanities and osteology (the scientific study of bones) with verbal art. Language is the key that unlocks the door, but Gwich'in is a severely endangered language.
Another important goal, which has gradually emerged over the past three years, is enhancing the writing and translation skills of younger Gwich'in speakers. The two youngest speakers involved in transcribing and translating texts are Crystal Frank and Allan Hayton. Ultimately, this mentoring may be more important than documenting traditional knowledge about caribou, in that it makes strides to maintain and perpetuate the Gwich'in language for at least another generation. Unfortunately, the specialized lexicon for caribou body parts has largely escaped younger speakers.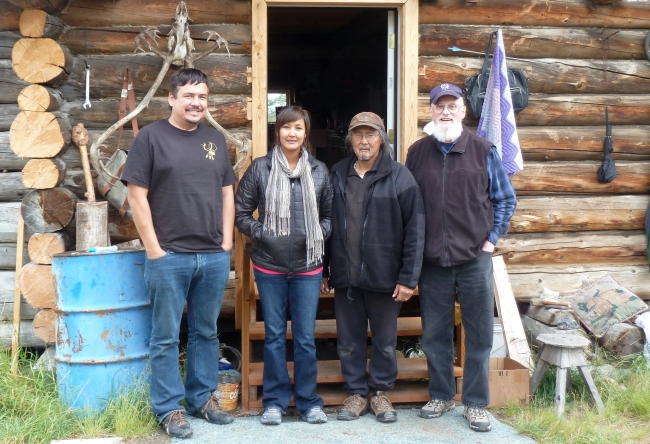 Project team in Arctic Village, 2013. From left to right: Allan Hayton, Crystal Frank, Kenneth Frank, and Craig Mishler. Photo courtesy of Allan Hayton.
One key to the continued success of the project has been its methodology. A great deal of our work is done online with the help of Skype and Google Drive. Although we live in different locations, we are still able to work about two hours a day in real time to edit and translate oral texts. Our methods are described in more detail in a recently published paper, "Collaborating in Gwich'in on the Web: Khahlok Gwitr'it'agwarah'in." In: Working Papers in Athabaskan (Dene) Languages, 2013. Vol. 12 (22-29). Alaska Native Language Center, University of Alaska Fairbanks, 2014.
We have made several oral presentations at professional meetings and are scheduled again at the 4th International Conference on Language Documentation and Conservation in Hawaii on 26 February 2015. Ultimately a book is planned, but also underway is an auto-ethnographic film, "Making Caribou Dry Meat," by Kenneth Frank, and a newly launched project web page. For additional information, please feel free to write to us at the Alaska Native Language Center, University of Alaska; Fairbanks, Alaska 99775. Or contact Craig Mishler (vadzaih [at] gmail.com).
---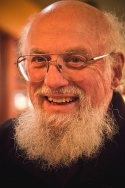 Craig Mishler, Susanti' is Project Coordinator, folklorist, cultural anthropologist, and Research Professor, Alaska Native Language Center, University of Alaska Fairbanks. Author, co-author, and editor of eight books, including: The Crooked Stovepipe: Athapaskan Indian Fiddling and Square Dancing in Northeast Alaska and Northwest Canada (1993), Neerihiinjík: We Traveled from Place to Place: the Gwich'in Stories of Johnny and Sarah Frank (2000), Tanana and Chandalar: The Alaskan Field Journals of Robert A. McKennan (2006), and most recently, The Blind Man and the Loon: the Story of a Tale (2013).
Kenneth Frank, Drizhuu is an Elder from Venetie and Arctic Village and a storyteller, singer, drum maker, translator, editor, and Research Associate at the Alaska Native Language Center, University of Alaska, Fairbanks. He is a 2014 recipient of the Oscar Kawagley Indigenous Scholar Award.
Crystal Frank, Diti' Zhyaan'ee is Administrative Assistant for the Department of Alaska Native Studies and Rural Development and a Gwich'in language learner and transcriber at University of Alaska Fairbanks.
Caroline Tritt-Frank, Maggie Gwat earned Bachelor of Arts and Masters of Arts degrees from the University of Alaska Fairbanks. She is a retired teacher, Gwich'in translator, transcriber, and language instructor.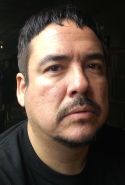 Allan Hayton, Diton grew up in Arctic Village and is the grandson of Robert and Lena Albert. He holds a Bachelor of Arts degree in theatre and film from the University of Kansas, and a Masters of Arts degree in applied linguistics from the University of Alaska Fairbanks. Allan is an actor, playwright, and director. He is a former Program Manager at theGwich'in Steering Committee, transcriber and translator at the Alaska Native Language Center, University of Alaska Fairbanks.