ACADIS Data Usage and Science Relevance
By: ACADIS Community Support Team members Karen Andersen, Toni Rosati, Lynn Yarmey, Lisa Booker, Don Stott, Janet Scannell, Eric Nienhouse, and Sean Arms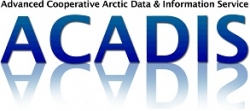 The Advanced Cooperative Arctic Data and Information Service (ACADIS) team requested input from NSF funded principal investigators (PIs) to help create a list of research that utilized data housed in ACADIS. Thus far, the ACADIS staff has complied over 300 publications in this effort. Further contributions from the community are welcome. To contribute a list of publications, please the ACADIS Publication Reference Submission website.
ACADIS data and systems were recently featured at the NSF Polar Cyberinfrastructure DataViz Polar Hackathon in New York at the Parsons School of Design on 3-4 November 2014. The workshop focused on bridging the cyberinfrastructure, data visualization, and polar science communities.
The ACADIS data collections continue to grow—data volume in the ACADIS Gateway recently doubled in size to almost 1 terabyte of data. ACADIS covers a diverse range of domains. The word cloud figure below provides an overview of ACADIS data topic areas.
This word cloud illustrates the diverse range of Arctic research data in ACADIS collections. Image courtesy of ACADIS.
ACADIS, funded by the NSF Division of Polar Programs, is a joint effort by the National Center for Atmospheric Research (NCAR), University Corporation for Atmospheric Research (UCAR), and the National Snow and Ice Data Center (NSIDC).
The ACADIS team will be present at the upcoming American Geophysical Union (AGU) and the American Meteorological Society (AMS). To set up a meeting with team members, call (720-443-1409) or email (contact support [at] aoncadis.org). See you in San Francisco!
For more information about ACADIS; to send feedback; or to submit, retrieve, and search data; please visit the ACADIS website.