New Brochure Addresses 'Why the Arctic Matters'
By Laura Raines, U.S. Arctic Research Commission staff member
To a greater extent than ever before, scientists and researchers, politicians and policy makers, captains of industry and conservationists are recognizing the significance of the Arctic. However, in the minds of many people living south of the Arctic Circle, the region is often perceived as remote and disconnected from their lives. To address this cognitive gap, the U.S. Arctic Research Commission (USARC) and The Arctic Institute have launched an initiative entitled "Why the Arctic Matters" with production of a brochure illustrating the impact of the Arctic on weather, security, research, health, and the environment. This brochure, the first in a series planned by the initiative, is designed to show non-Arctic residents how their lives are linked to events in this region.
Some of these links may be familiar, such as the connection between melting Arctic land ice (e.g., glaciers, ice caps, the Greenland Ice Sheet) and global sea level rise. The "Why the Arctic Matters" brochure goes one step further by emphasizing the connection between the concept of global sea level rise and its consequences for society. Who can forget Superstorm Sandy and the flooding, shoreline erosion, infrastructure and property damage, and displacement of people it caused? As sea levels rise globally, storm surges caused by events like Sandy are likely to be more frequent, particularly along the densely populated coastline between Cape Hatteras, North Carolina and Boston, Massachusetts. By looking at the effects of global sea level rise in this manner, "Why the Arctic Matters" brings home the significance of melting Arctic ice for U.S. citizens living in mid-latitude coastal and low-lying inshore regions.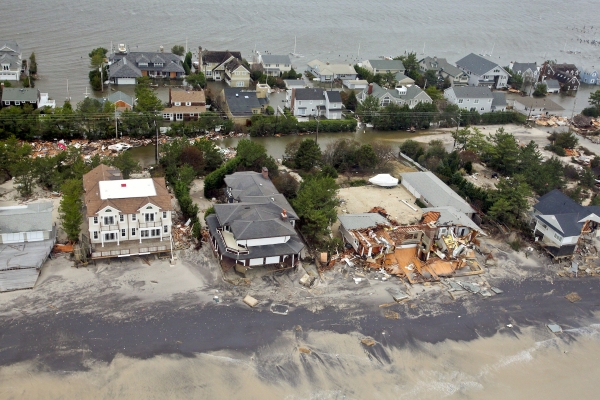 Aerial views during an Army search and rescue mission show damage from Hurricane Sandy to the New Jersey coast, Oct. 30, 2012. Photo courtesy of U.S. Air Force Master Sgt. Mark C. Olsen.
On the other hand, some of the links to the Arctic described in the publication will likely be a revelation. Few outside the world of medical research are aware that the study of Arctic bears and ground squirrels is playing a significant role in cutting edge pharmaceutical research. Scientists are studying small, protein-like molecules called peptides, which can slow down the metabolism of these hibernating animals, in order to better understand metabolic change in humans and to create drugs that precisely control a patient's metabolism and temperature. This "targeted temperature control" could be used to minimize brain damage from strokes, spinal cord injuries, drowning, and traumatic brain injuries. A pharmacological treatment could be a safe, effective, and inexpensive alternative to current medical practices, in which ice bags, chilled intravenous saline, and other difficult and expensive methods are used to lower body temperature and metabolism. As such, it would be of tremendous significance to doctors, patients, and people at risk of brain and spinal injuries, regardless of their geographic location.
Arctic Ground Squirrel feeding on lupine seeds, Izembek National Wildlife Refuge, Alaska. Image courtesy of Kristine Sowl, USFWS.
These and other topics covered in "Why the Arctic Matters" show the significance of the Arctic region, not only as a geopolitical hotspot, but also as a place whose influence can be felt by people around the world.
The brochure, "Why the Arctic Matters," is available to be downloaded here.
Further information is available on the USARC website.