Extensive Plan of Activities for the Arctic-FROST Research Network
By: Andrey N. Petrov, Assistant Professor of Geography and Director, ARCSES Laboratory, University of Northern Iowa
The National Science Foundation (NSF) recently awarded a five-year Research Coordination Network (RNC) Science, Engineering, and Education for Sustainability (SEES) grant to the University of Northern Iowa (UNI) for support of the project entitled "RCN-SEES Arctic-FROST: Arctic FRontiers Of SusTainability: Resources, Societies, Environments, and Development in the Changing North." Under the direction of Dr. Andrey Petrov, Arctic-FROST is based at the UNI Arctic Social and Environmental Systems Research (ARCSES) center.
Arctic-FROST is an international, interdisciplinary, and collaborative network of environmental and social scientists, local educators, and community members from all circumpolar countries. Its primary purpose is to enable and mobilize research on sustainable Arctic development. The network aims to support improved health, human development, and well being of Arctic communities while conserving ecosystem structures, functions, and resources. The intellectual goal of the project is to contribute to conceptual, applied, and educational aspects of Arctic sustainability science by supporting the dissemination of knowledge and exchange of methodologies across the four Arctic-FROST themes: sustainable regions, economies, cultures, and environments.
Membership in Arctic-FROST is open to anyone with interests in sustainability and sustainable development in the Arctic. Since its inception in September 2013, the network has attracted approximately 180 members from the pan-Arctic region with 55% from the U.S., 31% from Europe and Russia, and 14% from Canada. Alongside seasoned academics and community members almost half of the RCN members are early career scholars or graduate students. The network also involves Indigenous scholars and members of underrepresented groups.
The network has an extensive plan of activities for 2014-2018 consisting of annual meetings, early career scholar workshops, community workshops, the first Arctic Sustainability Education Forum in 2018, and multiple smaller theme-based conferences throughout each year. First-year events include the inaugural Arctic-FROST meeting, which was held in late 2013 at the University of Northern Iowa; coordination and sponsorship of side meetings on different aspects of sustainability at the April Association of American Geographers meeting in Tampa, Florida; convening of sessions, a plenary panel, and a networking event at the International Congress of Arctic Social Sciences in Prince George, British Columbia, Canada in late May; and plans to reach out to the Russian audience by co-sponsoring Arctic-related activities at the European Regional Sciences Association in St. Petersburg, Russia in August. The first annual meeting and early career scholars workshop entitled "Sustainability and Sustainable Development in the Arctic: Meanings and Means" will take place in Anchorage, Alaska in September of 2014. Future meetings will take place in various locations across the Arctic. Community workshops will be organized in Alaska and northern Russia.
Arctic-FROST members are committed to delivering a number of key products, including two edited volumes devoted to sustainable development in the Arctic, a textbook on Arctic sustainability, other educational materials, academic publications, and a research plan for Arctic sustainability science for the next decade. The initial version of this plan will be presented at the Third International Conference on Arctic Research Planning (ICARP III) in 2015.
Arctic-FROST actively collaborates with other research networks and organizations, including Resources and Sustainable Development in the Arctic (ReSDA), Research Coordination Network in Arctic Urban Sustainability, International Arctic Science Committee (IASC), International Arctic Social Sciences Association (IASSA), Association of Polar Early Career Scientists (APECS), and others.
Information on how to become an Arctic-FROST member is available at www.uni.edu/arctic/frost.
For more information about Arctic-FROST, contact Andrey Petrov (andrey.petrov [at] uni.edu).
---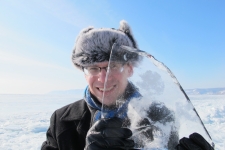 Andrey N. Petrov Andrey N. Petrov is Assistant Professor of Geography and Director of the Arctic Social and Environmental Systems Research Laboratory (ARCSES) at the University of Northern Iowa in Cedar Falls, Iowa. He is a member of the IASSA Council and a U.S. representative on the International Arctic Science Committee's Social and Human Sciences Working Group. Andrey's research is mostly related to economic geography, socio-economic impact assessment, human well-being monitoring, and sustainable development in the Arctic.