Recent Reports from the National Academy of Sciences
By: Lauren Everett, Associate Program Officer, National Academy of Sciences, Polar Research Board
In early April 2014 the Polar Research Board (PRB) and the Ocean Studies Board (OSB) of the U.S. National Academy of Sciences released a number of reports related to Arctic issues. They are summarized below.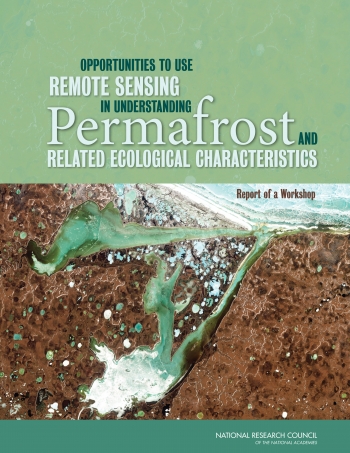 Opportunities to Use Remote Sensing in Understanding Permafrost and Related Ecological Characteristics
Permafrost is a thermal condition—its formation, persistence and disappearance are highly dependent on climate. General circulation models predict that, for a doubling of atmospheric concentrations of carbon dioxide, mean annual air temperatures may rise several degrees over much of the Arctic. In the discontinuous permafrost region, where ground temperatures are within 1-2 degrees of thawing, permafrost will likely ultimately disappear as a result of ground thermal changes associated with global climate warming. Where ground ice contents are high, permafrost degradation will have associated physical impacts. Permafrost thaw stands to have wide-ranging impacts, such as the draining and drying of the tundra, erosion of riverbanks and coastline, and destabilization of infrastructure (roads, airports, buildings, etc.). There are also potentially significant implications for ecosystems and the carbon cycle in the high latitudes.
Opportunities to Use Remote Sensing in Understanding Permafrost and Related Ecological Characteristics is the summary of a workshop convened to explore opportunities for using remote sensing to advance our understanding of permafrost status and trends and the impacts of permafrost change, especially on ecosystems and the carbon cycle in the high latitudes. The workshop brought together experts from the remote sensing community with permafrost and ecosystem scientists. The workshop discussions articulated gaps in current understanding and potential opportunities to harness remote sensing techniques to better understand permafrost, permafrost change, and implications for ecosystems in permafrost areas. This report addresses questions such as how remote sensing might be used in innovative ways, how it might enhance our ability to document long-term trends, and whether it is possible to integrate remote sensing products with the ground-based observations and assimilate them into advanced Arctic system models. Additionally, the report considers the expectations of the quality and spatial and temporal resolution possible through such approaches, and the prototype sensors that are available that could be used for detailed ground calibration of permafrost/high latitude carbon cycle studies.
Linkages Between Arctic Warming and Mid-Latitude Weather Patterns
The Arctic has been undergoing significant changes in recent years. Average temperatures are rising twice as fast as they are elsewhere in the world. The extent and thickness of sea ice is rapidly declining. Such changes may have an impact on atmospheric conditions outside the region. Several hypotheses for how Arctic warming may be influencing mid-latitude weather patterns have been proposed recently. For example, Arctic warming could lead to a weakened jet stream resulting in more persistent weather patterns in the mid-latitudes. Or Arctic sea ice loss could lead to an increase of snow on high-latitude land, which in turn impacts the jet stream resulting in cold Eurasian and North American winters. These and other potential connections between a warming Arctic and mid-latitude weather are the subject of active research.
Linkages Between Arctic Warming and Mid-Latitude Weather Patterns is the summary of a workshop convened in September 2013 to review our current understanding and to discuss research needed to better understand proposed linkages. A diverse array of experts examined linkages between a warming Arctic and mid-latitude weather patterns. The workshop included presentations from leading researchers representing a range of views on this topic. The workshop was organized to allow participants to take a global perspective and consider the influence of the Arctic in the context of forcing from other components of the climate system, such as changes in the tropics, ocean circulation, and mid-latitude sea surface temperature. This report discusses our current understanding of the mechanisms that link declines in Arctic sea ice cover, loss of high-latitude snow cover, changes in Arctic-region energy fluxes, atmospheric circulation patterns, and the occurrence of extreme weather events; possible implications of more severe loss of summer Arctic sea ice upon weather patterns at lower latitudes; major gaps in our understanding, and observational and/or modeling efforts that are needed to fill those gaps; and current opportunities and limitations for using Arctic sea ice predictions to assess the risk of temperature/precipitation anomalies and extreme weather events over northern continents.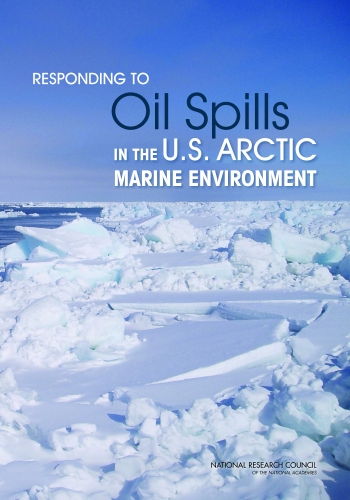 Responding to Oil Spills in the U.S. Arctic Marine Environment
U.S. Arctic waters north of the Bering Strait and west of the Canadian border encompass a vast area that is usually ice covered for much of the year, but is increasingly experiencing longer periods and larger areas of open water due to climate change. Sparsely inhabited with a wide variety of ecosystems found nowhere else, this region is vulnerable to damage from human activities. As oil and gas, shipping, and tourism activities increase, the possibilities of an oil spill also increase. How can we best prepare to respond to such an event in this challenging environment?
Responding to Oil Spills in the U.S. Arctic Marine Environment assesses the current state of science and engineering regarding oil spill response in the Arctic region north of the Bering Strait, with emphasis on potential impacts in U.S. waters. This report describes the ecosystems and environmental conditions of the Arctic and makes recommendations to provide an effective response effort in these challenging conditions. According to Responding to Oil Spills in the U.S. Arctic Marine Environment, a full range of oil spill response technologies is needed in order to minimize impacts on people and sensitive ecosystems. This report identifies key oil spill research priorities, critical data and monitoring needs, mitigation strategies, and important operational and logistical issues.
The Arctic acts as an integrating, regulating, and mediating component of the physical, atmospheric, and cryospheric systems that govern life on Earth. Not only does the Arctic serve as regulator of many of the Earth's large-scale systems and processes, but it is also an area where choices made have substantial impact on life and choices everywhere on planet Earth. This report's recommendations will assist federal, state, local, and tribal policymakers; non-governmental organizations; industry; academia; and anyone interested in the future of this special region to protect it from the impacts of damaging oil spills.
Theses reports are available as free PDFs here. To purchase paper copies, please contact the National Academies Press at: 800-624-6242.
The PRB and OSB are units within the National Academies Division on Earth and Life Studies. More information about the PRB and OSB and other related activities can be found here and here or contact Lauren Everett (LEverett [at] nas.edu).