On 18 November 2011 the President signed into law the Consolidated and Further Continuing Appropriations Act, 2012. Division B of the Act provides funding for Commerce, Justice, Science, and Related Agencies for fiscal year (FY) 2012, which began 1 October 2011. Although final agency budget reports are not yet available, the estimated National Science Foundation (NSF) funding level is $7 billion, which is an increase of $173 million (2.5%) from the FY 2011 enacted level. The estimated FY 2012 budget for the Office of Polar Programs (OPP) is $435.87 million. The estimated allocation for the Arctic Science Division (ARC) is $102.76 million, which is $3.1 million less than the actual FY 2011 level.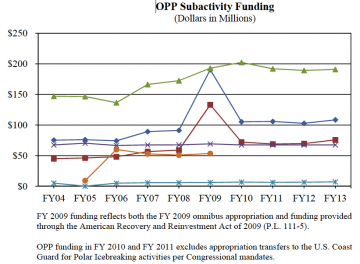 The Obama Administration's FY 2013 budget request, released 13 February 2012, calls for a $13.7 million (3.2%) increase to OPP and a $5.75 million (5.6%) increase to the ARC budgets over the FY 2012 estimated levels of funding. The request would provide an increase of $5.61million (9.7%) to ARC funded research.
ARC funds a broad range of activities to provide an integrated understanding of environmental change in the Arctic, including the study of significant, system-scale environmental change and its human dimension. In general, 40% of the Arctic Science Division's portfolio is available for new research grants, with 20% for continuing grants made in previous years and 40% for research support and logistics.
For additional information about the Further Continuing Appropriations Act, 2012, please see: Bill Summary & Status of H.R. 2112.
For more information about NSF's 2013 Budget Request to Congress, please see: http://www.nsf.gov/about/budget/fy2013/toc.jsp. For further details, please download the Office of Polar Program budget request: http://www.nsf.gov/about/budget/fy2013/pdf/13-OPP_fy2013.pdf.