ARCUS Board President Honored in R/V Sikuliaq Keel-Laying Ceremony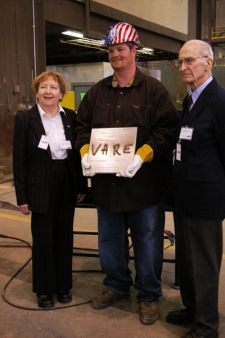 ARCUS President Vera Alexander stands with the plaque welder and cosponsor Bob Elsner at the keel-laying ceremony for R/V Sikuliaq. Photo courtesy: Mike Castellini
Vera Alexander, President of the ARCUS Board of Directors, participated in the keel-laying ceremony for Research Vessel (R/V) Sikuliaq, an icebreaker specifically designed for scientific research in arctic waters. On 11 April 2011 at the site of the ship's construction in Marinette, Wisconsin, Alexander initialed a steel plate that was then traced over by a welder. The plate, also initialed by cosponsor Bob Elsner, will be attached to the Sikuliaq's keel. Alexander and Elsner were both honored for their involvement in the long-term planning for the vessel, which started in 1973. A series of images and more information on the keel-laying ceremony and honorees are available at: http://www.sfos.uaf.edu/arrv/keel-laying/.
Designed by The Glosten Associates, R/V Sikuliaq will be owned by NSF, operated by the University of Alaska Fairbanks and based in Seward, Alaska. When complete, the vessel will be one of the most advanced university research vessels in the world and will allow scientists to conduct research in waters with ice up to 2.5 feet thick. The ship is designed to accommodate a wide range of research types with minimal environmental impact. The Sikuliaq will be launched in summer 2012 and undergo a series of trials before science operations aboard the ship begin in 2014.
For further information about R/V Sikuliaq, please see: http://www.sfos.uaf.edu/arrv/.