Date:
Assessment of Current Ice Conditions Relevant to Distribution and Access of Walrus
Click the name of each community below to view more frequently updated and detailed information from the National Weather Service.
Synopsis: Generally weak high pressure builds over the area on Friday. A large low pressure enters the Bering Sea on Friday and remains there through the middle of next week.
Ice-free conditions extend from 30 miles (48 km) east of Savoonga to 120 miles (193 km) north of Savoonga and around the Island to Kialegak Point. Marginal ice zone extends 25 miles (40 km) from the Russian coast. Close to very close pack ice (degrading shorefast ice) extends from Camp Iveetok through Kilaknak Lagoon, extending 1 mile (1.6 km) away from the coast. A small area of open water around 1 mile (1.6 km) is beyond before another area of very close pack ice, consisting of small to vast floes, extends from Tomname Lagoon through Kilaknak Lagoon, becoming close pack ice between Kilaknak Lagoon and Kialegak Point. 20 miles (32 km) beyond the east side of the island is a decaying area of open pack ice.
Shorefast ice around Nome has broken away and moved southward except for an area extending from the coast to Sledge Island. Open water extends 8 mi (13 km) south of Nome. Beyond the open water is very open to open pack ice composed of brash ice to medium floes. This area extends 30 nm (48 km) away from the Nome coastline.
Nome port entrance webcam (via AOOS webpage): https://bering-sea.portal.aoos.org/?ls=79875242-e362-65cb-914e-fed20ff9…
The outlook for this area has not yet begun for the season.
Previous shorefast ice within the lagoons is deteriorating rapidly. Close to very close pack ice composed of small to giant floes extends offshore around 1 mile (1.6 km) near Wales and 20 miles (32 km) near Shishmaref. Beyond the very close pack ice is open water extending from 50 to 100 miles (80 to 160 km), with open pack ice 25 miles (40 km) northeast of Shishmaref consisting of small to vast floes.
Shorefast ice has broken up and vacated the area. Open water to very open pack ice surrounds Diomede with brash to small floes. An area of open pack ice with brash to big floes exists south of Diomede between 10 to 20 miles (16 to 32 km). Another area of open pack ice extends 25 to 60 miles (40 to 96 km) southeast of Diomede with brash to small floes. Close to very close pack ice remains 23 miles (37 km) northwest of Diomede with medium to giant floes.
Forecast Discussion
Ice Forecast
For St. Lawrence Island, ice will move with tides and currents through Monday when northerly winds will keep very close pack ice pushed against the northeast side of the island, flowing around the east side.
For the Nome area coastline, light southerly winds will bring areas of open pack ice closer to the coast, but northerly winds next week will continue to push it farther to the south, likely beyond 25 mi.
For Diomede, expect open pack ice to continue to melt and shift with tides and currents through the weekend, then ice will move southward on the order of 10 miles/day. Higher concentration close pack ice to the northwest will continue to flow around the Chukchi Peninsula to the south.
For Wales to Shishmaref, ice will drift northward through Saturday, potentially opening a polynya along the coast. Pack ice will drift southward against the coast through next week with moderate northerly winds.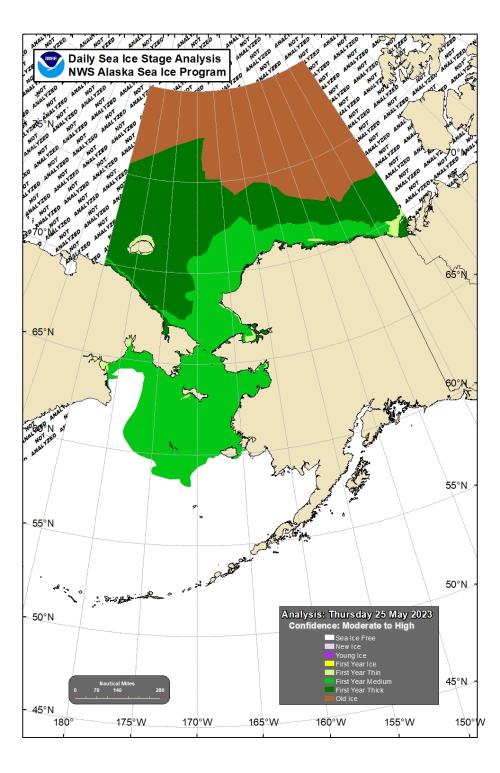 Wind Synopsis
Southwest to south winds will increase Friday morning to 10 to 15 knots from St. Lawrence Island to Shishmaref and then around the Seward Peninsula through the evening before weakening overnight. Winds will be generally 5 to 10 knots through the weekend but closer to 15 knots at Wales and Diomede, primarily east winds from Nome to St. Lawrence Island and northeast near Shishmaref. On Monday morning, east winds increase to 15 to 20 knots from Nome to St. Lawrence Island with 10 to 15 knots near Shishmaref. Past Monday, winds will be 10 to 15 knots, generally east to north-northeast winds and strongest from St. Lawrence Island to Wales.
Temperature Trend
High temperatures will be in the low to mid 30s on Friday and warm Saturday and Sunday into the mid to upper 30s and stay there for the rest of the week, except Nome and Shishmaref where Temperatures will peak in the upper 40s to low 50s. Low temperatures will be in the upper 20s to low 30s on Friday and increase to the low to mid 30s by Monday and remain for the rest of the week, except Nome where low temperatures will be in the upper 30s to low 40s by Monday.
Daily Weather, Wind, and Temperature Updates
The National Weather Service provides twice-daily, text only updates on the weather, wind, and temperature conditions in specific geographical zones. An interactive weather map for access to other Alaskan zones can be found here: http://weather.gov/anchorage/ice
Higher resolution satellite images and wind maps (wind updated daily) can be viewed here: http://www.weather.gov/afg/SIWO_overview
The Alaska Ocean Observing System shares a variety of weather and sea ice related resources in their Bering Sea Portal at https://bering-sea.portal.aoos.org/.
Marine forecast for the West Coast and Arctic Coast
Remote Sensing Images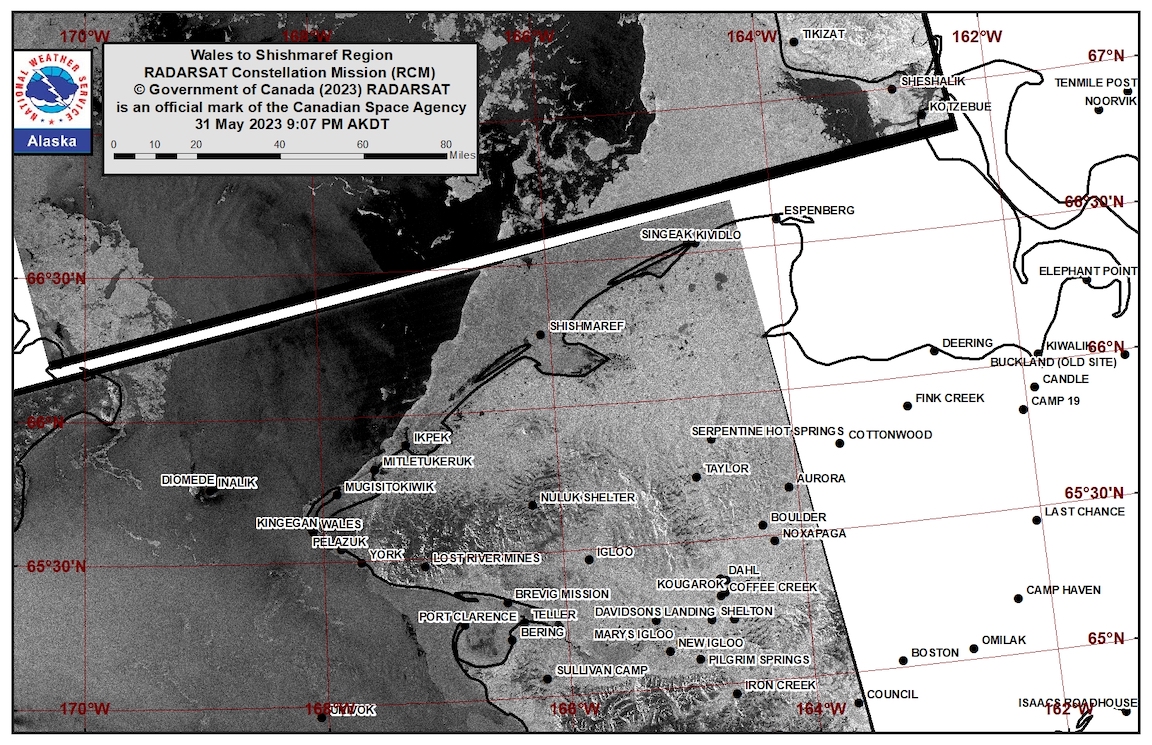 Observations and Comments
Observations of Sea Ice Development
Monday, 29 May 2023 – Odge Ahkinga
Today Diomede was blessed. Diomede has only two active boat crews with only three men each so we teamed up to make a strong crew.
Thursday, 1 June 2023 – Odge Ahkinga
Sea ice drifted north pretty quickly from Fairway Rock and Diomede Islands.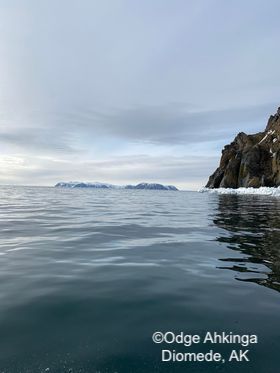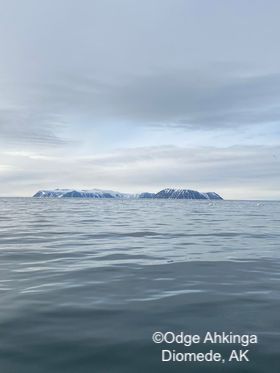 Sunday, 4 June 2023 – Odge Ahkinga
Sea ice 6 miles south of Diomede. Few bull walrus herds.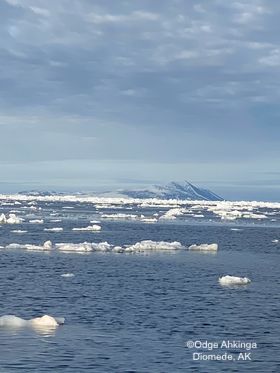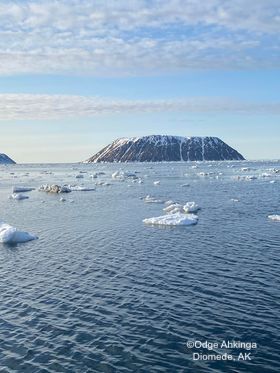 Observations from Shishmaref
Thursday, 1 June 2023 – Curtis Nayokpuk
Daily mix wet snow/rain and temps to cold 30's at night (1-1/2 in. new snow Tuesday morning!) as well as brisk northerly winds closing in loose pack ice along shoreline kept hunters home pending (now open) West channel access to open sea. Boats back on island from previous west five mile launch area as channel melting/rotting fast from river run off.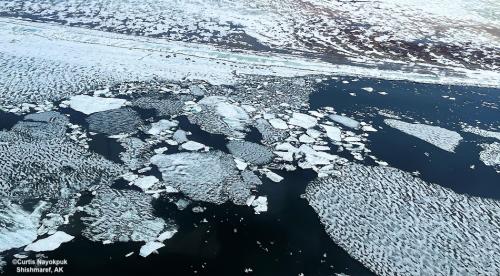 Observations from Savoonga
Friday, 2 June 2023 – Aqef Waghiyi
Most boats are gonna go 60+ miles today.
Variable wind 10kts, wind keep shifting all directions.
Barometric pressure 1006
Humidity 74 (it's sunny)
Temperature 32 deg this morning, now at 12:35 is 36 deg
Lotta open water. Everybody gonna go boating north-northeast somewhere along that ice. When everybody checked the ice map, all that ice is packed up on the east side. Some people were saying this might be the last trip they're going for walrus, unless the ice decides to stick around on the east side. A few days ago, between 51–58 miles few boats got to a bunch of females with calves, so guess that's where everybody's gonna go to today.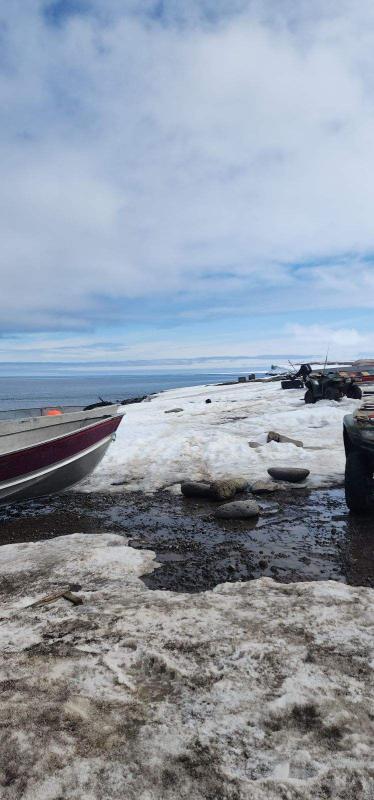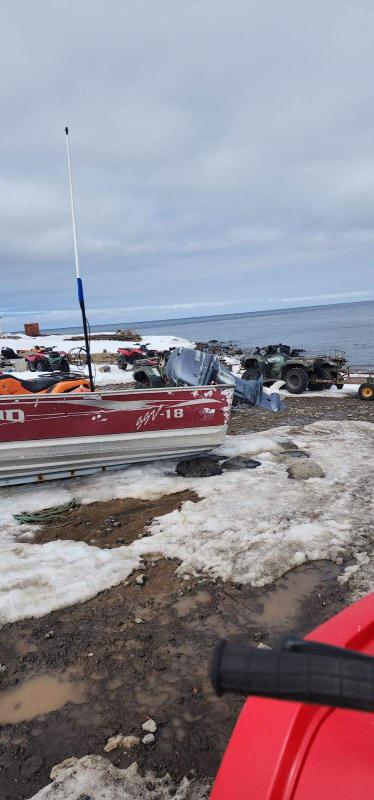 Saturday, 3 June 2023 – Aqef Waghiyi
Boat was out from Kukulek. Had to zoom in to take a pic.
Observations from Gambell
Friday, 2 June 2023 – Clarence Irrigoo, Jr.
No boats went out this week because of the weather, windy and foggy.
Observations from Port Clarence, Brevig Mission, and Cape Douglas
Friday, 2 June 2023 – Marcus Barr
One local hunter brought his boat to near Cape Douglas and got bearded seal. Not walrus yet. Shorefast ice broke off at Cape Douglas, local hunter stated that the shorefast ice from Cape Douglas to below Port Clarence is very thin and not safe to travel on.
We had a lot of water on top of the ice in front of Brevig, but has drained and is now white ice. Hopefully won't be long till it breaks up.
Additional Comments Provided by Local Experts and Other Contributors
Visit the SIWO Facebook page @seaiceforwalrus to view this animation showing the predicted movement of ice predicted by the HYbrid Coordinate Ocean Model (HYCOM). Snapshots from the forecast show ice coverage from 0% (black) to 100% (white) and arrows show the relative speed and direction of the ice. A light boundary is drawn at 15% predicted ice cover to highlight the ice edge, but ice may be predicted to extend beyond it. Some bays, lagoons, and areas very close to shore are not covered by the model. (Image produced by the Alaska Ocean Observing System / Axiom Data Science).