Date:
Assessment of Current Ice Conditions Relevant to Distribution and Access of Walrus
Click the name of each community below to view more frequently updated and detailed information from the National Weather Service.
Synopsis – A low pressure and front will move near the Bering Strait region through Friday, weakening in place on Saturday. Another will move from west to east across the Bering Sea Monday into Tuesday, south of St. Matthew Island. Northerly flow sticks around through the middle of the week before a pattern change late in the week.
There is shorefast ice on the north, east, and south sides of St. Lawrence Island. On the north/south sides, generally extending 1 to 2 miles offshore, and on the east side, extending 2 to 4 miles offshore. Beyond the shorefast ice is very close pack ice to consolidated ice consisting of medium to vast floes.
There is a polynya extending from Powooiliak (Pugughileq) Camp to east of Siknik Training Camp up to 3 miles offshore. Another polynya up to 2 miles offshore exists along east facing shores south of Camp Kulowye (Kulowiyi). Beyond the polynyas are mostly new and young very close pack ice consisting of small to medium floes 10 to 20 miles offshore. Beyond the new/young ice is very close pack ice with small to vast floes beyond 20 miles offshore.
Shorefast ice around the Nome area extends at least 1 mile offshore, up to 3 miles offshore around Safety as well as far to the west of Nome. Beyond the shorefast ice is a polynya that extends 10 to 20 nm. The polynya does not extend toward Safety. There could be some low concentration new and young ice within this polynya. The main pack surrounds the polynya with very close pack ice consisting of small to vast floes.
Shorefast ice extends 20 to 35 miles west/southwest of Brevig Mission. There is a small polynya around ½ mile wide then an area of consolidated new ice 5 to10 miles beyond. The main pack ice starts 5 to 10 miles off the shorefast and is very close pack ice consisting of small to big floes.
This area has not yet begun for the 2021 season. First forecast will be Friday, 9 April.
Compact Pack ice exists between the islands, possibly fast to the shore. Polynyas open up from the island depending on the prevailing wind flow. As of 1 April there was a polynya on the north side of the islands, generally one mile offshore. There was more low concentration ice to the north of Diomede. Otherwise consolidated pack ice surrounds the island, comprised medium to big floes.
Forecast Discussion
Ice Forecast
Sea ice will move westward Friday, April 2nd and Saturday, April 3rd, up to 10 miles then drift southward through the remainder of the week, 10 to 20 miles through Wednesday, April 7th.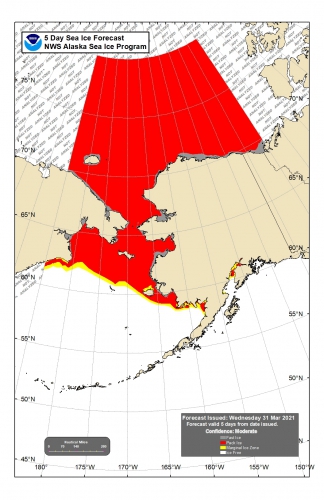 Wind Synopsis
East winds 25 to 35 kt (29 to 40 mph) on Friday, April 2nd will diminish through the day and become northerly 15 to 20 kt (17 to 23 mph) Friday night. Northerly winds will increase to 25 to 35 kt (29 to 40 mph) on Saturday, April 3rd. The north winds will diminish to 10 to 15 kt (11 to 17 mph) by Sunday night April 4th. North winds will pick up again Monday night April 5th and increase to 25 to 35 kt (29 to 40 mph) by Tuesday, April 6th. A storm moving into the western Bering Sea will bring south winds 15 to 25 kt (17 to 29 mph) late Wednesday, April 7th. Strong southerly winds ranging from 30 to 40 kt (35 to 46 mph) are possible Thursday and Friday, April 8–9th.
Temperature Trend
High temperatures Friday, April 2nd through Saturday, April 3rd will range from 15 to 25 above with overnight lows zero to 15 above. Temperatures will cool down on Sunday, April 4th and remain very similar through Friday, April 9th, with highs zero to 10 above and lows zero to 10 below. The warmest temperatures for the upcoming week will be over St. Lawrence Island.
Daily Weather, Wind, and Temperature Updates
The National Weather Service provides twice-daily, text only updates on the weather, wind, and temperature conditions in specific geographical zones. An interactive weather map for access to other Alaskan zones can be found here: http://weather.gov/anchorage/ice
Higher resolution satellite images and wind maps (wind updated daily) can be viewed here: http://www.weather.gov/afg/SIWO_overview
 
Marine forecast for the West Coast and Arctic Coast
Remote Sensing Images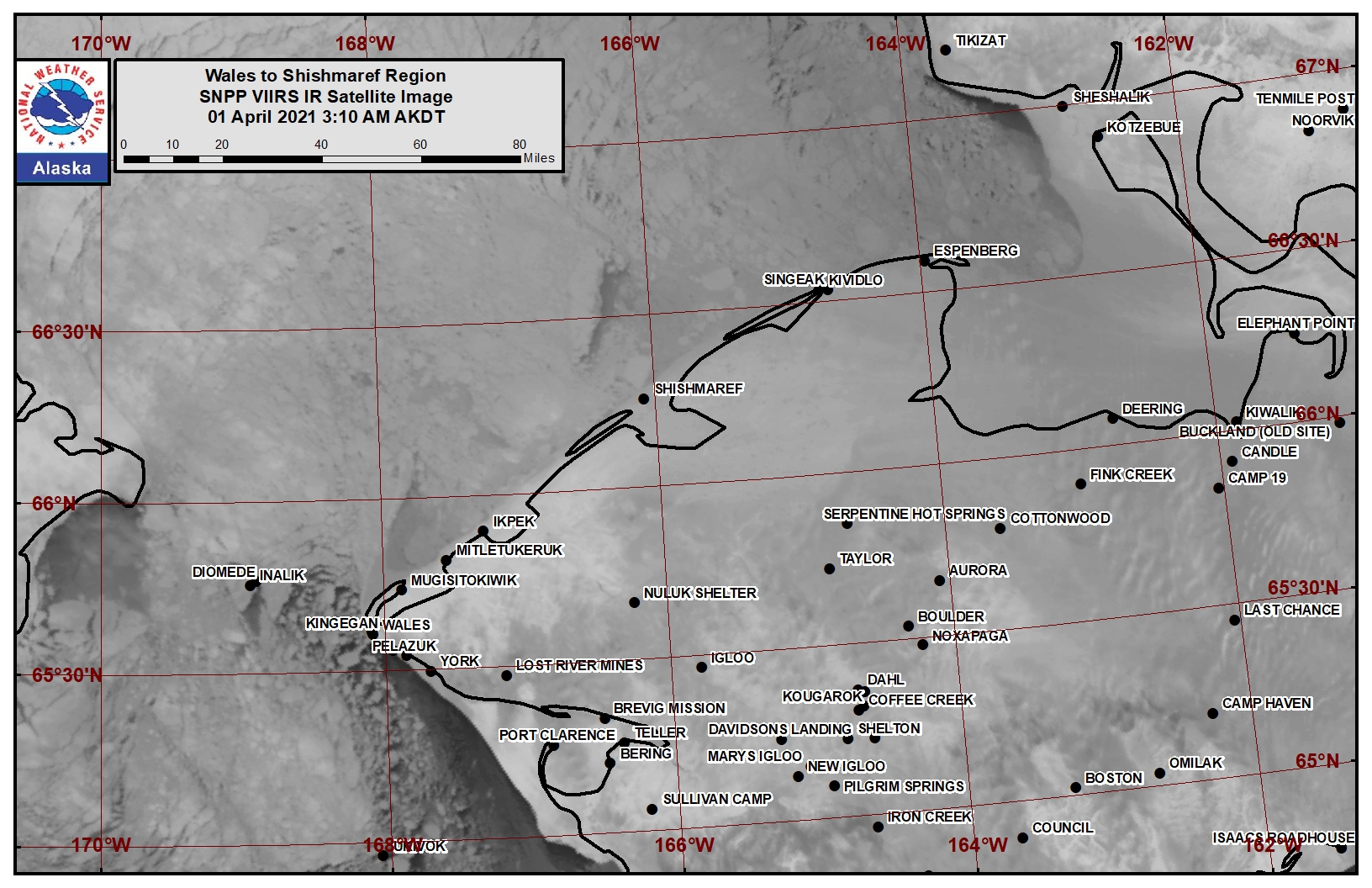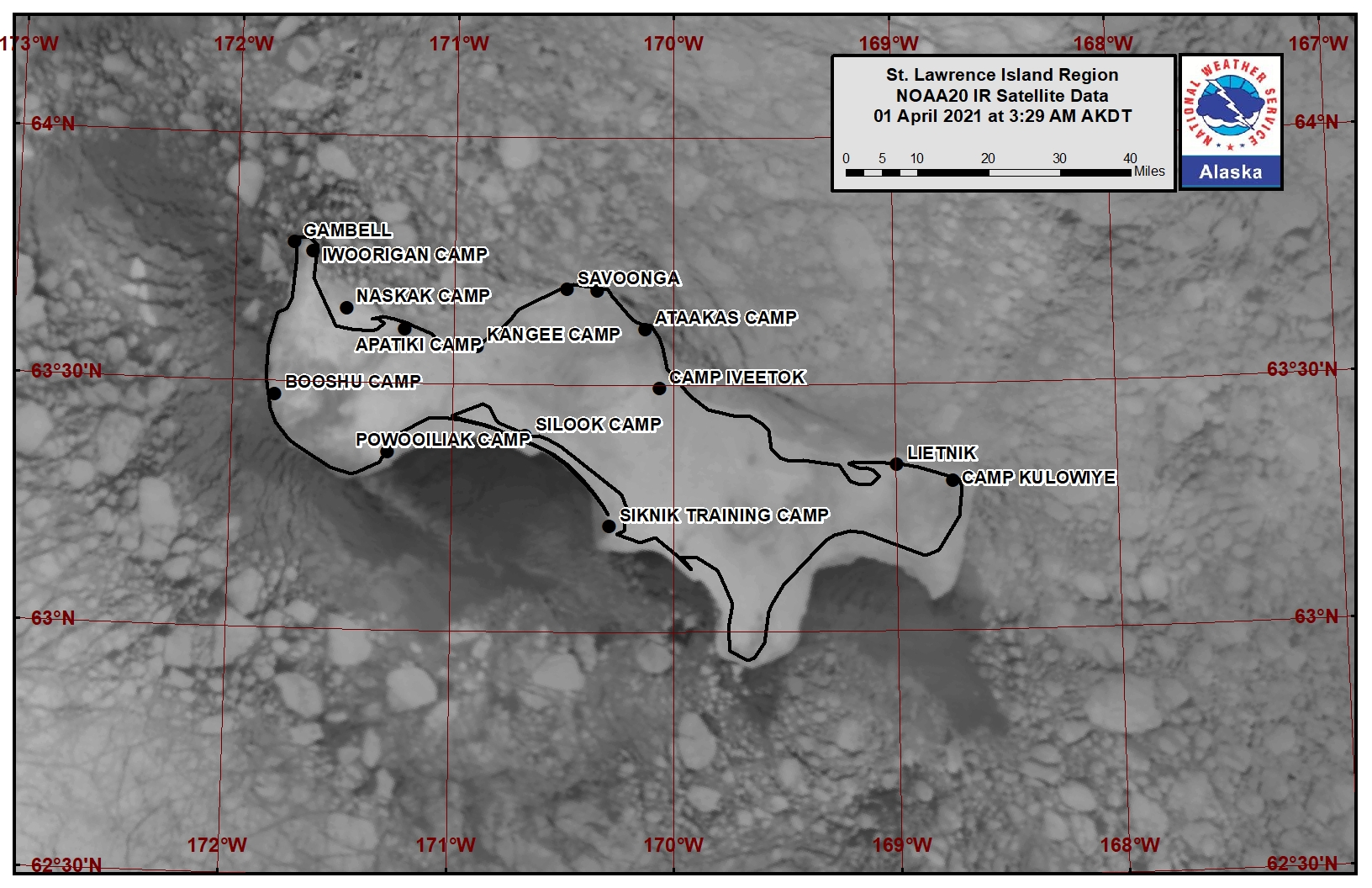 Observations and Comments
Observations of Sea Ice Development
Observations from Savoonga
1 April 2021 – Aqef Waghiyi
No open water just a few leads here and there. There was walrus on the other side of the open water about 2–3 miles down north of town, but nobody walked down to get them. Real small open leads, no one boating. Getting ready to go south side.
Observations from Nome
2 April 2021 – Boogles Johnson
The sea ice in front of Nome has been breaking off and coming back. Today 4/1/2021 the non-shorefast ice broke off about 1 mile off shore from about Fort Davis as far as the eye can see west. Photos taken from the Beam road approx 1/2 mile from the coast.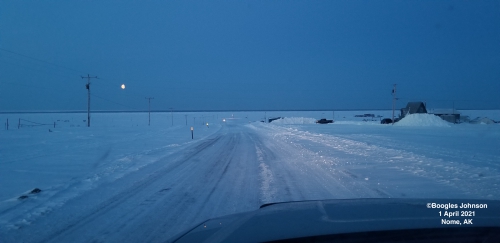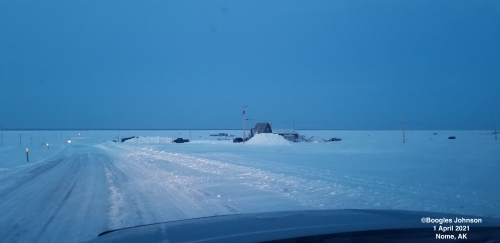 Observations from Diomede
29 March 2021 – Marty Eeleengayouq Ozenna
We've been having spring weather this past week an seeing snow birds and seagulls and the north side is opened little bit an came off little closer but south side piled up an closed.