Date:
Assessment of Current Ice Conditions Relevant to Distribution and Access of Walrus
Click the name of each community below to view more frequently updated and detailed information from the National Weather Service.
Synopsis High pressure will gradually move eastward across the Chukchi and Beaufort Seas through Monday.
The only remaining sea ice around St. Lawrence Island is northeast of the island, generally between Camp Iveetok and just east of Camp Kulowiye, extending up to 65 miles from the coast. This is close to very close pack ice consisting of medium to vast floes.
This area is now sea ice free and the outlook season has concluded.
This area is now sea ice free and the outlook season has concluded.
Very close pack ice to consolidated ice consisting of medium to vast floes extends up to 13 miles offshore from Wales to Espenberg. Beyond that sea ice, it is mainly open water in this region.
This area is now sea ice free and the outlook season has concluded.
Forecast Discussion
Ice Forecast
Expect continued thinning of the pack ice and areas of open water to continue to expand around St. Lawrence Island and the Wales to Shishmaref coastline. During periods of light winds, sea ice movement will be dependent on local currents. During the periods of northerly winds, sea ice will generally drift southward up to 15 miles through Thursday, June 18th.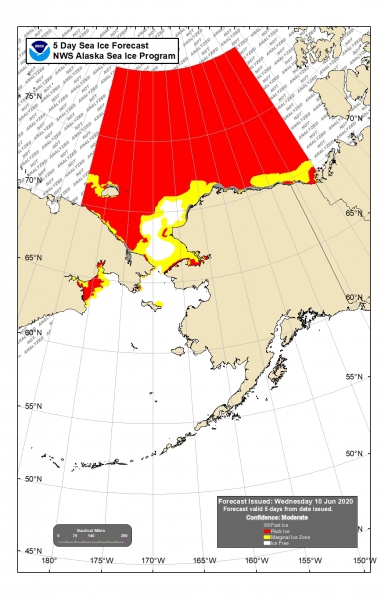 Wind Synopsis
Friday, June 12th expect winds to be from the Southwest at 4-9 kts (5-10 mph) becoming Northeast 2-7 kts (3-8 mph) by Saturday, June 13th in the early morning. Then increase from the North 9-13 kts (10-15 mph) by Saturday, June 13th's afternoon. The wind will back to northwest on Monday, June 14th and continue through to Wednesday, June 17th's morning at 9-13 kts (10-15 mph). Thursday, June 18th the wind will shift to the northeast and increase to 9-17 kts (10-20 mph) through Friday, June 19th.
Temperature Trend
Maximum temperatures will range from the mid-40s to lower 50s for the week of June 12th through June 19th. Minimum temperatures will range from the mid-30s to lower 40s for the week of June 12th through June 19th.
Daily Weather, Wind, and Temperature Updates
The National Weather Service provides twice-daily, text only updates on the weather, wind, and temperature conditions in specific geographical zones. An interactive weather map for access to other Alaskan zones can be found here: http://weather.gov/anchorage/ice
Higher resolution satellite images and wind maps (wind updated daily) can be viewed here: http://www.weather.gov/afg/SIWO_overview
 
Marine forecast for the West Coast and Arctic Coast
Remote Sensing Images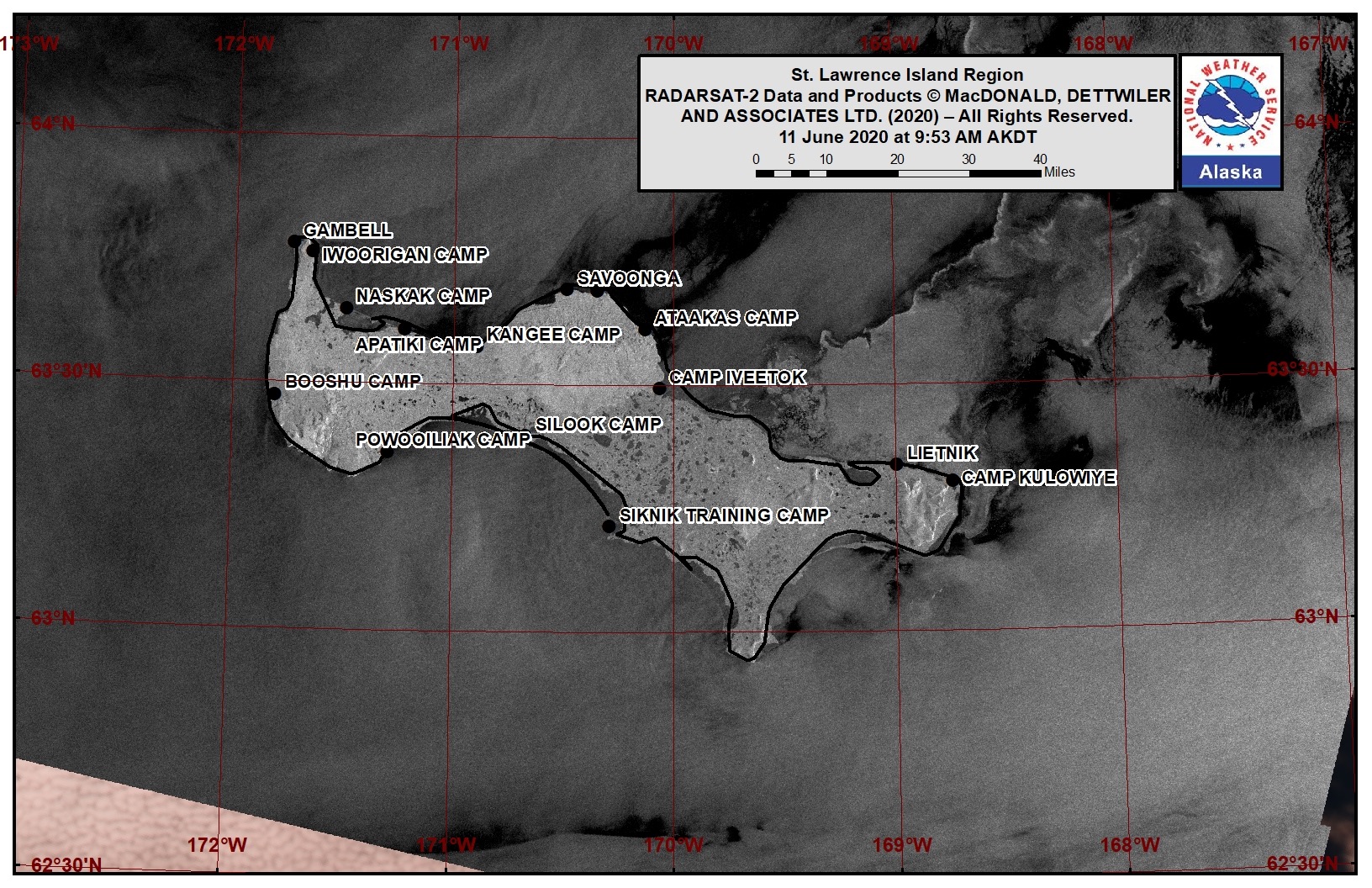 Observations and Comments
Observations of Sea Ice Development
Observations from Gambell
11 June 2020 – Clarence Irrigoo, Jr.
No boats went out this week because of heavy fog and wind.
Observations from Port Clarence and Brevig Mission
12 June 2020 – Marcus Barr
Fog rolled in by the time I was able to take pictures after work. But, for the last report of the season, no more ice in or around Brevig. Locals got their bearded seal and only couple boats got one walrus each, only in the water. Another boat recently got one walrus but it was near Nome. Locals had been traveling up north of Wales for game, but there had been nothing on the ice.
Observations from Diomede
11 June 2020 – Marty Eeleengayouq Ozenna
Here are a few photos of ice conditions in Diomede.
Observations from Shishmaref
12 June 2020 – Curtis Nayokpuk
Hunters limited to 2-3 miles from shoreline due to crowded pack ice. Bearded Seal season very slow and poor for community with boat travel blocked by ice and thick fog daily, no game around, even common seals left the area. Spotted seals showing up down west coast signaling end of ice conditions.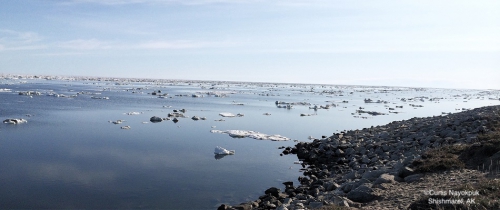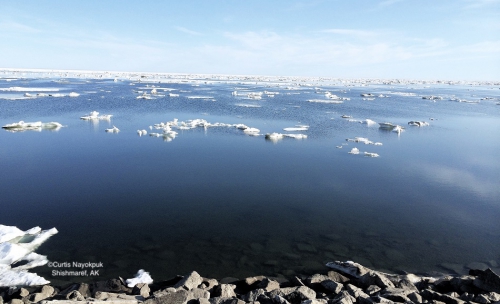 Observations from Nome
11 June 2020 – Boogles Johnson
There is no longer visible ice in the Nome area, our spring hunting season has come to a close. Last weekend there were a few hunters out who spotted ribbon seals. Ribbon seals indicate that the migration of the seals, bearded seals, and walrus have gone through the Norton Sound. They are generally the last of the ice seals to migrate through the region.
Observations from Savoonga
16 June 2020 – Aqef Waghiyi
No ice since a day after the last report and last week, Wednesday, few boats had went towards east end of the island to the little bit of ice that was left about 45 miles east and no luck, no walrus. Day after that, two boats went 70 to 80 miles north and got walrus. They told me King Island was 25 to 30 miles east northeast of them.