Date:
Assessment of Current Ice Conditions Relevant to Distribution and Access of Walrus
Click the name of each community below to view more frequently updated and detailed information from the National Weather Service.
Synopsis - High pressure will extend into the Bering Sea from the North Pacific. Another area of high pressure will extend from the Canadian Arctic into the Beaufort Sea. Between these two areas, a weak area of low pressure will extend from the Alaska mainland over the Bering Strait.
The only remaining shorefast ice around St. Lawrence Island is between Camp Iveetok and 5 to 7 miles from Lietnik, and it appears to be deteriorating quickly. It currently extends up to 4 miles from shore. Beyond the shorefast ice, close to very close pack ice consisting of medium to vast floes extends another 55 to 60 miles between offshore between Savoonga and the eastern edge of the island. There is also an area of close pack ice consisting of small to big floes approximately 11 miles north of Apatiki Camp.
Close pack ice consisting of medium to big floes stretches from approximately 7 miles to approximately 55 miles to the southeast of the Nome to Port Safety coastline. Otherwise there is open water within this region.
Sea ice in this area is highly mobile and is quickly deteriorating. Outside Port Clarence, there is an area of close pack ice consisting of medium to big floes. South of a line from Port Clarence to Teller is another area of close pack ice consisting of medium to big floes.
Very close pack ice consisting of medium to vast floes extends 4 miles from Wales to 15 miles offshore from Shishmaref and Espenberg. There is an area of open pack ice consisting of big to vast floes from approximately 15 to 30 miles offshore from Shishmaref, and close pack ice beyond 12 miles offshore from Espenberg. Otherwise there is open water in the waters in this region.
Open pack ice consisting of small to medium floes begins approximately 20 miles east of Diomede, with very close pack ice consisting of medium to vast floes near Wales.
Forecast Discussion
Ice Forecast
Expect continued thinning of the pack ice and areas of open water to continue to expand.
During periods of light winds, sea ice movement will be dependent on local currents. During the periods of northerly to northwesterly winds, sea ice will generally drift southward up to 15 miles through Thursday June 11th.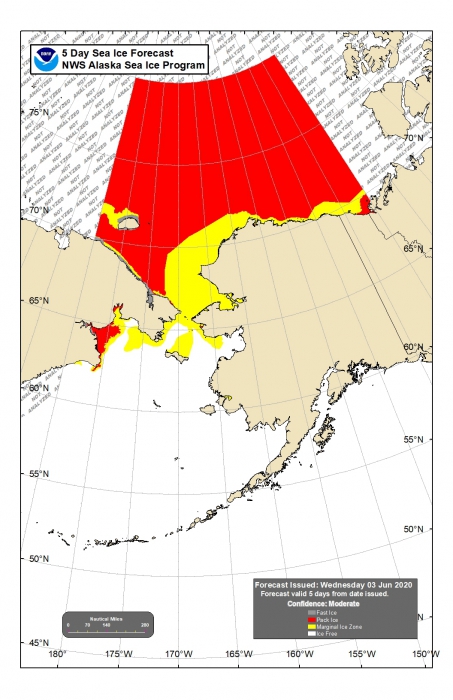 Wind Synopsis
Variable winds 5 to 10 kt (5 to 11 mph) on Friday, June 5th will become north to northwest 10 to 20 kt (11 to 17 mph) on Sunday night, June 7th. The strongest winds will be primarily along the Bering Strait from Diomede to Teller. On Tuesday night, June 9th, winds will become variable 5 to 10 kt (5 to 11 mph) but gradually shift to north 10 to 15 kt (11 to 17 mph) on Thursday, June 11th. The north winds will be short lived and by Friday, June 12th the winds will become south to southeast 10 to 15 kt (11 to 17 mph) across the region.
Temperature Trend
High temperatures from Friday, June 5th through Friday, June 12th will be in the upper 30's to lower 40's across St. Lawrence Island to the Bering Strait and along the northern Seward Peninsula. Elsewhere, high temperatures in the upper 40's to mid 50's are expected along the southern Seward Peninsula from Teller to Nome. Overnight low temperatures will be in the lower 30's from St. Lawrence Island and from Bering Strait northward, but in the 40's along the southern Seward Peninsula from Teller to Nome.
Daily Weather, Wind, and Temperature Updates
The National Weather Service provides twice-daily, text only updates on the weather, wind, and temperature conditions in specific geographical zones. An interactive weather map for access to other Alaskan zones can be found here: http://weather.gov/anchorage/ice
Higher resolution satellite images and wind maps (wind updated daily) can be viewed here: http://www.weather.gov/afg/SIWO_overview
 
Marine forecast for the West Coast and Arctic Coast
Remote Sensing Images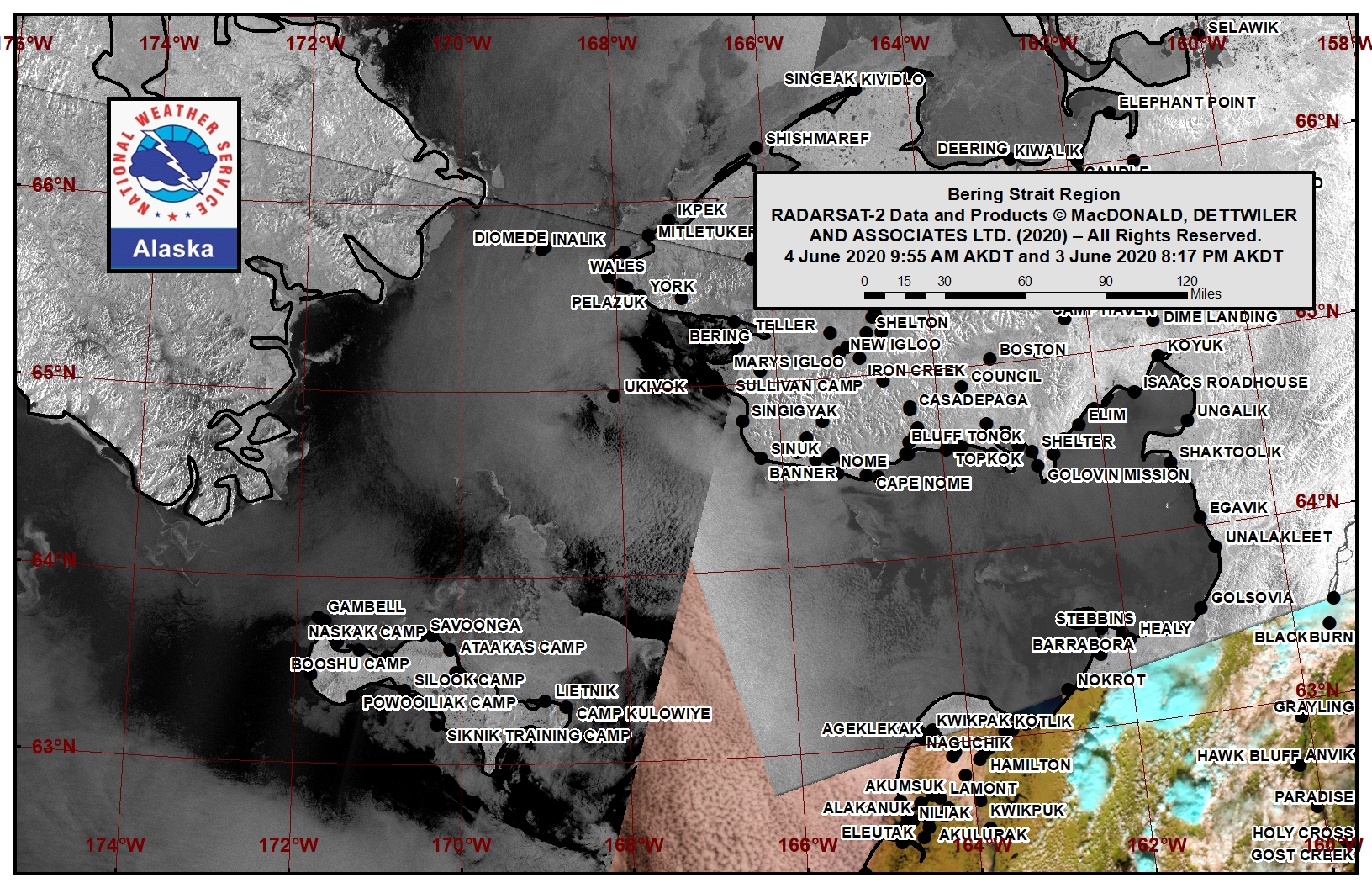 Observations and Comments
Observations of Sea Ice Development
Observations from Nome
4 June 2020 – Boogles Johnson
Good evening, there's what appears to be something like herring spawn on the Nome coastline. At this time there is no sea ice visible from shore. Hunters were able to harvest bull walrus over the weekend out from Safety and Cape Nome. The beluga are showing up as well. Summer is officially in Nome now and spring hunting for my crew is over for the season.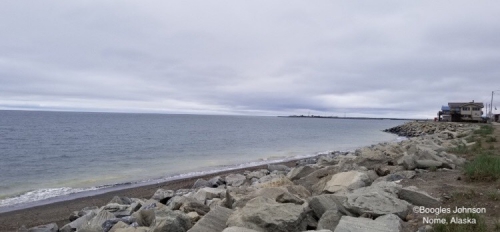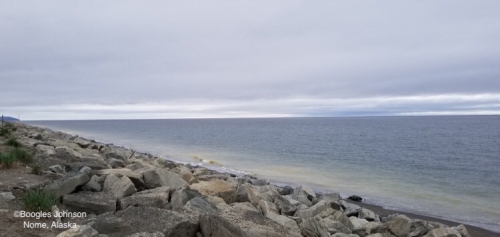 Observations from Shishmaref
5 June 2020 – Curtis Nayokpuk
Thick fog again. Hunters having poor Bearded Seal season due to northerly winds moving pack ice in and fog daily this past week. A week ago, hunters had to work together to get 10 boats and crews thru blocked ice and back to shore. One crew was out five days and had to leave the boat and walk 1-1/2 miles with hunters who formed SAR to bring them home when food ran short and cold wet freezing fog each night. All crews home waiting on weather and pack ice to open up.
Last week hunters were boating thru opening pack ice to 7-10 miles out, but wind and current closed in ice and they had to make it back to shore. Currently you can go 2-3 miles from beach.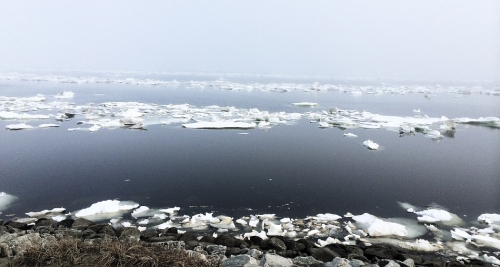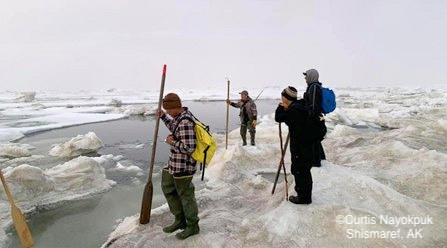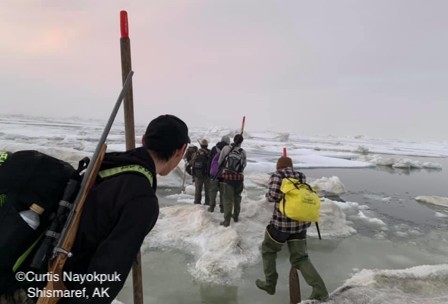 Observations from Gambell
5 June 2020 – Clarence Irrigoo, Jr.
We looked for ice around Savoonga side, think it was shore ice that got off, 50 nm from Gambell 23 nm NNE from Savoonga. All males around Savoonga.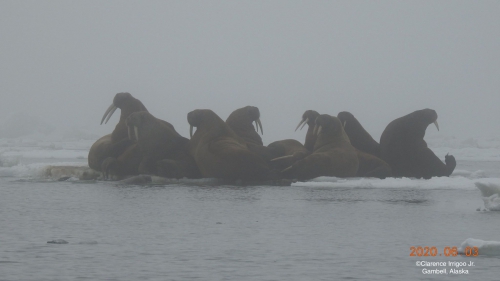 Observations from Port Clarence and Brevig Mission
5 June 2020 – Marcus Barr
On June 4, 2020 thick fog out towards Lost River about 25 miles west of Brevig. No shorefast ice on near Brevig, only some that blew up to the beach. Near Lost River, there is a big chunk of ice about 2-3 miles long and 1/2-1 mile wide, also some ice chunks floating.
Observations from Savoonga
5 June 2020 – Aqef Waghiyi
Last week got one female and young walrus. Nobody got walrus this week. Broken up shore ice. Nobody went out, don't know if anybody went out today. Not enough ice, not enough game.
Observations from Diomede
5 June 2020 – Marty Eeleengayouq Ozenna
Right now, open ocean no ice in sight. I haven't climbed all the way up yet to take pictures.
Photo update - 7 June 2020