Date:
Assessment of Current Ice Conditions Relevant to Distribution and Access of Walrus
Click the name of each community below to view more frequently updated and detailed information from the National Weather Service.
Synopsis Low pressure will dissipate in the far western Bering Sea through Friday. Another low will move just south of the Chain through Monday. High pressure will sit over the Beaufort through the period.
Satellite imagery from the evening of Wednesday, May 27th and morning of Thursday, May 28th show pretty rapid deterioration of the ice around the island. Shorefast ice outside of Niyakpak Lagoon has broken away and there is open water from the Lagoon through Eewak Pt. The shorefast ice from Savoonga through Camp Kulowiye is still intact but appears as if there's water on it and it extends up to 7 miles offshore. Between Kangee Camp and Aingeeyak there is an area of very close pack ice with medium to vast floes beyond any shorefast ice. Beyond the shorefast ice from Aingeeyak to the east, is open water. South and west of the island are ice-free. From Camp Kulowiye through Maknik Lagoon there is close pack ice with small to medium floes generally 1 to 2 miles offshore, but some open pack ice extends up to 9 miles away from the coast in this area.
No shorefast ice remains in this area. From Nome to Solomon there is open water that extends from Solomon up to 2 miles off shore. Otherwise, the surrounding area is close pack ice consisting of big to vast floes.
Ice in this area does not appear to be shorefast as it appears to be rapidly deteriorating. Consolidated pack ice extends away from Port Clarence up to 12 miles to the west.
Ice around Wales is no longer shorefast, but is close pack ice up to 3 miles offshore. Near Mugisitokiwik to Ikpek there is very open pack ice with ice cakes to small floes up to 10 miles offshore. From Ikpek through Espenberg is consolidated pack ice consisting of big to giant floes up to 30 miles offshore. No more shorefast ice exists in this area.
No shorefast ice remains between Little Diomede and Big Diomede Island. Open water to very open pack exists around both islands in roughly a 15-mile radius.
Forecast Discussion
Ice Forecast
Light southeasterly winds will persist through Friday, then turn from the north for the remainder of the period. Expect continued thinning of the pack ice and areas of open water to continue to expand. Shorefast ice in locations with open water just beyond will continue to be at risk of breaking off through Monday.
Wind Synopsis
North to northeast winds 5 to 15 kt (5 to 17 mph) on Friday, May 29th will persist through Sunday afternoon May 31st. On Sunday evening, north to northeast winds will increase to 20 to 25 kt (23 to 29 mph) from St. Lawrence Island to the Bering Strait, with northeast winds 10 to 15 kt (11 to 17 mph) elsewhere. Winds will gradually become variable 5 to 10 kt (5 to 11 mph) across the region on Tuesday June 2nd and persist through Friday June 5th.
Temperature Trend
High temperatures from Friday, May 29th through Friday, June 5th will be in the 40's across St. Lawrence Island to the Bering Strait and along the northern Seward Peninsula. Elsewhere, high temperatures in the mid 50's and lower 60's are expected along the southern Seward Peninsula from Teller to Nome. Overnight low temperatures will be in the lower 30's from St. Lawrence Island and from Bering Strait northward, but in the 40's along the southern Seward Peninsula from Teller to Nome.
Daily Weather, Wind, and Temperature Updates
The National Weather Service provides twice-daily, text only updates on the weather, wind, and temperature conditions in specific geographical zones. An interactive weather map for access to other Alaskan zones can be found here: http://weather.gov/anchorage/ice
Higher resolution satellite images and wind maps (wind updated daily) can be viewed here: http://www.weather.gov/afg/SIWO_overview
 
Marine forecast for the West Coast and Arctic Coast
Remote Sensing Images
Observations and Comments
Observations of Sea Ice Development
Observations from Shishmaref
26 May 2020 – Curtis Nayokpuk
Few more pictures from this morning 5/26/2020. Sending now then Friday...might be out there wx permitting!


Observations from Gambell
29 May 2020 – Clarence Irrigoo, Jr.
Some boats went out and have some walrus and bearded seals this week, some boats see killer whales around. Yesterday wind pick up to 25-30 mph from SE.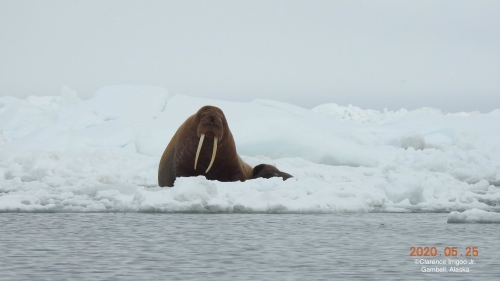 Observations from Savoonga
29 May 2020 – Aqef Waghiyi
Open water today finally. Going boating now and will send report soon.
Observations from Diomede
29 May 2020 – Marty Eeleengayouq Ozenna
We're open and no ice around but shore ice that came off this morning on the north side and we had ice from Russia south side came over and pass by us already and were at open water now. We have Russia shore ice or ice coming from the south side of their island about to pass in the middle along the dateline.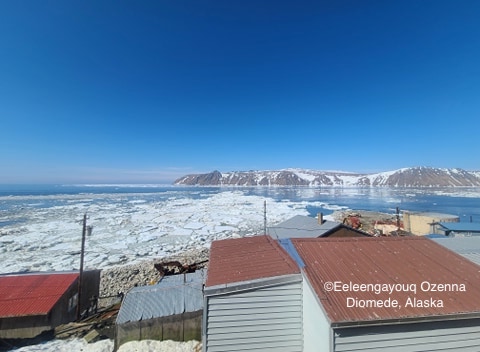 Observations from Port Clarence and Brevig Mission
29 May 2020 – Marcus Barr
Photos from tundra riding on ATVs about 16 miles west of Brevig. Couple boats tried going out on Wednesday, but the ice came back in, it is open very close to the beach along the coast and most parts are very thin a boat can easily go through. As far as the open water, it is open in front of Brevig and went farther about couple miles west. Not open yet by Port Clarence.
Observations from Wales
29 May 2020 – Robert Tokeinna, Jr.
This week has been somewhat of a warm week. Lots of game every shape and size. Heard walrus was on ice. Lots of movement concerning ice as seen in the satellite images. A comfortable 20 to 40 degree week, starting out northerly winds and ending southeast winds today. Mildly warm beginning of the week with much wind then tapered off the past couple of days. Couple boats went out and were successful to catch game. As a reminder, Wales is still hunkering down and social distancing. So if you are going out hunting, the community of Wales is encouraging neighboring community hunters to bring enough gas and food for the duration of your trip as Wales is looking at its travel restrictions tomorrow. As always, stay safe and weather is looking positive for prime opportunities to hunt as weather looks nice, but may be closing in closer to Sunday and Monday.
Additional Comments Provided by Local Experts and Other Contributors
Shared by Rick Thoman, ACCAP
29 May 2020
Friday afternoon clear skies over much of the region allows for a great view of western Alaska from space. The largest area remains ice south of the Bering Strait to the northeast of Savoonga. All kinds of streamers of ice caught up in the currents north through the Bering Strait and into the southern Chukchi Sea. Ice in Norton Sound thinning significantly. Transient areas of open water showing up around Shishmaref.